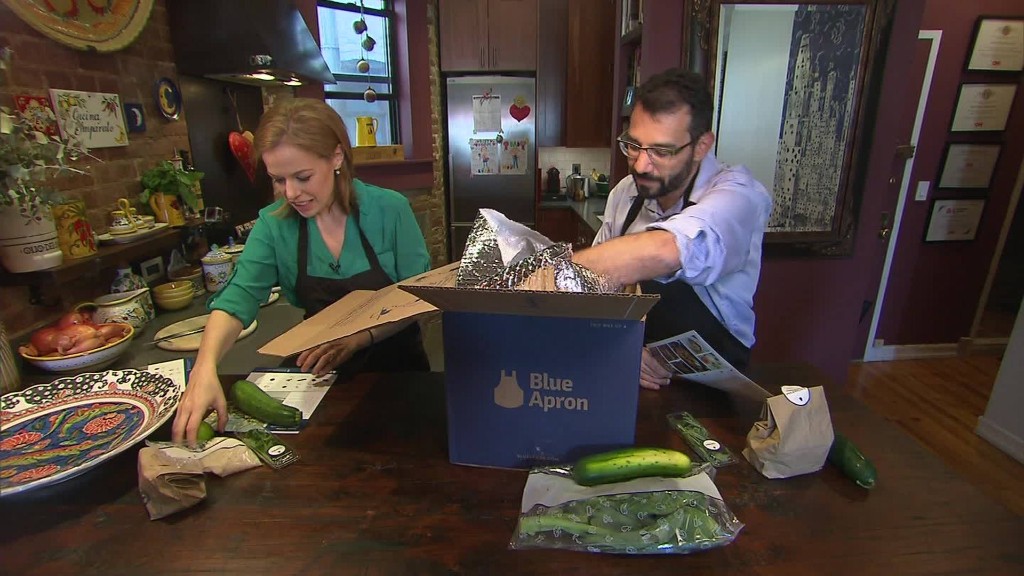 Blue Apron is shaking up its leadership in an attempt to turn around the struggling meal-kit company.
Co-founder and CEO Matthew Salzberg stepped down earlier this week, and Blue Apron didn't search far for his replacement. Brad Dickerson, the company's former CFO, now heads the effort to get Blue Apron back on track.
It's the latest turn for a once-promising start-up that has woefully underperformed expectations since going public in late June. Salzberg admitted as much in an outgoing letter to employees that he expected his company to fare better as a public company.
Blue Apron (APRN) is the worst-performing IPO of the year, according to data from Dealogic. It's worth around $560 million right now, a fraction of the $1.9 billion valuation that Wall Street awarded it when it hit the market. Shares are trading at a little over $3, down about 70% from their high.
Although Blue Apron still holds 40% of the U.S. meal kit market share, it dropped 17 percentage points from last year, according to a study by Second Measure. 860,000 customers use the service, according to the company's November quarterly filing.
Blue Apron said customers fell 9% last quarter because it cut back on advertising spending to save money.
Related: Blue Apron serves up lukewarm IPO
It's already unprofitable, so customer defections make matters worse. Blue Apron had anticipated that it would one day turn a profit -- but groceries are an expensive business, and it likely needs to maintain a higher level of customer growth to achieve its goal.
A number of missteps over a tumultuous past five months haven't helped the company's cause.
One of its co-founders stepped down as COO a month after the IPO. In August, the company said unforeseen delays at a new fulfillment center in Linden, New Jersey hurt business.
In October, Blue Apron slashed its workforce by 6%, laying off roughly 300 employees.
In Salzberg's letter to employees, he noted "near-term challenges and uncertainty created with the launch of our Linden fulfillment center" have plagued Blue Apron.
But the company's issues stretch beyond self-inflicted wounds. Competition from rival start-ups and consolidation within the grocery industry have taken their toll.
Related: Tech industry food fight heats up
In September, Albertsons, which owns the Safeway supermarket chain, bought Plated for around $200 million.
HelloFresh, a German meal kit company that operates in the United States, announced in October that it was going public on Frankfurt's stock exchange.
Start-ups Sun Basket, Home Chef, Green Chef and Chef Plate also round out a crowded food service delivery field.
Market Sectors: See latest news & which stock market segments are performing best
And then, of course, there's the biggest cook in the kitchen: Amazon.
In July, three weeks after buying Whole Foods, Amazon filed to trademark a prepared meal service with the motto "We do the prep. You be the chef."
Blue Apron's new leadership will have to stir up a fresh recipe quickly to avoid slipping further down the food chain.
--CNNMoney's Seth Fiegerman, Paul La Monica and Matt Egan contributed to this report.