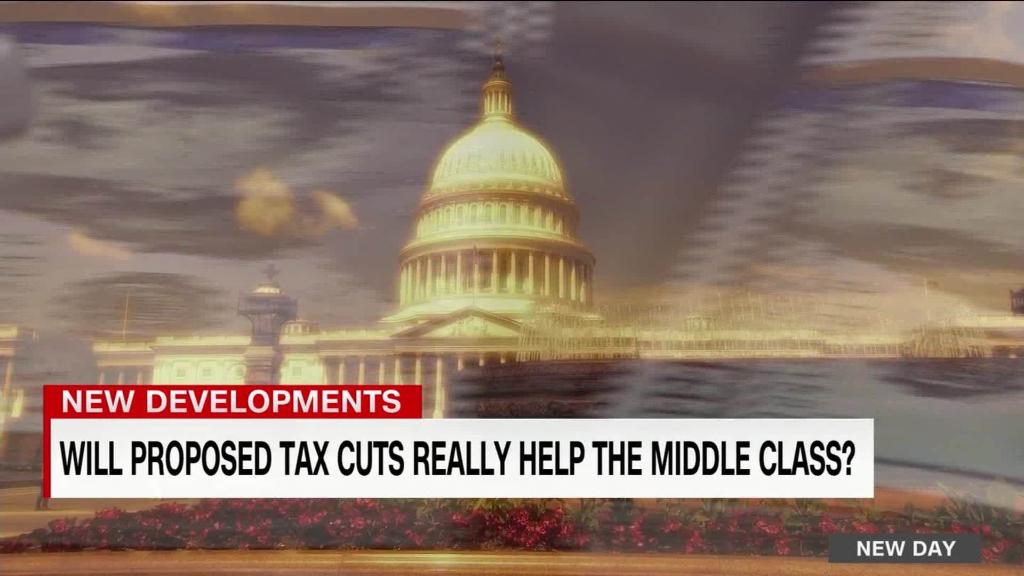 1. Tax euphoria: Wall Street is seriously pumped about the tax plan making its way through Congress.
It's not really because investors think the proposed tax overhaul would unleash enormous growth by creating new jobs and stronger wages. Most established economists have thrown water on that theory.
That's because there's no guarantee companies would use their savings from lower corporate tax rates and repatriated foreign profits to create jobs. In fact, few CEOs have publicly made any such promise.
But Wall Street can cash in, even if Main Street doesn't.
Markets are betting that companies would use their new spare cash to help investors: by purchasing boatloads of stock and beefing up their dividends. Both outcomes can help propel the soaring stock market to new heights, even if jobs and wages don't follow suit.
"The additional cash will definitely help buybacks," said Howard Silverblatt, senior index analyst at S&P Dow Jones Indices.
Investors love stock buybacks because they're less risky than investments in new projects that may or may not work. Even better, buybacks make earnings per share, a key measure of profitability, instantly look better simply by reducing the number of shares in the ratio. Underlying profits don't even need to improve.
During the last overseas tax holiday in 2004, companies leaned very heavily on buybacks. In fact, the Center on Budget and Policy Priorities later concluded that the 2004 tax holiday "did not produce the promised economic benefits" because companies mostly bought back stock instead of investing to grow their businesses.
Related: Goldman warns markets haven't been this pricey since 1900
Stock buybacks have been a centerpiece of the current bull market. S&P 500 companies have repurchased an incredible $3.8 trillion of stock since the end of March 2010, according to Silverblatt. This key source of market support has been slowing, but the tax bill would likely put CEOs under pressure to ramp it back up.
Silverblatt joked that the big winner from the GOP tax plan would be Home Depot because companies will have to "reinforce their boardroom doors" from all the shareholders screaming for buybacks.
What about hiring and boosting wages? The outlook looks less certain there. The unemployment rate is at 4.1% and job openings are at an all-time high.
And it's not like companies are cash-strapped. Even before potential tax cuts, S&P 500 companies have a record $1.5 trillion in cash.
"Companies already have enough money to do whatever they want now," said Silverblatt.
2. Jobs report: The U.S. Bureau of Labor Statistics plans to report November's jobs numbers on Friday.
We've had a good run. The economy has grown by roughly 1.7 million jobs so far in 2017. In October, 261,000 jobs were added -- making it the best month for job growth of the Trump administration. Unemployment fell to 4.1%, a 17-year low.
But wages continue to disappoint. Last month, they grew by just 2.4% compared to the same period last year, even lower than September's growth rate.
Related: U.S. unemployment drops to lowest in 17 years
November's numbers will be revealed as the government continues to hash out a tax bill the president promises will boost wages by $4,000 a year on average. Experts warn that figure may be inflated.
3. Government budget showdown: Funding for the government is set to expire on December 8, and partisan issues -- like the future of DACA -- mean negotiations will be fierce.
Related: Hill leaders take first steps to prevent year-end shutdown
Legislators on Capitol Hill are hoping to avoid a shutdown by pushing the deadline. House Speaker Paul Ryan announced plans this week to pass a short-term spending bill to keep Washington open while budget talks continue, and Senate Democrats seem eager to keep the government open. But Trump has signaled that he may want to play hardball.
4. Media deal in court: AT&T (T) and the Justice Department will be in court on Thursday.
The Justice Department filed a suit against AT&T and Time Warner on November 20 to block AT&T's bid to buy Time Warner (TWX), CNN's parent company, citing antitrust concerns. The first big question the judge needs to decide is when to schedule a trial. The two sides disagree when that should be.
The case is being closely watched. It also could have implications for other big mergers. CVS (CVS) reportedly is poised to possibly acquire Aetna (AET).
5. Coming this week:
Monday -- NABE Economic forecast survey
Wednesday -- H&R Block (HRB), American Eagle (AEO) earnings
Thursday -- DOJ vs. AT&T status conference
Friday -- Jobs report