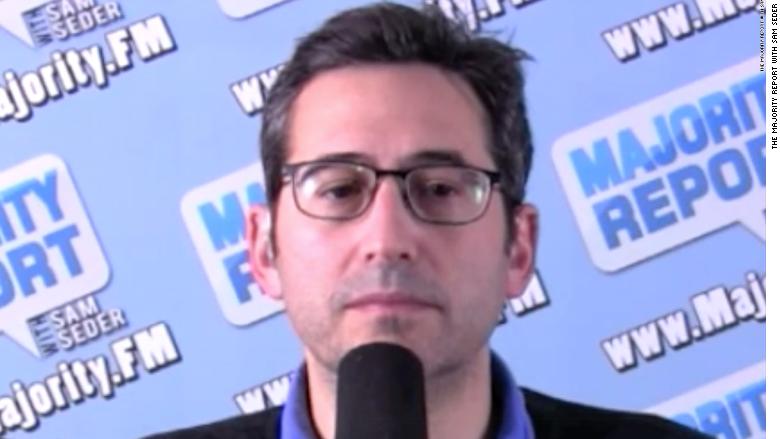 In 2009, Sam Seder told a vulgar joke on Twitter that would eventually cost him a job he didn't yet have -- and make him a target of a movement that didn't yet exist.
MSNBC said Monday that it will not renew Seder's contract as a contributor, a move that came days after a far-right activist dredged up the eight-year-old tweet and pressured the cable news network to cut ties with him.
In the tweet, Seder cracked a subversive joke about the filmmaker Roman Polanski, a director who pleaded guilty to statutory rape after being charged with drugging and raping a 13-year-old girl.
"Don't care re Polanski, but I hope if my daughter is ever raped it is by an older truly talented man w/a great sense of mise en scene," Seder said at the time.
The tweet went largely unnoticed until last week. That's when Mike Cernovich -- a pro-Trump provocateur who has advanced a number of conspiracy theories online, but also gained prominence in the Trump-era for legitimate national security related scoops -- began calling out Seder, MSNBC and reporters he accused of ignoring a legitimate story.
Cernovich's efforts paid off on Monday, much to Seder's chagrin.
"I've been on [MSNBC] for 14 years; I've been paid by them for over two years. I've had thousands of tweets since 2009. There was context for those tweets," Seder told CNN in a phone interview Tuesday. "If they can't make that assessment, if making that assessment is a bridge too far, they have no value as a news organization."
Related: The story behind Alex Jones' unlikely Pizzagate apology
Seder, a comedy writer and longtime MSNBC regular, said that advertisers on his progressive talk show, "Majority Report," had also faced pressure to cut ties with the show over the tweet. That prompted him to launch a GoFundMe campaign to insulate the show from the defunding effort. Seder also plans to use a portion of the proceeds to produce a three-minute video on the man who brought attention to the old tweet. Too many people are unfamiliar with Cernovich's tactics, he believes.
"If you decide to let this guy be the arbiter of what is and is not appropriate," Seder said, "understand who he is."
The saga began last Tuesday, when Cernovich reached out to several journalists -- including some at CNN -- asking them to cover the tweet. En route to the supermarket that night, Seder noticed that the tweet was recirculating, prompting him to delete it.
When he arrived at the store, Seder says, he received a call from Errol Cockfield, MSNBC's senior vice president of communications. Cockfield, who declined to comment for this story, told Seder about the tweet and asked him to defend the joke.
In a subsequent email to Cockfield, Seder explained that the tweet was posted at a time when Polanski was seeking to return to the United States.
"I wrote that tweet out of disgust with those who were excusing or were seeking to advocate forgiveness for Polanski's actions which caused him to flee the US," Seder said in the email, which he provided to CNN. "I was appalled that anyone would diminish the seriousness of rape, particularly of a child by citing the perpetrator's artistic contributions. Obviously, I would not wish any harm of my daughter or any other person."
The next day, while on his radio show, Seder says he received a voicemail from Cockfield informing him that MSNBC had decided to end its relationship with him and will not renew his contract, which is due to end in February. When he called back, Seder told Cockfield the network was making a mistake.
"There's no story here," Seder recalled telling Cockfield. "You're going to make the story."
The story arrived Monday, when The Wrap reported that MSNBC was not bringing Seder back.
Related: ABC News president excoriates staff over Brian Ross' Michael Flynn error
After the news broke, Cernovich was triumphant.
"Thank you to everybody who emailed MSNBC," Cernovich said in a video he posted on Twitter. "Thank you to all of you. You're heroes. You're heroes because you emailed MSNBC and you let them know about the tweet. You let them know the people will be heard."
Elsewhere, MSNBC was pilloried for the decision, as critics pointed out that Seder was not actually excusing or making light of rape, but was in fact mocking Polanski's defenders.
Cernovich's involvement also spurred the critics of MSNBC's move. Cernovich was a central figure behind "Pizzagate," a bogus conspiracy theory that claimed key members of the Hillary Clinton campaign were involved in a child sex ring based out of a Washington, D.C. pizzeria. He also routinely labels his adversaries as "pedophiles." His targets absorb the fury of the legions of fans Cernovich has cultivated online -- as Seder learned first-hand this past week.
"This was mind-bogglingly stupid, a real textbook case of how not to handle 'controversy,'" Washington Post reporter Dave Weigel, himself a former MSNBC contributor, told CNN.
Weigel said Seder's joke "was obvious to anyone without context, but incredibly obvious to anyone who looked up the context -- as any employer should do before making a call like this."
"The tweet was from September 2009, when the Internet was making fun of extremely bad defenses of Roman Polanski," Weigel said. "Seder was taking the side of abuse victims."
Related: 'Pizzagate': Comet Ping Pong not the only D.C. business enduring a nightmare
Michael Brooks, a co-host and contributor on "The Majority Report," called it "embarrassing and craven on the part of MSNBC."
"When David Duke is one of the only people who is happy with your decision, what more is there to say?" Brooks said in an interview with CNN.
Some of Seder's colleagues in the comedy world also came to his defense.
"Yo @msnbc ur gonna let Mr Pizzagate be ur moral compass?" Sarah Silverman tweeted.
MSNBC's decision to cut ties with Seder recalled a similar episode that occurred earlier this year. In March, then-public editor of The New York Times Liz Spayd rebuked reporter Sopan Deb in a column after Cernovich successfully ginned up outrage over a joke Deb had tweeted. Spayd's column led to the Daily Beast saying she had an "alt-right blindspot" and the liberal group Media Matters accusing her of helping "an 'alt-right' harassment campaign.'"
An MSNBC executive who was not authorized to speak publicly on the matter said there had been considerable deliberation over the decision to cut ties with Seder, and that the network was unsettled by the celebratory reaction from certain segments of the right-wing.
MSNBC employees, who spoke on the condition of anonymity because they weren't publicly authorized to discuss the matter, told CNN there had been dissent internally over the decision. One senior MSNBC employee, summing up the feelings of others who also spoke with CNN, characterized the move as "really weak" and "pathetic."
Related: Fox News tweets correction on MSNBC report after Twitter users call out error
These employees said cutting ties with Seder set a bad precedent and worried that it would incentivize far-right personalities to dig through the Twitter feeds of hosts, producers, and contributors looking for objectionable content.
And they may not be wrong. Cernovich told CNN that MSNBC's decision had emboldened him and that he has already begun the work of going through the tweets of other employees at the network.
"The left isn't going to stop going through our tweets so we aren't going to stop going through theirs," Cernovich said. "I wish we would get over people trying to find someone saying a naughty thing. I've been saying that for years. And nobody wants to listen. So fine, we will play by the same rules."
Asked whether he realized Seder's tweet was intended as a joke, Cernovich said he didn't.
"I don't feel I misrepresented his tweet," he said. "I reported on what he said and I emailed him for comment and he didn't feel like replying to my email."
Cernovich has generated controversy with a number of inflammatory comments in the past. In one now-deleted tweet from 2012, he wrote, "Date rape doesn't exist." In a 2013 tweet he said, "You can't rape the willing." Cernovich told CNN that such tweets were "mocking rape culture," but said he would not post a tweet like those today.
Seder, meanwhile, hopes that his story will serve as a cautionary tale.
"If part of the legacy of this can be that I made it impossible for Mike Cernovich to do this," he said, "then it will make me feel very good."