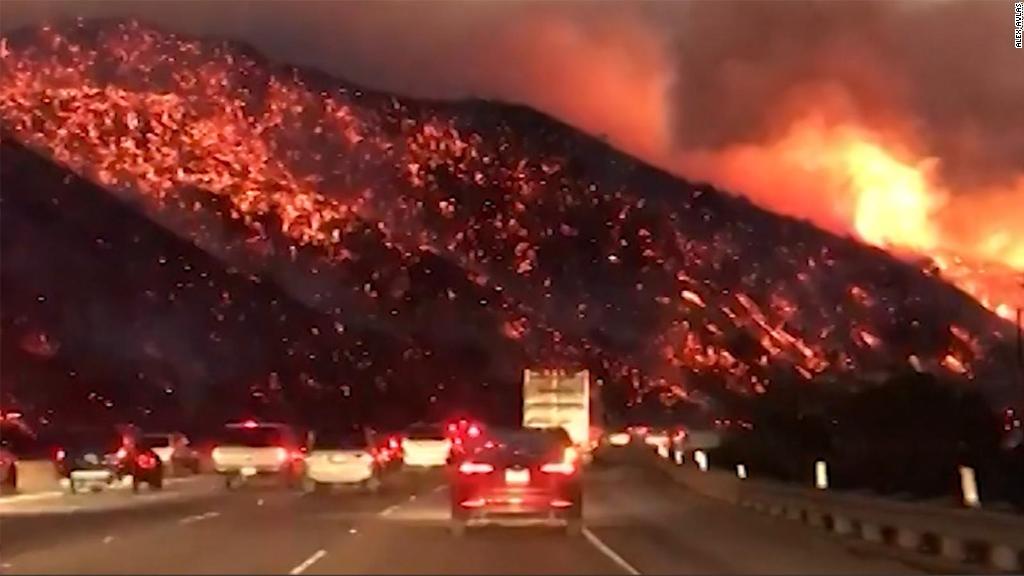 Wildfires racing through Southern California are taking a toll on one of the state's largest utility companies.
Edison International (EIX) shares have tumbled 15% since the blazes began Monday night. It's lost more than $3.3 billion in market value.
The company delivers power to 15 million residents across 50,000 square miles in Southern California, and Wall Street fears that Edison could be found liable for damages if its power lines are ruled to have started the fires.
"Investors seem to be taking a shoot first, ask questions later approach," RBC Capital Markets analyst Shelby Tucker wrote in a research note Tuesday.
Related: This stock has lost almost 20% since the California wildfires
The series of blazes have scorched more than 83,000 acres in Ventura, Santa Barbara and Los Angeles counties. Around 13,000 residents didn't have power as of 9 a.m. Pacific Time Wednesday, Edison said.
Edison has said there's "no indication that the company's facilities were a source of these fires," but some investors are worried the company could be forced to foot the bill if it's found liable for them.
In a major decision last week, California's Public Utilities Commission ruled that a San Diego utility was responsible for a 2007 fire. The utility had to pay nearly $400 million in damages and was forbidden from passing those charges onto customers.
Edison's losses come on the heels of concerns about PG&E's role in the October wildfires that devastated Northern California's wine country. PG&E (PCG), California's largest utility company, has shed about $8 billion in market value since the fires.
"Investors are extremely concerned about open-ended utility liability for fire damage in California," Morgan Stanley analyst Stephen Byrd wrote in a note Wednesday.