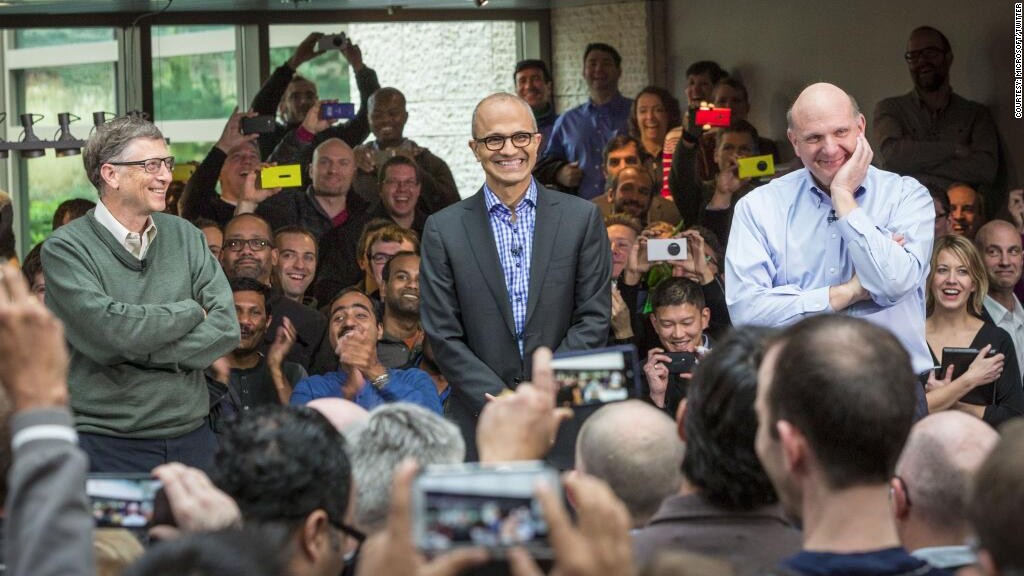 Take that, Apple and Google? One Wall Street analyst thinks that Microsoft could be worth $1 trillion by 2020 -- if not sooner.
Evercore ISI analyst Kirk Materne made the prediction in a report last week. Materne and his team argue that Microsoft (MSFT) can hit the trillion dollar mark thanks to strong growth in its Azure cloud business and Office 365 suite of business software.
Microsoft is currently worth a little more than $650 billion. So its stock would need to climb nearly 55% from current levels for the company to reach the trillion dollar level. But that may not take too long if Microsoft's current hot streak continues.
Wall Street has embraced the cloud-first strategy of Microsoft CEO Satya Nadella, who took over from Steve Ballmer in February 2014.
Shares of Microsoft are up more than 35% this year alone, and have surged more than 200% in the past five years. That's better than the broader market, Apple (AAPL) and Google parent company Alphabet (GOOGL).
Materne didn't say in his report whether or not he thought that Apple -- now worth more than $870 billion -- or Alphabet, with a market value of $725 billion, would reach $1 trillion before its two top tech rivals.
It's possible they could reach the trillion dollar mark first.
But he argues that Azure should power Microsoft's future gains. Materne noted that one thing Microsoft has in its favor is that customers may be fearful of the growing clout of Amazon (AMZN), which owns Azure cloud competitor Amazon Web Services (AWS).
Related: Bill Gates invests $80 million to build Arizona smart city
Amazon's moves into media, physical retail and other markets could make big businesses, commonly known as enterprise customers, more wary of Amazon. They may prefer to partner with Microsoft or Google in the cloud instead of using AWS,
"The Amazon 'death star' phenomenon is a growing point of discussion in the enterprise market," Materne wrote. "Amazon's ambitions in certain industries are now having a real impact on how certain enterprises think about AWS as a potential vendor."
Amazon also is approaching the trillion dollar mark. The company is now worth more than $560 billion.
Amazon's surge has even powered its CEO Jeff Bezos ahead of former Microsoft boss Bill Gates in the world's most wealthiest rankings. Bezos is now worth nearly $100 billion while Gates has a net worth of about $90 billion.
But Materne thinks Amazon will have to tread carefully going forward. It's not as if Microsoft or Google are underdogs of course. However, they could make the argument to Walmart (WMT) and other retailers that they aren't as much of a threat as Amazon is.
"As Amazon's global ambitions expand into other segments of the economy, AWS's competitors will continue to remind potential customers that by going with AWS, they are essentially helping to fund their competitor," Materne wrote.
Still, it's possible that within the next few years, Amazon and Microsoft -- along with Apple and Alphabet and several other tech giants -- could all be worth more than $1 trillion if this market rally continues.
Facebook (FB) is worth more than $500 billion and China's Tencent (TCEHY) and Alibaba (BABA) aren't far from the half-trillion dollar mark either.