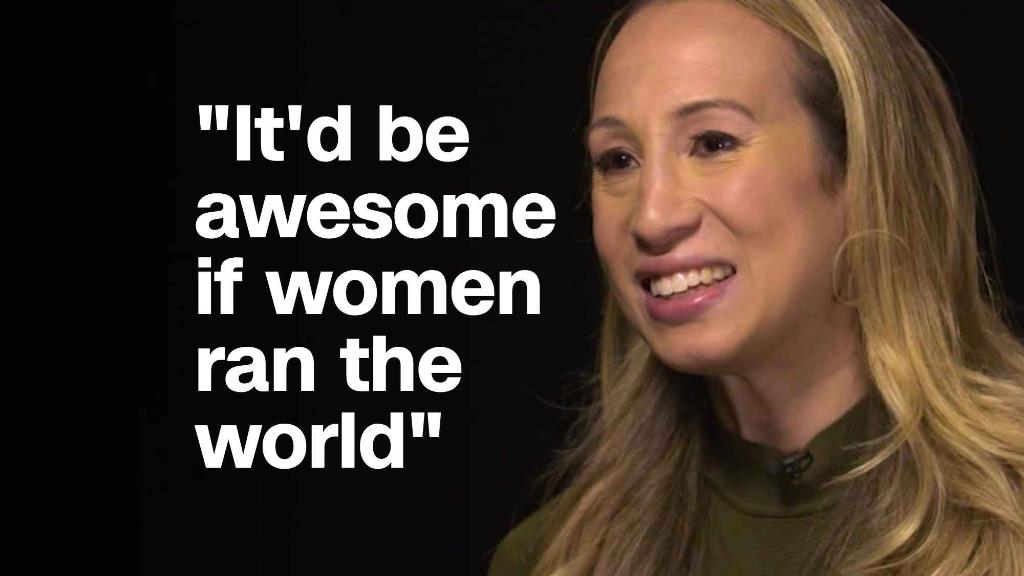 Facebook COO Sheryl Sandberg has long been vocal about the state of the female leadership lagging in the U.S.
"The truth is, men still run the world and I'm not sure it's going that well," she said at a conference in Stockton, California in September.
Now, another female Facebook executive said she agrees with Sandberg.
"We need more women in power. We need parity," VP of Social Good Naomi Gleit told CNN's Poppy Harlow in a new podcast episode of Boss Files. "It'd be awesome if women ran the world."
Gleit, who is one of the longest serving Facebook employees under founder Mark Zuckerberg, leads the company's social good efforts, which include crisis response, charitable giving, health and mentorship.
Related: Jessica Alba wants more women leaders at The Honest Company
Calling Sandberg a source of inspiration, Gleit said the COO does not "beat around the bush."
"I was there the day that she joined Facebook and she just instantaneously became the hero for all of the girls at the office," Gleit said. "We hadn't even met her yet and she was our hero."
A few years later, Sandberg wrote her best-selling book "Lean In" and became a high-profile supporter of women in the workplace.
"Here was this woman who is going to be Mark [Zuckerberg's] right hand and that just made us so proud and something to aspire to," Gleit said.
Facebook (FB), like many other tech giants, has struggled with diversifying its workforce.
In its most recent annual diversity report, Facebook made some small gains to its female workforce: 35% of its global workforce are women, up from 33% the prior year. In tech, its percentage of women has risen by two points to 19%.
Facebook also increased its Hispanic and black workforce to 5% and 3%, respectively. But numbers for its tech workforce, including coders, developers, and engineers, remained static.
"When you talk about diversity, it's not just gender. It's race, background, different perspectives," Gleit said, "Diverse teams perform better."
Related: Diane von Furstenberg: 'I've never met a woman who is not strong'
When the company noticed women in India were not uploading profile pictures to Facebook, a project manager from the country said it was due to concerns that someone could steal their identity. Facebook took action.
It rolled out a tool that allows users in India to put safety guards on profile pictures. If the setting is activated, others are unable to download, share or send another person's profile picture via a Facebook message.
"I would have never known the experience that women in India are having on Facebook and she brought that perspective," Gleit said. "We're building a product for 2 billion people around the world, [so] our team needs to reflect that diversity."
In addition to diversity, Gleit urged there's work to be done to get more women into the tech industry.
"This is a watershed moment in Silicon Valley [and] in America," she said. "These female CEOs being harassed by these male VCs in positions of power over them. That needs to change too in order to see more women in the field."
Related: Christy Turlington Burns on her mission to help all mothers
Her comments also come at a time when the company is under the microscope for allowing Russian propaganda to spread on the platform during the 2016 U.S. presidential election.
"We don't want this to happen on Facebook," Gleit told Harlow. "This is not okay. It's a new kind of threat, and this is a threat to national security."
Facebook estimates that close to 150 million Americans may have been exposed to content from the Internet Research Agency, a troll farm with ties to the Russian government, between June 2015 and August 2017 on Facebook and Instagram.
Last month, top lawyers for Facebook and other tech companies testified before Senate and House committees into how foreign nationals used these platforms to meddle in the 2016 presidential election.
Facebook's recent efforts to address the issue include a new portal that lets users see whether they liked or followed Russian propaganda on Facebook during the U.S. election. It's also built tools to increase ad transparency. For example, users will be able to see all active ads being run by any account, and an archive of ads related to U.S. federal elections.
Facebook is also doubling its team that works on safety and security issues to 20,000. About 1,000 employees are working on the issue of foreign government election meddling, according to Gleit.
"All of that said, we know that we can do more," Gleit said.
As for whether social media sites like Facebook should have more ad regulations, Gleit said: "We are already working within regulations and we should discuss more moving forward."