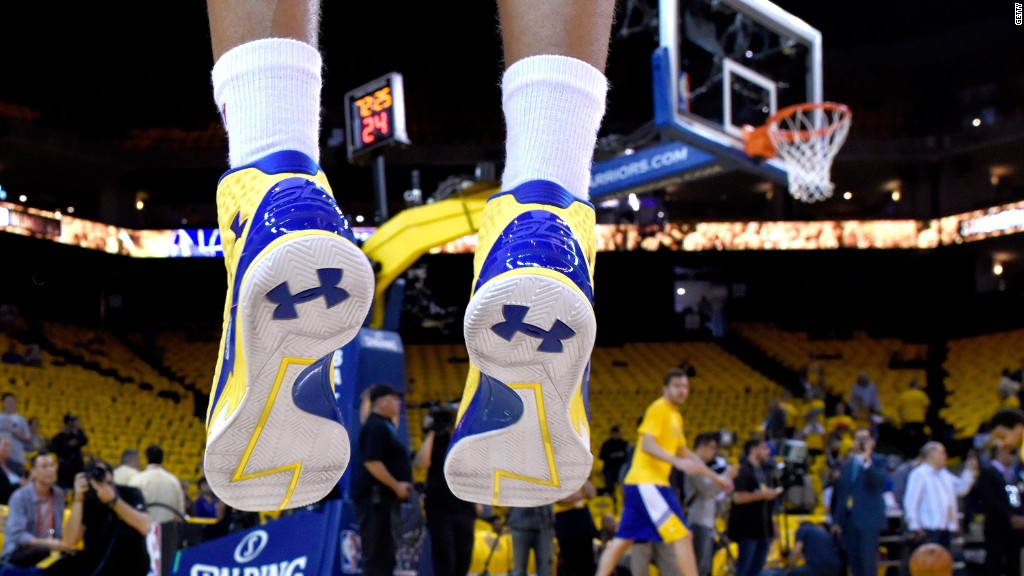 Under Armour has been under attack from Wall Street. The stock has lost more than half its value in 2017, making it the worst performer in the S&P 500. And this year's plunge follows a more than 30% drop in 2016.
It's a stunning fall from grace for the sneaker and athletic apparel company, which only a few years ago was enjoying strong momentum and making life difficult for giants Nike and Adidas.
But declining sales in the United States, disappointing sneaker launches, a wave of executive departures and a challenging retail environment have left Wall Street skeptical that Under Armour (UA) can turn things around anytime soon.
Simeon Siegel, an analyst with Nomura Instinet, argues that the company overextended itself in the past few years by entering too many new categories like tennis, fishing and golf instead of paying more attention to its key running and training segments.
"Under Armour likely grew too far, too fast," Siegel said. "It's fair to credit CEO Kevin Plank with some phenomenal growth. But Under Armour needs to cut ancillary products, pull back and focus on the core business."
Under Armour has also made a big push into basketball with a line of shoes endorsed by Golden State Warriors star Steph Curry. But it may have tried too hard to market Curry as a worthy successor to Michael Jordan, who still is a big seller of sneakers for Nike.
The problem, analysts say, is that the Curry sneakers are great for playing basketball but are not fashion lifestyle shoes the way Air Jordans were in the 1980s and 1990s during the peak of Jordan's NBA career.
Related: Under Armour is in serious trouble
Even Curry's teammate Kevin Durant, who has a shoe line for Nike, has made fun of them.
Making matters worse, Curry debuted the latest iteration, the Curry 4, during the NBA Finals in June. But the sneaker wasn't available in stores until October.
"Under Armour was too late with the Curry 4 launch," said Susquehanna Financial Group analyst Sam Poser. "Not having the shoes out when they were top of mind was a mistake. The timing was so messed up."
Under Armour also suffered from bad PR earlier this year that may have hurt its reputation with younger customers (and athlete endorsers) after Plank agreed to join President Trump's now defunct manufacturing council.
Plank said in an interview with CNBC that "a pro-business president is something that is a real asset for the country." Curry responded by telling The Mercury News that he agreed with Plank -- but only "if you remove the 'et' from asset."
Related: Why Under Armour's CEO had to ditch Trump
Lance Allega, Under Armour's vice president of investor relations, spoke with CNNMoney and highlighted that the company will "evolve into an operationally excellent company with financial discipline."
Allega added that the company will be more innovative and "laser-focused" on how it brings new products to market.
"We already are a great brand. We need to become a great company," he said.
Allega is one of several new executives at Under Armour. He joined in January from The North Face and Vans owner VF Corp (VFC), and also has worked at Nike.
But there have been several other changes in the leadership ranks this year that may also be making Wall Street skittish.
Co-founder Kip Fulks said in October he was taking a sabbatical. The company's footwear chief, head of women's and kid's apparel and chief marketing officer also announced they were leaving after the company reported weak third-quarter results.
The dramatic shakeup in the world of retail is obviously hurting the company, too.
Related: Air ball! Nobody's buying expensive sneakers
Sporting goods giants Foot Locker (FL) and Dick's (DKS) are struggling and their stocks have both plunged as a result. Cabela's was sold to Bass Pro Shop. The Sports Authority, Gander Mountain and Sports Chalet have all gone bankrupt in the past two years.
That's one reason why Under Armour has tried to find new retail partners, such as Kohl's (KSS) and DSW (DSW), in order to lessen its reliance on struggling sporting goods chains.
However, it's also worth noting that Under Armour's rivals aren't suffering as much from the problems in retail.
Adidas (ADDYY) continues to thrive. Nike, the worst performing Dow stock in 2016, has enjoyed a renaissance this year, with shares rising nearly 25%. Skechers (SKX) has rebounded from a rough 2016, too.
Victor Ahluwalia, an analyst with CFRA Research, said he's concerned that Under Armour will have no choice but to slash prices to win back customers. And that could further hurt profit margins.
Ahluwalia said he noticed bigger markdowns on Under Armour products over the Black Friday shopping weekend than there were for Nike.
Related: Slam dunk for Adidas as sales top Nike's Jordan line
He said it is encouraging to see Under Armour's international business growing rapidly, but sales from outside the U.S. are not yet big enough to move the needle for the whole company.
Still, Ahluwalia recently upgraded the stock. The reason? If Under Armour doesn't turn things around soon, there could be calls for the company to get taken over.
"Under Armour could go private or be sold to another company. That will keep a floor on the stock price. But 2018 will still be a tough year," Ahluwalia said.