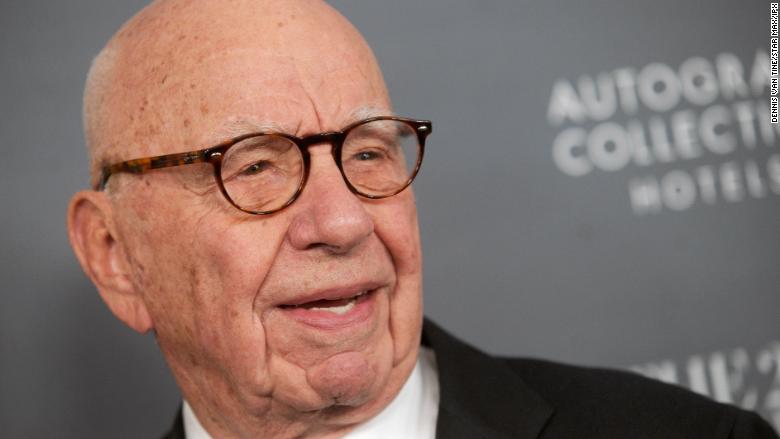 21st Century Fox executive co-chairman Rupert Murdoch brushed off the sexual harassment scandals that have roiled Fox News over the past year and a half, saying they have not been harmful for the Fox News' bottom line.
In a Thursday afternoon interview on Sky News, which is owned by 21st Century Fox, Murdoch said some of the sexual harassment claims have been political in nature.
Roger Ailes, the late Fox News chief, resigned from the company after star anchor Gretchen Carlson filed a lawsuit in the summer of 2016 alleging sexual harassment. When more women came forward with claims of inappropriate behavior after Carlson's lawsuit, Ailes was forced out.
"It's all nonsense. There was a problem with our chief executive. Sort of, over the years. But isolated incidents," Murdoch said in response to a question about whether the harassment claims have hurt Fox's business. "As soon as we investigated it he was out of the place in hours -- well three or four days. And there's been nothing else since then."
But host Bill O'Reilly was forced out in April following a New York Times investigation into the tens of millions of dollars in settlements O'Reilly and Fox had paid out over sexual harassment allegations. Both Ailes, who died in May, and O'Reilly denied the allegations made against them.
CNNMoney reported last month that insurers will pay 21st Century Fox almost $90 million to cover the cost of settlements related to sexual harassment and racial discrimination.
Murdoch also took a swipe at what he calls the "liberals," who are all "going down the drain" and proceeded to name drop networks that are dealing with sexual harassment scandals of their own.
"NBC is in deep trouble. CBS, their stars," he said. "I mean there are really bad cases that people should be moved aside and there are other which might've been a bit of flirting."
Murdoch said the cases did not depress investor sentiment into 21st Century Fox.
On the big news of the day around Disney's plans to buy up most of 21st Century Fox, Murdoch said his company was "pivoting at a pivotal moment."
"We're going back to our roots which is news and sports," Murdoch said. "It's going to be a very good company."
Disney announced on Thursday that it is buying a major chunk of 21st Century Fox, including its television and movie properties as well as its stake in Hulu and Sky.
Fox News, Fox Broadcast and and Fox Sports will be spun off into a new company, which may possibly merge with News Corp, which split from 21st Century Fox split in 2013.
Murdoch added that his son, James Murdoch, who was rumored to be in line for an executive role at Disney, will be involved in the "integration with Disney" but there are "no guarantees for the future."