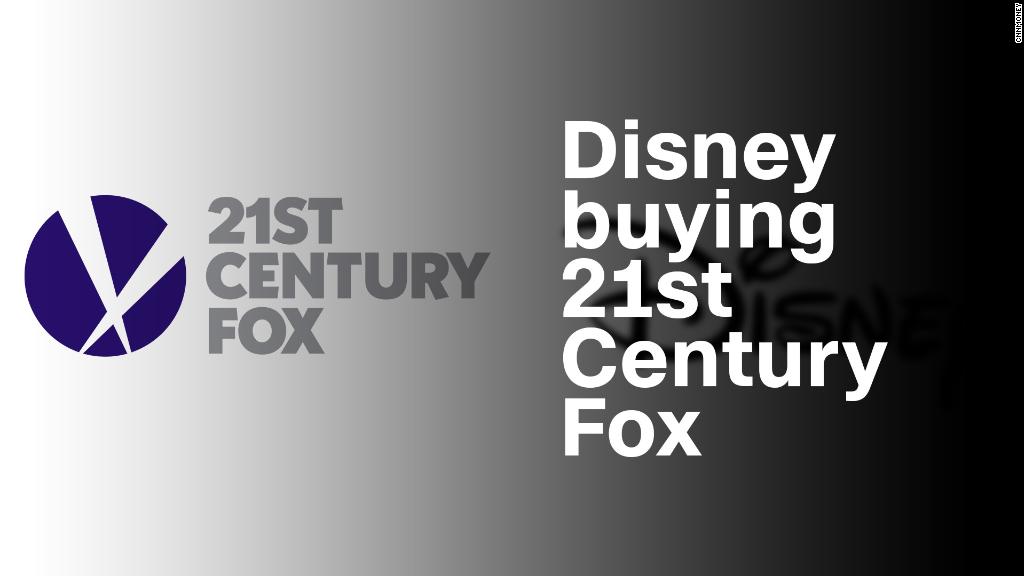 "The Simpsons" totally predicted that Disney would take over Fox -- almost 20 years ago.
An episode called "When You Dish Upon A Star," which first aired on November 8, 1998, depicted a sign on the front of a building that read "20th Century Fox, a Division of Walt Disney Co."
The episode from the long-running Fox cartoon focuses on an unlikely relationship between Homer Simpson, Alec Baldwin and Kim Basinger. The sign appears toward the end, as Ron Howard successfully pitches a movie about "a killer-robot-driving-instructor that travels back in time for some reason" and "a talking pie," and receives bags of money for the project.
That Disney-Fox prediction became a reality on December 14, 2017, when Disney (DIS)said it was buying a huge chunk of 21st Century Fox, which owns 20th Century Fox, for $52.4 billion.
"The Simpsons" prediction was noted on Thursday in a tweet by ESPN reporter Darren Rovell, who included a screen shot of the cartoon sign.
The prediction was also noted on November 6, when news of the merger talks first surfaced, by various fans who tweeted screen shoots of "The Simpsons" sign.
Related: Disney is buying most of 21st Century Fox for $52.4 billion
This isn't the first time "The Simpsons" has predicted major news events. Most notably, "The Simpsons" predicted that Donald Trump would become president, in a 2000 episode called "Bart to the Future."
"As you know, we've inherited quite a budget crunch from President Trump," says the character Lisa Simpson, who had succeeded Trump as president.
The cartoon also predicted the 2003 tiger attack on Siegfried and Roy, text bloopers with autocorrect technology and faulty voter machines that miscounted votes for Obama as votes for his Republican rivals.