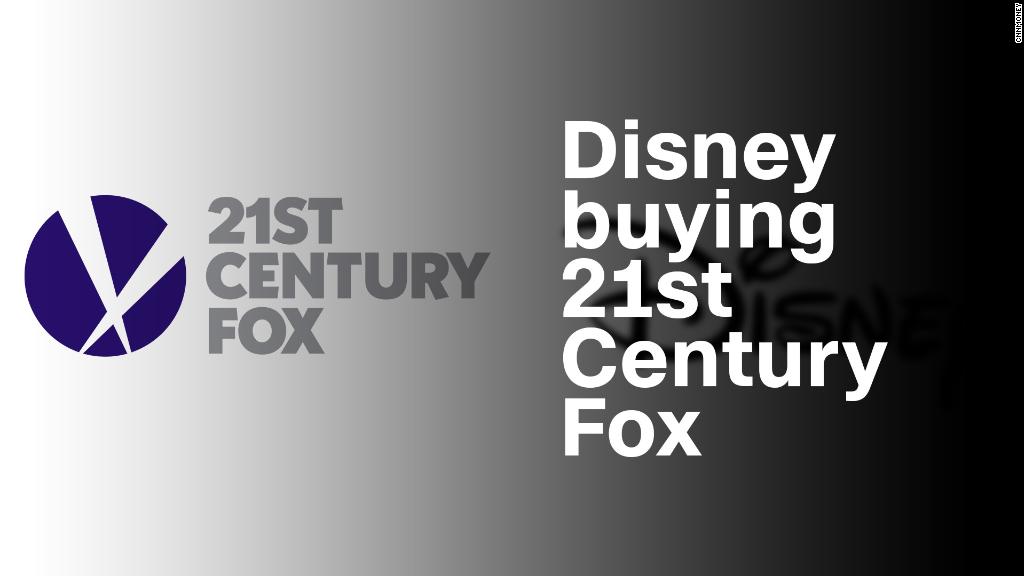 Odds are, if you're reading this story, you're a subscriber to Netflix.
In two years, will you be a subscriber to Disney, too?
That's what Disney head Bob Iger hopes. In fact, that's the premise of this week's $52 billion Disney-21st Century Fox deal. Executives at the two companies are talking openly about taking on Netflix, which is a fundamental change to how Disney and Fox currently operate.
"When Disney pull all their -- and Fox -- pull their programs back, or stop selling anything to Netflix, it will be interesting how that affects them," 21st Century Fox (FOX) patriarch Rupert Murdoch said Thursday.
Murdoch is basically telling Netflix "we're turning off the spigot." The Fox assets will super-charge Disney's own streaming ambitions.
Netflix has been expecting this for a long time. That's one of the reasons the streaming king is investing billions of dollars in programming, including dozens of original series and films.
Related: Bob Iger is the undisputed king of Hollywood
What's the ultimate outcome? In a few years you may be paying for Disney's streaming service and Netflix and probably a few others. Or maybe a bundle of them all -- a newfangled form of cable TV.
Thursday's P.R. blitz by Iger and Murdoch, promoting the virtues of the Disney-Fox deal, left little doubt that the deal is all about battling Netflix, Google, Facebook and other Silicon Valley giants.
The big media world buzzword right now is "DTC," short for "direct-to-consumer," meaning a product you buy directly from Disney, instead of a distributor like Comcast.
If the 21st Century Fox sale is approved by regulators, Fox's shows and movies will be building blocks for Disney's forthcoming streaming service, a key piece of Iger's "DTC" strategy.
This was a big part of the pitch to investors on Thursday: Disney (DIS) said buying Fox's assets "expands our global reach" and "broadens our global direct-to-consumer capabilities."
The Disney-branded streaming service won't launch until 2019. The company is also planning to introduce an ESPN-branded sports streaming service in spring 2018.
In preparation, Disney has already said that it's not going to renew its movie distribution deal with Netflix (NFLX).
Fox has also been pulling back some of its programming. Its cable channel FX has been promoting the FX+ app as an alternative to Netflix.
Of course, Netflix has been cutting huge licensing checks to media companies for almost a decade now, so this new direction comes with risks.
The cable bundle still provides most of Fox's profits, and will for the foreseeable future.
But executives like Iger and Murdoch have been talking about this streaming shift for some time. The changes in consumer behavior are obvious for all to see.
In interviews on Thursday, Murdoch described the competitive landscape in crystal clear terms.
"I think Facebook coming in, and Apple, and Netflix are all going to be big players," Murdoch said on Fox Business, one of the channels he'll still own after the Disney transaction closes.
He pointed out that Facebook tried to bid for the streaming rights to cricket matches earlier this year. Murdoch's Star media group won out.
"That was a warning shot," he said of Facebook. "They've announced now they're going to spend billions on sports rights. So we don't know which country they'll go after or what they'll do."
This is how media moguls now see the landscape: As a battlefield, with themselves lining up against tech heavyweights.
Related: White House confirms: Trump talked to Murdoch about Disney deal
This perspective also contributed to Time Warner's decision to sell to AT&T (T) last year. (Time Warner (TWX) is CNN's parent company.) The deal has been delayed due to an antitrust lawsuit by the U.S. government.
Disney and Fox will face regulatory scrutiny as well, although President Trump has already weighed in favorably about his friend Murdoch's big bet.
Disney and Fox's argument to regulators will be, in effect, that Netflix, Amazon (AMZN) and other players are getting bigger and bigger, so we have to be allowed to keep up.
"Most folks who don't follow this closely may not be aware of the sheer power and investment of the new entrants and how that is affecting our space," a Fox source said Thursday. The person requested anonymity to describe the looming antitrust arguments.
"Content creation is occurring in the most competitive environment in its history," the source said. "So, consolidation has to be viewed the way consumers are experiencing it."
They are increasingly experiencing it as a series of streams.