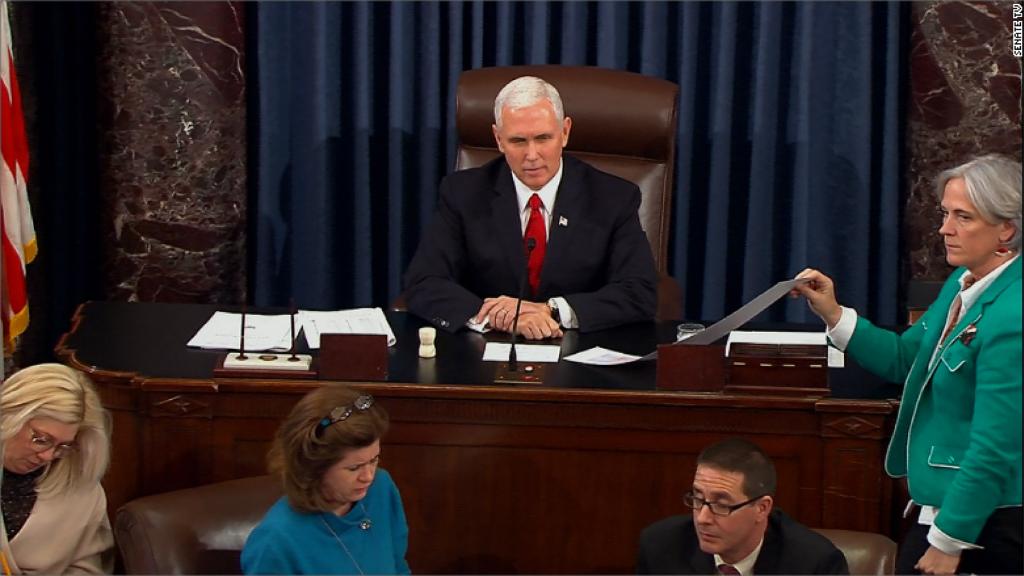 The tax bill passed by the House and Senate still hasn't been signed by President Trump. But one blue chip company, FedEx, is already touting the potential for a nearly $1.5 billion increase in annual profits due to lower corporate taxes.
FedEx reported its latest quarterly results after the closing bell Tuesday, before the Senate voted to approve the bill.
But the shipping giant told investors in its earnings release that its annual profits for fiscal 2018 could increase by $4.40 to $5.50 a share, mainly due to a change in how it values deferred tax liabilities as well as the cut in the corporate tax rate to 21%.
The lower tax rate on its own will lead earnings to be as much as $1 a share higher, FedEx said.
FedEx has about 268.2 million total shares outstanding. So a possible $5.50 per share boost from lower taxes would translate to a $1.48 billion bump in annual earnings. Shares of FedEx (FDX) rose more than 3% on the news, hitting an all-time high.
The broader market has been relatively flat the past two days though. There is a sense that much of the good news about the tax bill was already factored into stock prices. There are also questions as to whether the bill will really benefit consumers.
Related: Why now may not be a good time for expensive tax cuts
But if FedEx's latest results are any indication, more big businesses -- particularly in sectors with high tax rates like transportation, financials, retail and telecom -- will tout tax cut benefits when they report earnings for the fourth quarter and full year in January.
To that end, shares of railroad giants Union Pacific (UNP) and Norfolk Southern (NSC), discount broker Charles Schwab (SCHW), insurers Prudential (PRU) and Progressive (PGR) and home improvement retailers Lowe's (LOW) and Home Depot (HD) also hit record highs Wednesday.
And telecom giant AT&T (T), which has plans to buy CNN owner Time Warner (TWX), said Wednesday it planned to pay a $1,000 bonus to more than 200,000 AT&T U.S. employees because of lower taxes.
Ma Bell said it would dole out the bonuses during the holidays if President Trump signs the bill before Christmas.