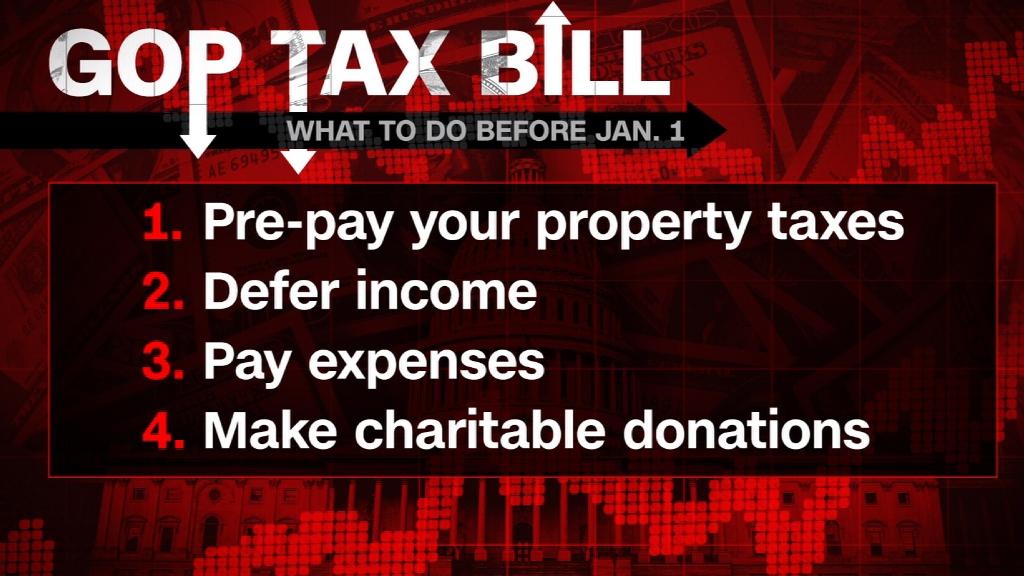 AT&T promised Wednesday to give more than 200,000 U.S. workers a $1,000 bonus once President Trump enacts the tax overhaul that Congress just passed.
The pledge for $200 million in bonuses shows shows the extent of AT&T (T)'s support for the Republican tax plan, which will slash the tax rate on corporations.
The bonus plan may also represent an olive branch to the Trump administration following the Justice Department's lawsuit last month to block AT&T's $85 billion takeover of CNN owner Time Warner (TWX).
President Trump praised AT&T's bonus plans during a Rose Garden event celebrating Congress' passage of the tax plan. "That's because of what we did. That's pretty good," Trump said.
In a statement, AT&T CEO Randall Stephenson hailed "Congress, working with the President" for taking a "monumental step" that will "create good-paying jobs."
AT&T said the bonus payments will go to all union-represented, non-management and front-line managers, totaling more than 200,000 employees.
AT&T expects the bonuses will be delivered over the holidays if the law is enacted before Christmas. It's not clear when Trump plans to sign the bill, which passed the House and Senate this week.
Related: Why now's not the time for expensive tax cuts
AT&T has been an outspoken backer of the tax legislation -- and it hasn't been shy about backing up that support with promises to spend more within the U.S.
The company reiterated a promise, first made in early November prior to the Justice Department lawsuit, to ramp up its capital spending by $1 billion in the U.S. AT&T said at the time that research shows that every $1 billion in capital invested in the telecom industry creates about 7,000 jobs for American workers.
In touting the GOP tax overhaul, Trump has repeatedly emphasized the importance of creating jobs.
"Results will speak for themselves, starting very soon," Trump tweeted on Wednesday. He added, "Jobs, Jobs, Jobs!"
Other companies have been more reluctant to promise any new investments or returns for workers as a result of tax cuts.
Only 14% of CEOs surveyed by Yale University said their companies planned to make large, immediate capital investments in the United States if the tax plan became a reality.
On a call with analysts, FedEx (FDX) CEO Fred Smith praised the tax legislation as a "pro-growth" plan that will "power the economy." However, FedEx said it only "may" boost spending if the plan gets enacted.
Boeing (BA), however, said on Wednesday it will use some of its tax savings on employees. The aerospace giant announced $300 million in spending, to be split equally between worker training, upgrading workforce facilities and a program that matches employees' charitable contributions. Boeing, a major defense contractor, gets nearly one-quarter of its revenue from the federal government.
Wells Fargo and Fifth Third Bancorp announced plans on Wednesday to raise their minimum wage to $15 per hour. Fifth Third Bancorp also said it will pay a one-time bonus of $1,000 to more than 13,500 of its 18,000 employees.
Trump's Justice Department shocked the business world last month by suing to block the takeover of Time Warner. The decision was surprising because it's very rare for the government to challenge "vertical" mergers like this one, in which no direct competitor is removed from the market.
A trial is scheduled for March 19. The $85 billion transaction expires on April 22. If the companies don't extend the deadline, AT&T must pay Time Warner a $500 million breakup fee.
--CNNMoney's Julia Horowitz and Hadas Gold contributed to this report.