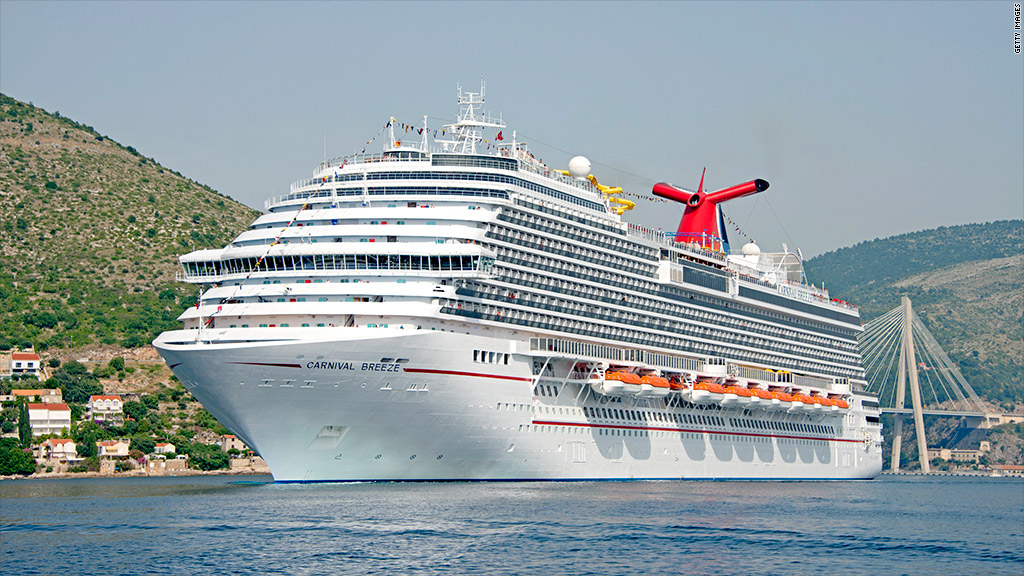 Cruise lines are sailing full steam ahead.
Despite a brutal hurricane season in the United States and Caribbean that canceled cruises and hurt profit, a mix of younger travelers, favorable economic conditions and a broader shift in consumer habits created tailwinds for the industry.
"There's been a surge in interest for cruising globally," said Nomura Instinet analyst Harry Curtis. The Caribbean, Europe and Alaska rank as the most popular destinations.
More than 25 million people took cruises in 2017 and 27 new ships will debut next year, industry group Cruise Lines International Association (CLIA) announced this week.
The largest cruise operators have benefited from rising demand.
Carnival, the biggest line with an 103-ship fleet, reported record sales and profit this year. Carnival (CCL) has climbed 28% in 2017.
Norwegian Cruise Lines (NCLH) is up 29% on the year. And Royal Caribbean Cruises (RCL) has soared 51%.
Related: Cruises canceled as Hurricane Irma menaces Caribbean
Cruises aren't just for your grandparents anymore. Royal Caribbean said in November that it's carrying around 30% more Millennials than it did two years ago.
The industry's engine, though, is consumer confidence, Carnival CEO Arnold Donald told CNNMoney in an interview.
"If people are more confident, they tend to be willing to go on vacations. Once on board, they tend to spend a little more."
Related: From New Orleans' Ninth Ward to CEO of Carnival Corp.
Not only is consumer sentiment is at a 17-year high in the United States, a 22-year high in China and a 16-year high in Germany, but consumers are spending money in different ways.
Leisure industry analysts agree that cruise lines benefit from the so-called experience economy. Consumers are splurging on memorable trips with family and friends rather than on luxury items.
"[There's a] broader consumer desire for accumulating experiences rather than objects," UBS analyst Robin Farley wrote in a research note this week. Cruise spending has grown at a faster rate than lodging, clothing and electronics industries this year, Farley found.
Americans travel spending abroad is up nearly 8% over the past 12 months. Spending on durable goods such as cars, jewelry, furniture and appliances is up only 4% during the same period, according to Wolfe Research analyst Jared Shojaian.
"How are we making it all work? [The] bottom line is the experience on board is phenomenal," said Donald.
An expanded destination map to China and Cuba and an advertising blitz have also helped lift Carnival. The company has its own digital streaming channel and airs weekend travel series on network television.
Related: Carnival approved for Cuba cruises
In addition, cruise pricing is also attractive. Taking a five-day cruise around the Caribbean can be cheaper than a plane trip and allow travelers to see more than one spot.
"It's the best bang for the travel buck," Curtis said.
Land vacations will always dominate the travel industry, but cruises have plenty of room to grow, according to Donald. "Every market in the world is under-penetrated," he said.
And thanks to late changes to the GOP's tax bill, foreign lines that operate cruises in the U.S. won't face a tax hike.