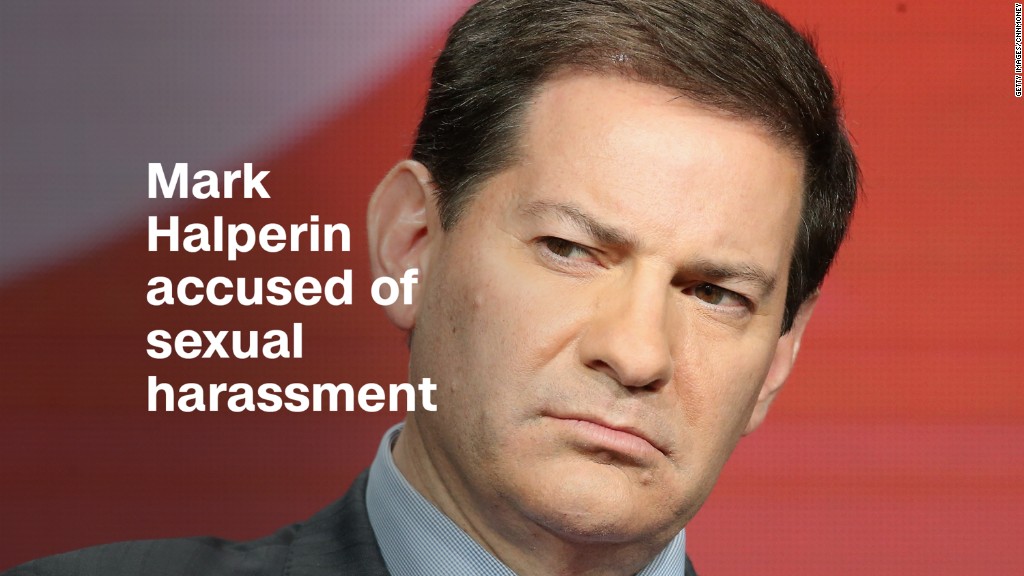 MSNBC host Mika Brzezinski apologized Friday evening after she angered some of the women who had accused veteran journalist Mark Halperin of sexual harassment or assault with comments she made earlier in the day on "Morning Joe."
"We have been trying our best on Morning Joe to have an honest conversation about sexual harassment and sexual assault," Brzezinski said in a statement. "The issue has hit close to home given that Mark Halperin was on our show. I have spent a lot of time talking to some of his accusers and to Mark himself. Often I bring up the issue on our show because I think it would be less than genuine to talk about the growing number of cases without recognizing that a former member of our team acted very badly."
"In our discussion about sexual harassment this morning, I said some things that hurt people," she added. "In the case of Mark, my goal today was to start a conversation about hearing from the men whenever we can, but I realize that it is not my place. It isn't my call to make, and for that I am truly sorry. As a victim of sexual assault, I understand that each individual's case is different. This is up to the victims, some of whom I've been in contact with. My hope is for all of us to come together to support the brave women who speak out and help make workplaces safer as we continue this difficult conversation in the months and years ahead."
Brzezinski had been discussing the avalanche of sexual harassment allegations against powerful men in recent weeks on "Morning Joe" when she said that Halperin, a friend of hers, "is more than willing to meet with his accusers and apologize [to] them face--to-face."
"I've actually tried to offer him to them," Brzezinski said. "They don't want to talk to him. They don't want to talk to him."
Emily Miller, who wrote on Twitter in October that Halperin had once "attacked" her, told CNN that she was "so upset" by the remarks that she was "shaking."
"I can't retraumatize myself to be in the same room with him to please Mika Brzezinski and her rich and famous friends," Miller told CNN. "If Halperin genuinely wanted to apologize, he could send a letter or put it in public domain. Instead he has on the record denied my accusations which is extremely painful as a victim to be denied the truth. It is disgusting and unethical of Mika to use the power of her show to shame me, a sexual assault victim, into meeting with the man who did that to me."
Related: Four more women accuse Mark Halperin of harassment, bringing total to at least a dozen
At least a dozen women accused Halperin of sexual harassment or assault in October -- nine spoke to CNN, one wrote an op-ed for CNN.com, one spoke to the Washington Post and one discussed her allegations on Twitter. Within a week of the accusations being leveled against him, Halperin was fired from his position as an analyst for NBC News and MSNBC and lost a lucrative book deal with Penguin Press. HBO also canceled a planned project that was set to be based on the canceled book and Showtime said its series "The Circus" would not feature him if it ordered additional seasons.
Halperin acknowledged in a lengthy October statement that he had mistreated women in his past, but denied the most serious allegations against him, including that he assaulted women. He could not be reached for comment for this article.
Miller said that Brzezinski had previously asked her to be a guest on her show with Halperin and that she had declined.
"She did invite me to go on the show with him so she could mediate and it had to be an exclusive," Miller told CNN. "Basically she wants the ratings and Jerry Springer. And seemingly she now wants to help her rich powerful friend get back into power. He's not going to change. Sexual predators like Mark Halperin cannot be rehabilitated. He should not be allowed to be alone around any women -- much less his victims."
Brzezinski denied to CNN that she asked Miller to appear on her television program, but said she invited Miller to participate in the Know Your Value conference in October.
Five other women who had accused Halperin of sexual harassment or assault told CNN on Friday that Brzezinski had not contacted them with an offer to meet Halperin and said that they were also upset by her on-air comments.
"It's wrong [to say] that we were offered a serious chance to meet with him," said Lara Setrakian, who was one of the women to accuse Halperin of sexual assault on the record in late October. "And the whole decision making around what should come next begins with him being an adult and begins with him speaking as an adult not through a proxy." (Setrakian said she received a voicemail and text message from Halperin on Friday afternoon, but declined to disclose the content of the messages.)
"Mika has never reached out to me," echoed Eleanor McManus, another woman who accused Halperin of harassment on the record.
The other three women, each of whom accused Halperin of sexual harassment or assault in previous CNN stories in which they were not identified by name, told CNN that if Brzezinski had managed to identify them and had reached out, they would potentially have been willing to meet with Halperin, and still would be.
"I would have felt bad if I heard her say that because I agree with her," one of the women told CNN when asked about Brzezinski's "Morning Joe" remarks. "I'd absolutely meet with him."
"Yes, I think so, but I'd have to think about it," added another one of the women when asked if she would meet with Halperin to hear what he has to say. "This is the first I've heard about the opportunity."
Related: 'United together': Mark Halperin, Charlie Rose accusers form advocacy group
Also Friday, a statement was issued attributed to "ten victims of Mark Halperin." McManus, Setrakian, Miller, and another woman who had previously spoken out against Halperin on the record, Dianna Goldberg May, told CNN they had all signed onto the letter. The statement denounced Brzezinski's remarks and said the women "vehemently disagree" with what they called "inappropriate comments."
"It is an unethical and harmful request to ask that sexual assault victims confront their accusers in person," the statement said, in part.
Some of Halperin's accusers have previously come together in a group called Press Forward, formed earlier this month, which aims to improve newsroom culture.