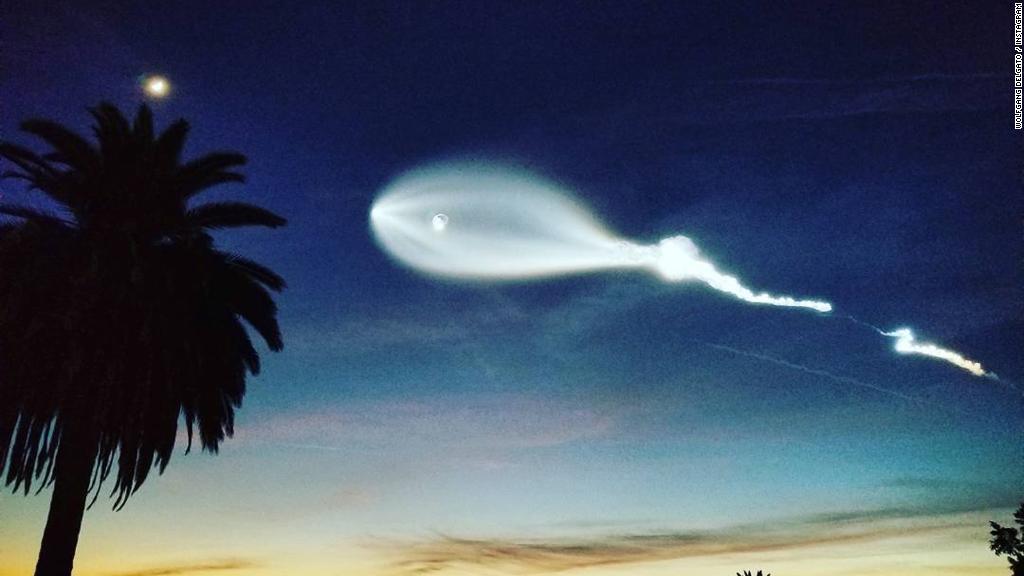 People along the West Coast looked toward the heavens Friday to find a strange, morphing orb glowing in the night sky.
It looked like the stuff of science fiction, but it was actually the mark of a SpaceX rocket hauling a group of telecom satellites into Earth's orbit.
The rocket took off from the Vandenberg Air Force Base in central California, and kicked up a flurry of wonder from social media users from across the state.
SpaceX CEO Elon Musk fueled the fun by teasing onlookers who were confused by the eerie contrail.
"Nuclear alien UFO from North Korea," he tweeted.
But the show was, in fact, put on by the rocket's exhaust meeting the crisp air.
"Water vapor from the aircraft engine exhaust is immediately exposed to very cold temperatures at very high altitudes. The impurities in the exhausts and the very cold temperatures are the perfect recipe for a condensation trail," writes meteorologist and Forbes contributor Marshall Shepherd.
It's just like what airplanes leave behind when they streak across the sky.
Related: Elon Musk tweets photos of SpaceX's gargantuan new rocket
Friday's launch marked SpaceX's 18th and final launch for the 2017 calendar year, making it the busiest private-sector rocket company in the world.
The mission was to deliver a group of 10 telecommunications satellites to low-Earth orbit for a company called Iridium, which is in the process of replacing its vast satellite network. It'll be used to deliver communications services and, among other things, track airplane traffic.
Musk took advantage of the buzz created by Friday's spectacle to tout SpaceX's next big feat: conducting a test launch of its massive new rocket, called Falcon Heavy. That's due in January.
"If you liked tonight's launch, you will really like Falcon Heavy next month: 3 rocket cores & 3X thrust. 2 cores return to base doing synchronized aerobatics. 3rd lands on droneship," Musk tweeted.
To translate, "rocket cores" refer to the boosters at the base of the rocket. They provide the initial thrust at liftoff. SpaceX's defining move is to guide those boosters back to Earth for a safe landing so they can be reused in future missions.
The Falcon Heavy has three boosters, two more than SpaceX's operational Falcon 9 rocket, and SpaceX will attempt to recover all of them.
Related: SpaceX launches used rocket and spacecraft for first time ever
Droneship refers to a landing pad that SpaceX sends into the ocean to capture boosters that fly out with a horizontal trajectory.
Reusing hardware is all part of SpaceX's plan to drastically drive down the cost of spaceflight, and the company has all but mastered the move. It's landed rockets on 20 separate occasions.
No rocket landing was attempted on Friday, however.
Correction: An earlier version of this article incorrectly reported the reason SpaceX did not attempt a rocket landing Friday.