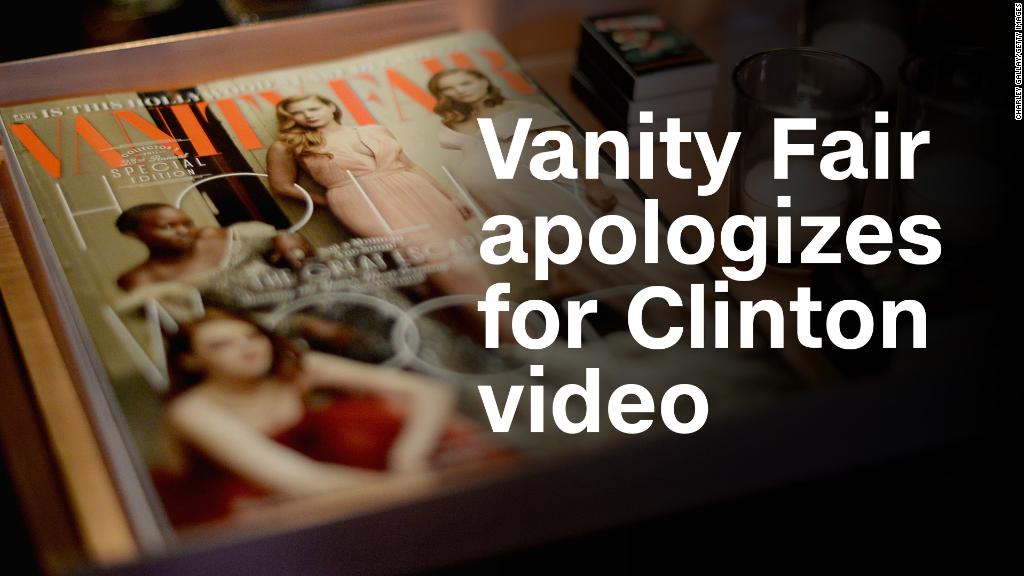 President Trump renewed his longstanding feud with Vanity Fair on Thursday, mocking the magazine for apologizing over a video that poked fun at Hillary Clinton.
"Vanity Fair, which looks like it is on its last legs, is bending over backwards in apologizing for the minor hit they took at Crooked H," Trump said on Twitter, invoking the derisive moniker he's given Clinton. "Anna Wintour, who was all set to be Amb to Court of St James's & a big fundraiser for CH, is beside herself in grief & begging for forgiveness!"
With the tweet, which was sent while he was at Trump International Golf Club in Palm Beach County, Florida, the president waded into a controversy that existed largely online -- and might well have been flickering out.
It began earlier this week, when a number of Clinton supporters and advisers reacted furiously to a video posted by Vanity Fair before Christmas.
The video, which featured a handful of Vanity Fair staffers offering cheeky New Year's resolutions for Clinton, didn't get much attention when it was first published on December 23.
But three days later, after the holiday had passed, one line in the video became the focus of intense criticism.
"Take up a new hobby in the new year," technology writer Maya Kosoff said in the video. "Volunteer work, knitting, improv comedy -- literally anything that will keep you from running again."
Steadfast Clinton supporters like Peter Daou expressed their outrage over the joke, decrying the reference to "knitting" as sexist. A hashtag, #CancelVanityFair, spread on Twitter. Adam Parkhomenko, a former Clinton adviser, went so far as to tweet out a photo of the magazine engulfed in flames.
The actress Patricia Arquette reacted with similar anger.
"Hey STOP TELLING WOMEN WHAT THE F-CK THEY SHOULD DO OR CAN DO," Arquette tweeted. "Get over your mommy issues."
By Wednesday night, a Vanity Fair spokesperson had put out a statement saying the video was "an attempt at humor and we regret that it missed the mark."
Daou, an aide on Clinton's 2008 presidential campaign who launched the liberal website Verrit earlier this year, said he thought the video was "tone-deaf" on the heels of the #MeToo movement.
"I think coming at the tail-end of the year in which women are finally getting some sort of visibility for how they're treated, the timing is just what made this such a story," Daou said in a phone interview with CNNMoney Thursday.
Kosoff, meanwhile, has been met with an avalanche of vitriol for her role in the gag, prompting her to make her Twitter account visible only to those she allows to see it.
"i sure hope tearing me apart and making the video its own news cycle was worth it," she tweeted Thursday, not long after Trump had weighed in.
Kosoff had plenty of defenders, too, many of whom ridiculed Clinton's supporters for what they saw as an overreaction to a tame video.
Sarah Jones, a writer at the liberal magazine The New Republic, observed that "criticizing Hillary Clinton is a guarantee that you're going to get days of really vile abuse directed your way online and it sucks."
For the president, the uproar provided an opportunity to take a dig at two of his favorite targets: Clinton and Vanity Fair.
Vanity Fair's previous editor, Graydon Carter, has had a famous public spat going on with Trump for years, dating back to Carter's time at Spy magazine. It was there that Carter dubbed Trump a "short-fingered vulgarian," an insult that has followed the president to this day.
Trump has long responded in kind to Carter, who stepped down at Vanity Fair this month, calling him, among other things, a "no talent" and "sloppy."
But prior to Thursday's tweet, Trump had been publicly cordial with Wintour, who is the editor of Vogue, which like Vanity Fair is owned by Conde Nast.
Earlier this year, Trump said on Twitter that Wintour came to his office to ask him to meet with Conde Nast editors. In 2012, Trump said he was "happy" to hear that President Obama was considering an ambassadorship for Wintour, calling her a "winner & really smart."
But on Thursday, Trump couldn't resist a poke.
Before the president addressed it, the story hadn't received much coverage beyond online media, save for the outlet that inspires many of his tweets: Fox News.