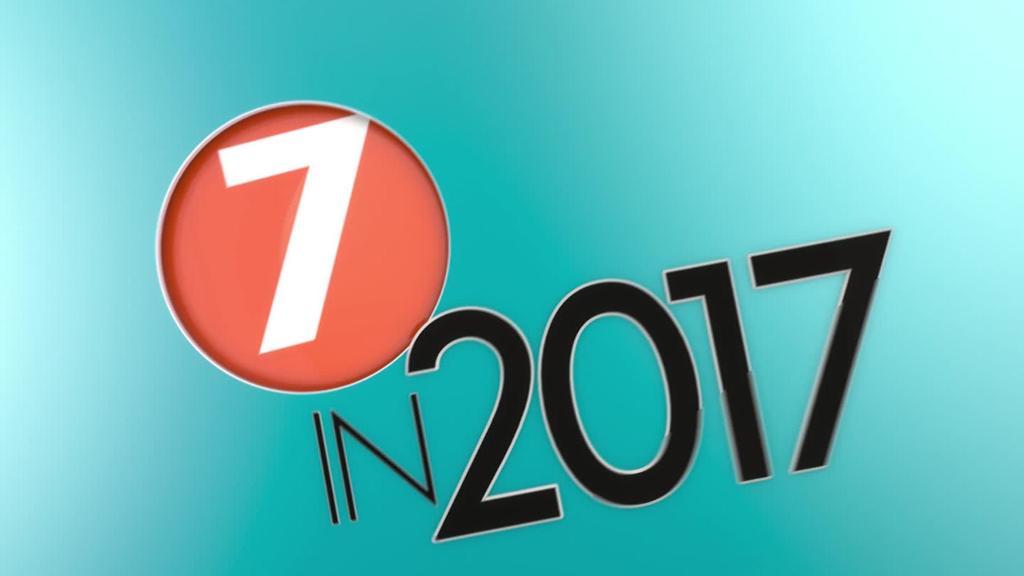 The media world's digital transformation has been accompanied by a seemingly endless string of transitions.
In 2017, if you worked at a newsroom or a startup or a movie studio, odds are you had a new boss, or some of your friends did. There were an unusual number of hand-offs and sales and straight-up firings.
And the changes will keep coming in 2018. On New Year's Day, A.G. Sulzberger will succeed his father Arthur Sulzberger as publisher of The New York Times. Later in the month, Mary Louise Kelly will succeed Robert Siegel on NPR's "All Things Considered." And Nancy Abraham and Lisa Heller will at some point early in the year succeed Sheila Nevins, who has masterminded HBO's documentaries division for nearly four decades.
Meanwhile, Disney will search for a successor for ESPN president John Skipper, who abruptly resigned earlier this month. And several major media mergers will seek government approval.
Here's an incomplete look back at the transitions of the last twelve months:
Megyn Kelly joined NBC, Campbell Brown joined Facebook, Shonda Rhimes signed a deal with Netflix. Tamron Hall left NBC, Graydon Carter left Vanity Fair, Marissa Mayer left Yahoo. Greta Van Susteren joined MSNBC, but her show was cancelled six months later.
And Newsweek replaced its top editor twice in one year. Twice in one year!
Let's go back to January. Sally Buzbee became executive editor of The Associated Press; Lydia Polgreen became the editor of HuffPost; and Jim VandeHei, Mike Allen and Roy Schwartz launched Axios. That same month, Doug Herzog left Viacom and Michael Lynton stepped down from Sony. Lynton became the chair of Snap.
And on and on it went: Noah Oppenheim became president of NBC News. Josh Elliott left CBS under odd circumstances. Matt Belloni became editor of The Hollywood Reporter. Tim Westergren left Pandora. David Karp left Tumblr.
Brad Grey resigned from Paramount in February. He died in May. Colleagues also mourned the loss of Playboy founder Hugh Hefner, columnist Liz Smith, Condé Nast patriarch Si Newhouse, radio host Alan Colmes, editor Marshall Loeb, journalist Wayne Barrett, columnist Jimmy Breslin and former Fox News chairman Roger Ailes.
There was a tremendous amount of change just at Fox News. After Kelly departed, Tucker Carlson and Martha MacCallum were promoted. After Bill O'Reilly was forced out, Carlson won the 8 p.m. time slot, and there were even more changes. "The Five" moved from 5 to 9 p.m., then back to 5. Eric Bolling was suspended, then removed. Later in the year, Laura Ingraham was added at 10 p.m.
Through it all, Fox News doubled and tripled down on pro-Trump talk. Behind the scenes, co-president Bill Shine resigned and another top executive, Suzanne Scott, was promoted.
Elsewhere in the pro-Trump media universe, Milo Yiannopoulos resigned from Breitbart. Steve Bannon returned to Breitbart. At the White House, Sean Spicer was replaced by Sarah Sanders. Mike Dubke was replaced by Anthony Scaramucci who was then replaced by Hope Hicks.
In New York, Rebecca Blumenstein jumped from the Wall Street Journal to The New York Times. Later in the year, dozens of prominent journalists left the Times through a buyout process. In Los Angeles, Ross Levinsohn became publisher of the L.A. Times and Lewis DVorkin became editor. And that paper's owner, Tronc, bought the New York Daily News.
CBS replaced Scott Pelley with Jeff Glor on the "Evening News." Ryan Seacrest joined Kelly Ripa on "Live." Meghan McCain joined "The View." Koa Beck became editor of Jezebel. Lauren Williams became editor of Vox.
Over the summer AT&T named John Stankey to oversee Time Warner's media businesses. But the wireless company's acquisition of Time Warner (CNN's parent company) was delayed by the Justice Department, which is suing to block the deal on antitrust grounds.
The year was full of big media business deals. Discovery agreed to acquire Scripps Networks. Sinclair struck a deal to swallow up Tribune's TV stations. Hearst agreed to acquire Rodale. Meredith struck a deal to buy Time Inc.
At the end of the year came a huge transaction: Disney buying most of the 21st Century Fox media empire. More C-suite changes are sure to follow.
Apple hired the co-presidents of Sony Pictures Entertainment, Jamie Erlicht and Zack Van Amburg, to oversee a push into original TV.
In the magazine business, Jay Penske's investment in Jann Wenner's Rolling Stone capped a year of change for Wenner's company. Earlier in the year, Wenner had sold Us Weekly to American Media, the publisher of the National Enquirer.
After Carter stepped down from Vanity Fair, Radhika Jones stepped up. Edward Felsenthal succeeded Nancy Gibbs at Time. Nina Garcia succeeded Robbie Myers at Elle. Glamour is still looking for someone to replace Cindi Leive.
In some ways, O'Reilly's April departure from Fox -- after secret harassment settlements were revealed -- foreshadowed the fall's "tipping point." In July, Jamie Horowitz was fired from Fox Sports 1 amid a sexual harassment probe.
Then the floodgates opened in October when The New York Times and The New Yorker published shocking investigations into Harvey Weinstein's behavior. Now the Weinstein Company's future is in doubt. And many other media companies are making changes due to sexual misconduct allegations against powerful employees.
Matt Lauer, Louis C.K., Tavis Smiley, Mark Halperin, Kevin Spacey and Leon Wieseltier are just a few of the men who lost jobs or deals and status.
Now Amazon Studios needs a new boss. The Paris Review needs a new editor. WNYC Radio and Vice and "The Chew" have openings. The NFL Network and ESPN may eventually have openings, too, given the multiple suspensions there. The president of The Ringer remains suspended. So does "On Point" host Tom Ashbrook. And John Lasseter is on a six-month leave from Pixar.
"Today" has Hoda Kotb filling in for Lauer. PBS has two new 11 p.m. shows as replacements for Charlie Rose. NPR has new newsroom management in the wake of Michael Oreskes' resignation.
The changes kept coming in December -- not all related to the misconduct "tipping point." Skipper resigned from ESPN citing a substance addiction. ABC's "20/20" co-host Elizabeth Vargas said she is leaving the network next May.
And on the last work day of the year, CBS legend Charles Osgood retired from his radio commentaries. He said he had one word of advice for reporters: "Listen."
Correction: An earlier version of this article incorrectly spelled the name of Liz Smith.
For more on the year's changes, tune in to "Reliable Sources" on CNN, Sunday at 11 a.m.