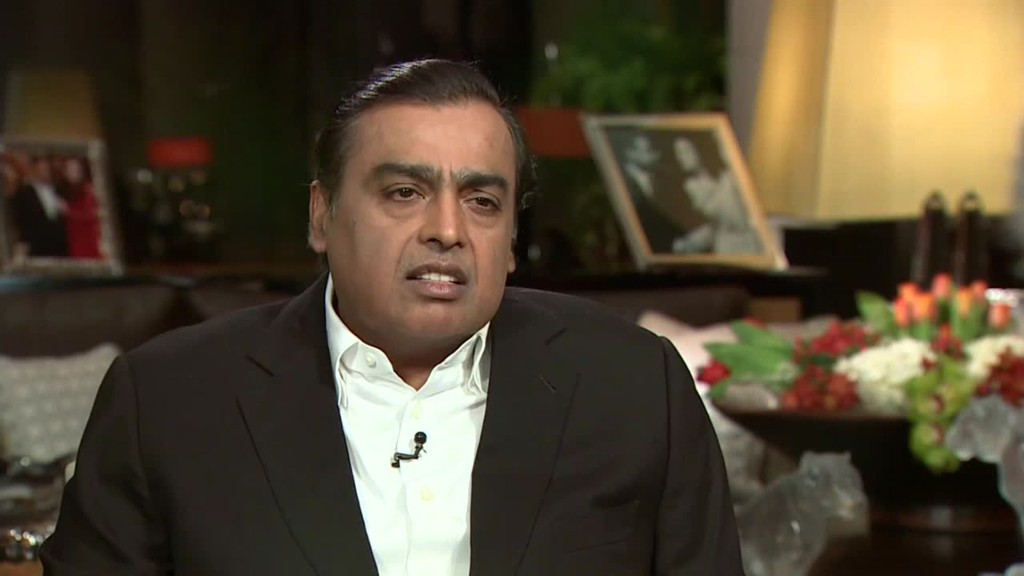 The battle between two billionaire brothers at the heart of India's mobile industry has ended with one buying out the other.
Reliance Communications, owned by Indian billionaire Anil Ambani, will sell its mobile business to the rival Reliance Jio network owned by his older brother Mukesh, the companies announced Thursday.
Jio will take over Reliance Communications' wireless assets, including high-speed mobile bandwidth, over 100,000 miles of optic fiber and more than 43,000 cellphone towers.
Anil Ambani had announced his company's exit from the mobile business earlier in the week, after months of struggling with the price war across India's telecom industry.
That price war, somewhat ironically, was started by his brother, who is India's richest man. The two siblings divided up the Reliance empire their father created, after a bitter succession battle following his death in 2002.
Mukesh Ambani's Jio network launched with great fanfare in September 2016, offering its customers six months of free 4G internet. The company's blockbuster deals left most other players in India's red-hot mobile market scrambling to compete, slashing their prices and consolidating their businesses.
Current industry leader Bharti Airtel acquired the Indian subsidiary of Norwegian telecom firm Telenor. Britain's Vodafone also decided to merge its India business with local rival Idea Cellular, in a deal that will create a network with over 400 million subscribers.
Related: India is poised for a smartphone revolution
Jio has amassed more than 100 million subscribers in a little over a year, and looks set to increase its footprint further by acquiring the Reliance Communications infrastructure.
"These assets are strategic in nature and are expected to contribute significantly to the large scale roll-out of wireless [services]," Jio said in a statement.
Reliance Communications, meanwhile, said it plans to use all the cash from Jio to pay off some of its $7 billion debt. The company said it expects to raise around $3.9 billion from the sale of its mobile infrastructure, but did not reveal the value of the final deal.
Neither company responded to requests for additional comment.
Related: A huge wave of new users is killing 4G speeds in India
Anil Ambani referenced the telecom turmoil triggered by his brother while announcing his exit from the mobile business earlier in the week.
"This is a crisis of the wireless telecom sector and it has engulfed many people and many companies," he said. "This is something which is not for 10 players to enjoy. This is for two or three or four players to enjoy."