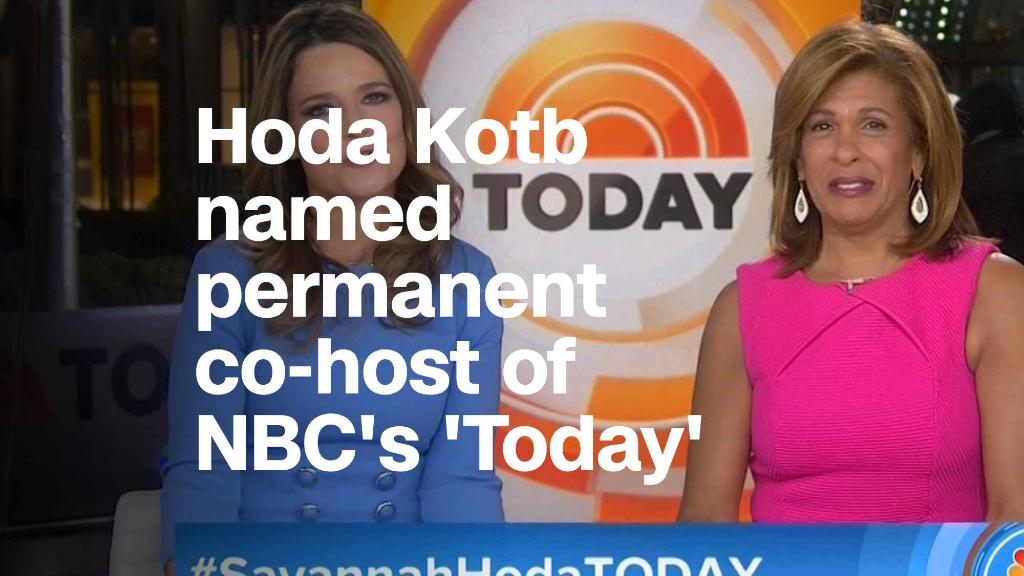 Hoda Kotb, who has filled in on NBC's "Today" show since Matt Lauer was fired in November, is now officially replacing him.
The promotion means that Kotb and Savannah Guthrie will co-host the famed morning show.
"This has to be the most popular decision NBC News has ever made," Guthrie said while celebrating the news on Tuesday's "Today."
"There's no one I'd rather be sitting next to in 2018 than you," Kotb said.
The pairing of two women is a departure from the typical man-and-woman morning show format. But it's a logical move for NBC, especially in the wake of Lauer's abrupt exit amid complaints about inappropriate sexual behavior at work.
Related: November 29: NBC fires Matt Lauer
Kotb is well known to "Today" viewers. She joined the network in 1998, first as a correspondent on the "Dateline" newsmagazine. She has been co-hosting the 10 a.m. hour of "Today," a freewheeling talk show with Kathie Lee Gifford, since 2008.
NBC said Kotb will continue co-hosting the 10 a.m. hour while adding the 7 and 8 a.m. hours to her portfolio.
Megyn Kelly became host of the 9 a.m. hour of "Today" last September.
NBC News chairman Andy Lack announced Kotb's promotion in a Tuesday morning memo just before showtime.
"Over the past several weeks, Hoda has seamlessly stepped into the co-anchor role alongside Savannah, and the two have quickly hit the ground running," Lack wrote. "They have an undeniable connection with each other and most importantly, with viewers, a hallmark of 'Today.'"
Kotb was assigned to host with Guthrie on the morning that Lauer's firing was announced. The two hosts were praised for their handling of the situation.
NBC management took it day by day and decided to keep Kotb in the chair in December.
Al Roker and Carson Daly are the other two members of the 7 to 9 a.m. "Today" ensemble.
Every change on the morning show is closely watched not just by millions of fans but also by advertisers and business analysts -- because the show is a profit machine for NBC.
But Lauer's firing does not seem to have hurt "Today." If anything, it has generated higher viewership in the short term.
The transition from Lauer to Kotb has also been a leadership moment for Guthrie, who became a co-host of "Today" in 2012.
In Tuesday's memo, Lack called her the "center" of the show's family. "She's been a rock for our organization in tough times, and we are grateful," he wrote.