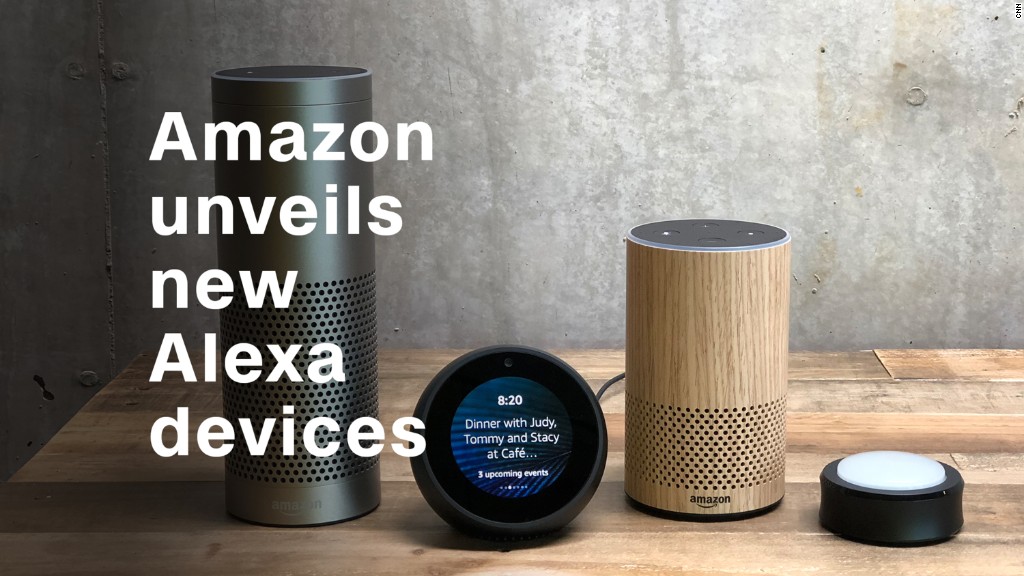 You'll soon be able to ask Alexa questions when you're on the go.
On Friday, Amazon (AMZN) announced that gadget manufacturers will be able to include the company's voice assistant Alexa in portable devices like headphones, smartwatches and fitness wearables.
Users will be able to ask Alexa to do things like read the news or tell them the weather when they're out and about.
Alexa is already integrated in some third-party devices such as speakers, kitchen appliances and security alarm systems.
Related: Amazon's smart mirror patent teases the future of fashion
With the tech giant's new Alexa Mobile Accessory Kit, companies will be able to add Alexa to more gadgets with minimal investment in hardware or integration efforts, according to Amazon.
Amazon said that with the kit, third-party development teams no longer have to do the majority of the coding to integrate Alexa. Devices that are Bluetooth audio capable can connect directly to the Alexa Voice Service through the Amazon Alexa app on the user's mobile device.
Companies such as Bose, Jabra, iHome, Beyerdynamic and Linkplay plan on bringing Alexa to products this year.
E-Commerce Guide by CNN Underscored: This smart lightbulb syncs with your Amazon Alexa gadgets
The move is Amazon's latest push to get more people using Alexa. The crowded voice assistant market also includes Apple's (AAPL) Siri, Google Assistant (GOOG) and Microsoft's (MSFT) Cortana. Earlier this week, Roku (ROKU) announced it would make its own voice assistant.
Many of these brands already also built voice assistants integrated into products. For example, Siri is available on the Apple Watch and Bose has headphones that work with Google Assistant.