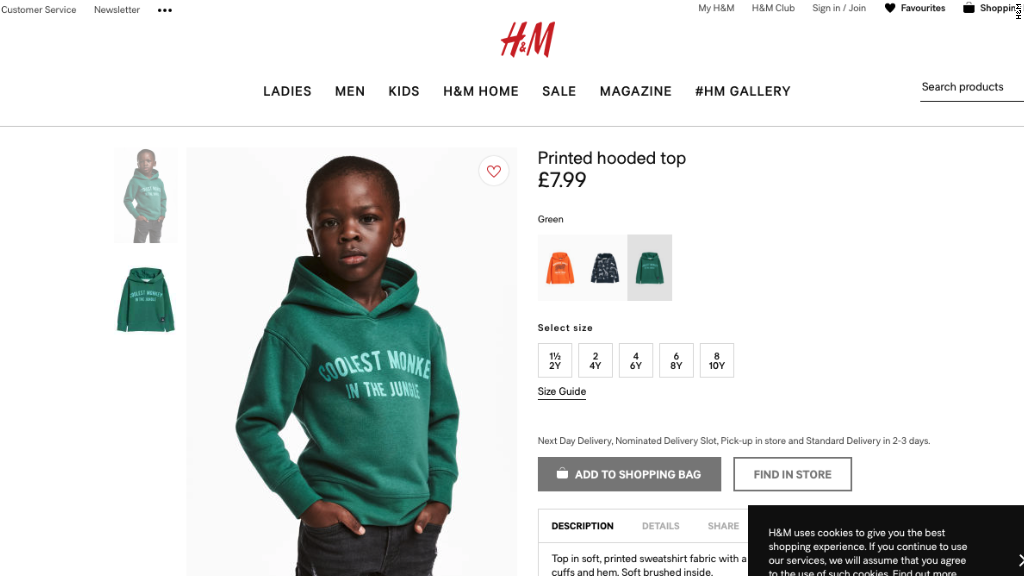 H&M was forced to apologize Monday for using a black child to model a sweatshirt with a "coolest monkey in the jungle" slogan.
The company removed the offending ad from its website after hundreds of social media users accused it of being racist. It continues to sell the hooded top online.
"This image has now been removed from all H&M channels and we apologize to anyone this may have offended," said H&M (HNNMY) spokeswoman Anna Eriksson.
The image of the child in the hoodie appeared on the British version of the Swedish retailer's online store.
Related: Dove apologizes for ad: We 'missed the mark'
Social media users pointed out that two other tops from the same line, one that said "survival expert" and one with images of animals, were modeled by white children.
"In the year 2018 there's no way brands/art directors can be this negligent and lack awareness.... We have to do better," designer Alex Medina said on Twitter, one of many who voiced their outrage over the advert.
Charles Blow, a columnist for The New York Times and CNN contributor, tweeted at H&M: "have you lost your damned minds?!?!?!"
Another user, Mimicgawd, posted a "fixed" version of the ad, with a reworked slogan that read: "Coolest Kid in the racist ass H&M catalog."
H&M is not the first company to find itself under fire over racist advertising.
Dove, owned by Unilever (UL), was forced to apologize in October for a social media post that the company said "missed the mark" representing black women.
Introduced with the line "Ready for a Dove Shower?" the post showed a looping image of a black woman removing a dark brown t-shirt to reveal a white woman.
Also in October, Kellogg (K) changed the art on its Corn Pops cereal box after a consumer complained it was racist. The art showed dozens of yellow-hued Corn Pop characters, except for the lone brown Corn Pop in a blue uniform pushing a floor buffer.
Nivea, part of German skincare group Beiersdorf (BDRFF), pulled an ad with a slogan "white is purity" in April, after it was shared by right wing groups.