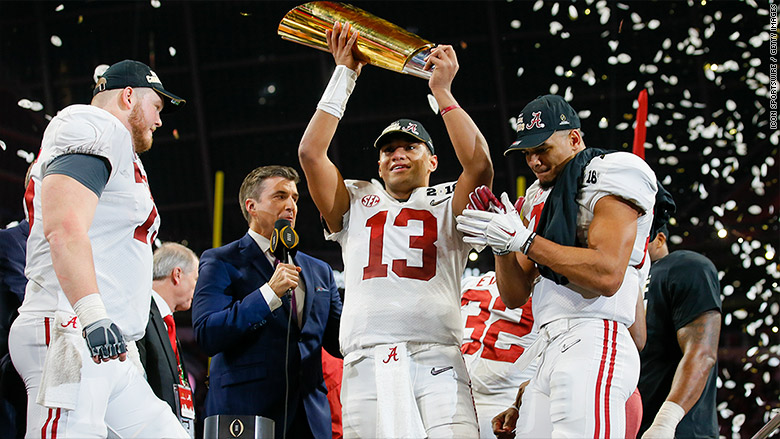 Alabama and ESPN both have a lot to celebrate.
The Alabama Crimson Tide's thrilling 26 to 23 overtime victory on Monday over the Georgia Bulldogs in the college football playoff's national championship game averaged 28.4 million viewers across its MegaCast production on ESPN, ESPN 2 and ESPNU, the network announced on Tuesday.
That's a 13% bump from last year's championship game, which was another last second nail-biter in which the Clemson Tigers beat Alabama for the title.
Monday's game brought in 27.4 million on ESPN alone, which is up 12% from last year's telecast.
The sports network has now televised all ten of the most-watched cable telecasts in history, including Ohio State's victory over Oregon in the first ever college football playoff championship in 2015, a game that claimed the largest audience in cable history. ESPN has televised 18 of the top 20 most-watched cable telecasts.
Monday night's barn burner -- which took place at the Mercedes-Benz Stadium in Atlanta, Georgia -- had an audience peak of 30.7 million late in the first half.
A staggering 28.4 million people stayed up to watch Alabama score the winning touchdown in overtime at 12:10 a.m. EST.
"The record-breaking audiences, over the course of multiple years, clearly reinforce how the College Football Playoff has quickly established itself as an elite event on the sports calendar," Burke Magnus, ESPN's executive vice president of programming and scheduling, said in a statement.
Overall, this year's three game college football playoff was up 21% from last year for ESPN.