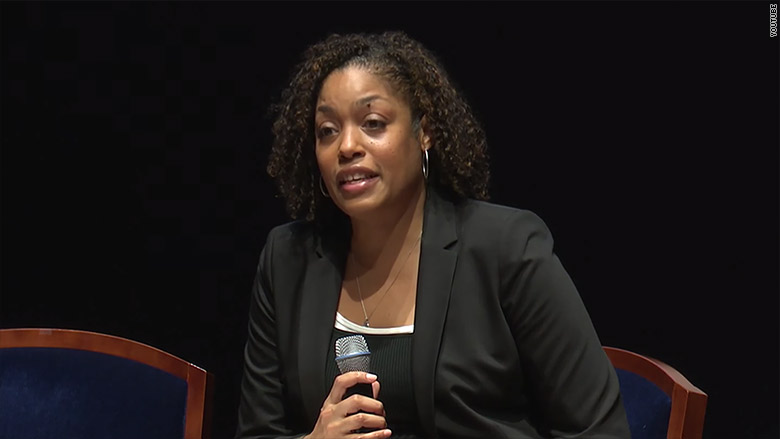 A Washington Post reporter who came under fire late last year for participating in a liberal conference has been put on leave by the newspaper, CNN has learned.
Janell Ross, a reporter on the Post's national desk, was sidelined after she participated in a private gathering in November attended by Democratic lawmakers and liberal activists, including the billionaire benefactor George Soros.
Two people familiar with the matter have told CNN that Ross was put on leave, and that her return to the Post is viewed as unlikely. It's not clear when exactly Ross' leave took effect.
A spokeswoman for the Post declined to comment, saying that she can't address personnel matters.
Ross did not immediately respond to multiple requests for comment. An email sent to her Washington Post address returned a blank automatic reply.
The event in California, which was hosted by the progressive advocacy group, Democracy Alliance, featured strategy sessions and panels, including one Ross sat on that focused on "getting the economic narrative right."
Ross' involvement in the gathering was first reported by the conservative Washington Free Beacon on November 22, and the revelation gave fuel to the media criticism supplied by Fox News and Breitbart.
"Ross presents herself and is presented by the Post as an objective journalist," Breitbart wrote in November.
"Washington Post reporter caught plotting liberal agenda with billionaire George Soros," read Fox News' headline.
At the time, the Post said it was unaware that Ross had taken part in the panel, and that she had been reminded of the newspaper's policy that "discourages participation in any activity that could be perceived as partisan."
Ross, who has also written for HuffPost and The Atlantic, has gone silent since the controversy surfaced days before Thanksgiving. Her Twitter account has gone dormant, and her most recent story for the Post was published November 29, a full week after the Free Beacon broke news of her involvement at the liberal event.