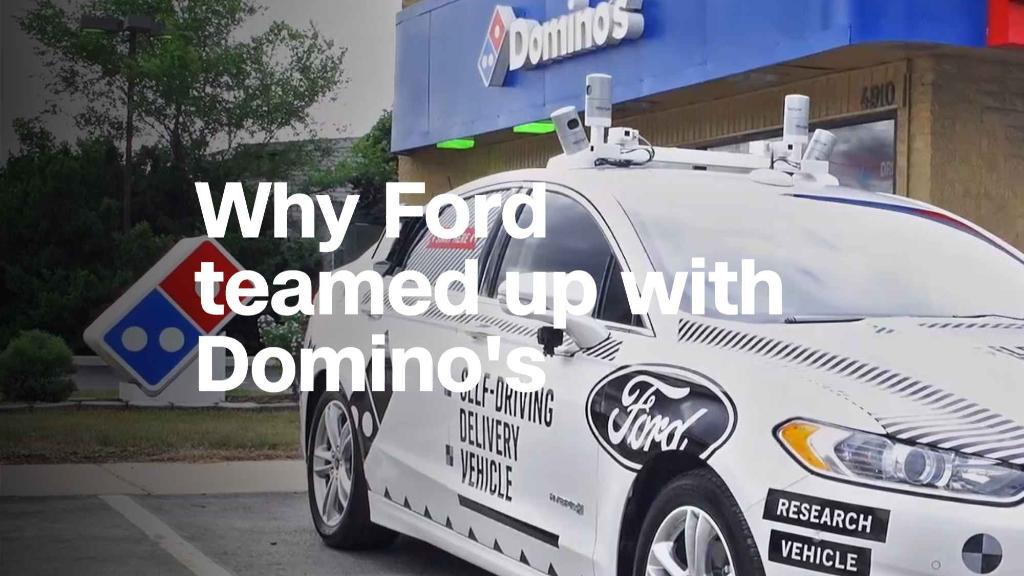 Thanks to on-demand apps like Instacart and Caviar, you can pretty much have any food you desire delivered to your door 24 hours a day.
As of now, your bunches of organic bananas or piping hot pad thai arrive the old-fashioned way: carried by a flesh-and-blood human who drove a car.
However, new concepts such as Robomart -- an on-demand, electric, self-driving store -- could automate food deliveries. The Santa Clara, California-based startup showed off a smaller version its car at the CES tech conference in Las Vegas this week.
The working model will be the size of a minivan when it hits streets in the summer. One side of the car is dominated by a glass door that folds up to reveal shelves of food. The demo car was filled with rows of colorful fake fruit and vegetables, but the company imagines it being used for everything from groceries and corner-store essentials to hot ready-to-eat meals. It can travel up to 25 mph.
Robomart's creators told CNN Tech it will work like this: A hungry person uses a smartphone app to summon the food car -- an alert will be sent when it arrives at their home. The person walks to the vehicle, which will open up when it detects their presence. They grab the food they want and sensors will automatically detect what's missing and charge their account. No Robomart staffers will be in the car.
Related: Domino's testing self-driving pizza delivery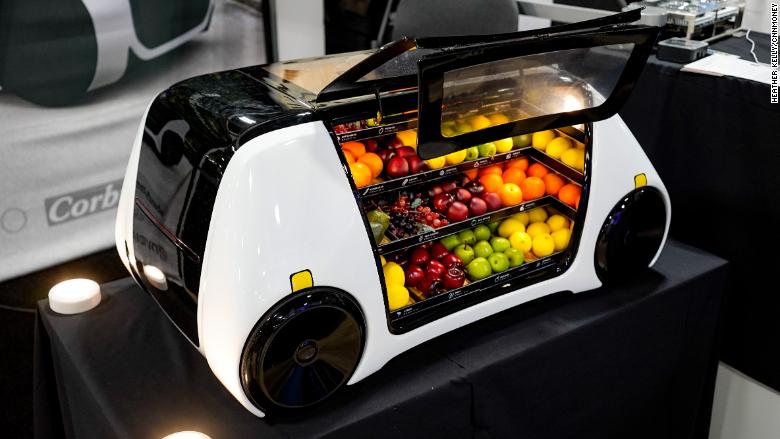 Instead of running a fleet of vehicles themselves, the company wants to work with large retailers who would have their own branded Robomarts. A store could sign up for a 24-month lease, which would include an app they could rebrand as their own.
The driverless, refrigerator-on-wheels concept is the latest in a string of startups trying to automate small shops.
Aipoly, another company at CES, wants to use cameras and image recognition to automate shops. Its system could detect when someone takes a product from a shelf and automatically charge them.
Meanwhile, Ford announced is working with Domino's to test self-driving pizza delivery technology in Michigan, and Toyota is teaming up with Pizza Hut and Amazon for deliveries made by self-driving trucks.
And then there was Bodega, the automated kiosk startup that was publicly pummeled for its idea to replace corner stores while also appropriating the name "bodega."
Robomart is trying to learn from the mistakes of Bodega. The company thinks small mom-and-pop stores could lease their own automated cars to expand their business.
Retail automation is still in the early stages as tech companies work to lower overall costs for stores by eliminating delivery and cashier jobs -- most of which pay minimum wage.
The company said it is still fine-tuning how it works alongside local laws and regulations.