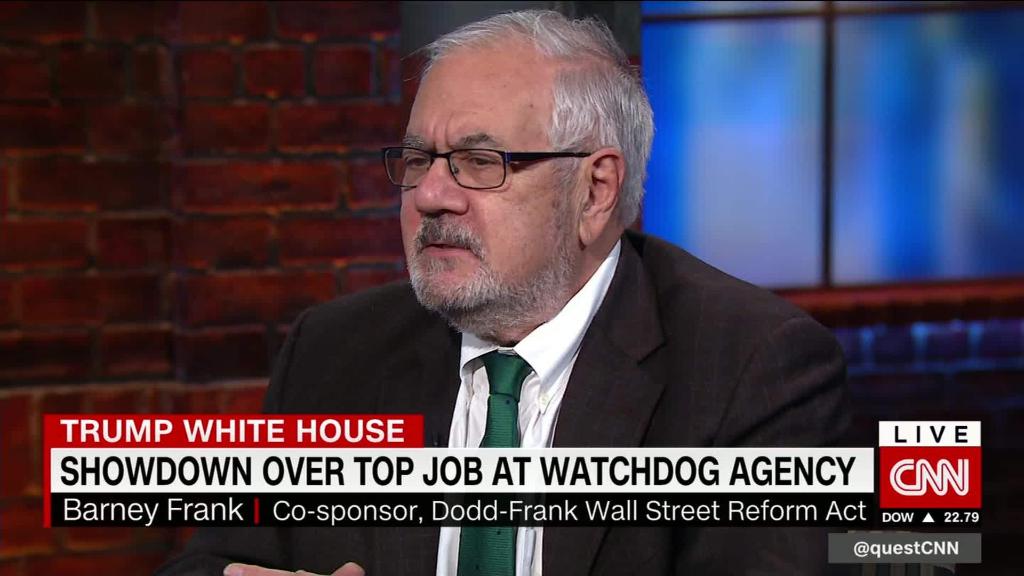 Imagine having a great credit score and being denied for a mortgage just because you live in a low-income neighborhood.
Redlining, the refusal by banks to lend to poor and minority communities, was so common decades ago that Congress passed the Community Reinvestment Act in 1977 to prevent it.
For years, banks have been fighting these requirements to lend to underprivileged people -- and President Trump is listening as he continues his war on regulation.
The Treasury Department plans to recommend changes to the lending rules early this year, building on moves last year to ease the regulations.
In a statement to CNNMoney, Treasury called the CRA "outdated" and in need of "modernization" -- echoing words used by the American Bankers Association, a powerful bank lobby that wants to relax the rules.
Advocacy groups fear the Trump administration will weaken the lending requirements and make it harder for low-income Americans to get mortgages, small business loans or other forms of credit that help people work their way out of poverty.
"We just can't let that happen," said John Taylor, CEO of the National Community Reinvestment Coalition, an alliance of organizations that promote fair lending. "The CRA is the holy grail that ensures the financial interests of working class and low-income workers will be considered."
Taylor, who met with Treasury Secretary Steven Mnuchin about the CRA, said the irony is that these rules benefit the same "blue-collar people Donald Trump maintains he represents."
Under the rules, banks are banned from denying or raising the cost of banking to residents of low-income and minority neighborhoods. Banks also get graded based on how much credit they provide for mortgages and apartments as well as how many branches they have in low-income areas. In other words, banks aren't allowed to cater only to rich customers.
Related: Is the CFPB really crippling the economy?
The recovery from the Great Recession is accelerating, but the gains have not been shared evenly. Wealth inequality hit a record high in 2016, according to the Federal Reserve.
Trump has repeatedly argued that banks are suffering from too much oversight. In April, he complained that bank CEOs are "petrified of the regulators. They're petrified. They can't move."
Trump's regulators are acting. Banks are given ratings for how much they're lending to underserved communities, and in October the Office of the Comptroller of the Currency made it harder for examiners to downgrade lenders for discriminatory practices.
Keith Noreika, the acting leader of the OCC at the time, said the downgrades "unnecessarily distract and divert the bank's resources from lending, investing or serving the relevant communities."
Joseph Otting, the Trump appointee who now leads the OCC, said "we need to revisit" the CRA to make sure it meets its original purpose. But he said he's always supported making sure banks "are meeting the credit needs of their communities."
Related: Trump vows to punish Wells Fargo for 'bad acts'
While the Trump administration is not expected to kill the CRA entirely, bank lobbyists are pushing for more action.
Last month, the bank lobby urged the Treasury Department to "modernize" CRA, One proposal would give banks credit for financing infrastructure projects and teaching people how to handle money, not just lending to poor people.
Taylor urged the Treasury Department not to do that. He says community development must remain focused on low- and moderate-income communities "that have and continue to experience redlining."
Rather than weakening the CRA, Taylor had been pushing regulators to strengthen the enforcement of lending rules by beefing up their staff and allowing community groups to play a role in training examiners.
However, recent research suggests there may be unintended consequences to forcing banks to lend more to low-income communities.
High levels of predatory lending in poor neighborhoods can be linked to rules like CRA that focus more on quantity of loans rather than quality of service, according to the paper by Washington University professor Taylor Begley and University of Michigan professor Amiyatosh Purnanandam.
There is an "exceptionally strong" link between high-minority concentration and high levels of complaints, the paper by Washington University professor Taylor Begley and University of Michigan professor Amiyatosh Purnanandam found.
Last year, Wells Fargo's (WFC) CRA rating was severely downgraded by regulators, who cited the "egregious nature" of "discriminatory and illegal" credit practices at the bank that hurt "large numbers of consumers."
Downgrades create major public relations headaches for banks and can lead to restrictions on acquisitions and bank branch openings.
JPMorgan Chase (JPM), Bank of America (BAC) and Wells Fargo, America's three largest lenders, declined to comment on changes to the CRA.
Related: 'Drill, baby, drill!' comes to oil regulator
Some Wall Street analysts are cheering talk of relaxing the lending rules.
Changes to the CRA would be a "positive for banks because it supports the narrative of a better regulatory environment," Brian Gardner, an analyst at investment bank KBW, wrote in a report on Thursday.
Veteran banking analyst Dick Bove said that while greater clarity on regulation is needed banks need clearer rules, the CRA shouldn't be meaningfully adjusted because because communities depend on the lending.
"The banks get FDIC insurance and that's backed by the government. So, the banks have a responsibility to make loans that benefit all classes," Bove said.