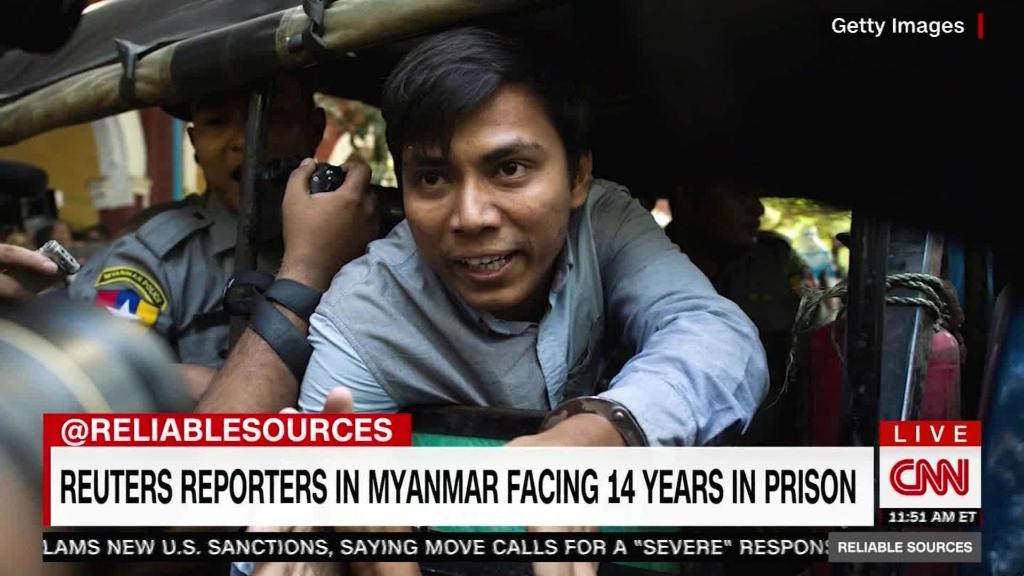 Reuters Editor-in-Chief Stephen Adler says two journalists facing 14 years in a Myanmar prison need the public's attention.
Reuters reporters Wa Lone and Kyaw Soe Oo were jailed last month for what Adler described as routine journalistic work. The Myanmar government claims they "illegally acquired information with the intention to share it with foreign media," according to a statement it gave to Reuters last month.
"These are two young journalists with families, out doing their jobs, in what we all support: free and independent journalism," Adler told CNN's Brian Stelter on "Reliable Sources" Sunday.
He added that "we also want to keep public attention on this."
Reuters has said the pair were reporting stories about the Rohingya, a Muslim population that lives in Myanmar.
Rohingya Muslims have fled the country in the wake of a military crackdown. Both the U.N. and the U.S. have described the campaign as ethnic cleansing.
Related: Charges sought against Reuters journalists detained in Myanmar
During a reporting trip December 12, police requested to meet Wa Lone and Kyaw Soe Oo for dinner, Adler said.
When the reporters left the restaurant, they were "surrounded by many police, they were handcuffed and spirited away," he added.
Adler said he hasn't had any contact with the journalists directly, but that the lawyer who is representing them has been in touch with them.
The news agency reported last week that prosecutors in Myanmar are seeking charges under its Official Secrets Act, which "covers entering prohibited places, taking images or handling secret official documents that 'might be or is intended to be, directly or indirectly, useful to an enemy."
Related: Journalists face prison in Turkey
"They were out there reporting, they weren't doing anything wrong, they weren't breaking any rules," Adler said. "And they were reporting on something that everybody should want to know about."
Current and former U.S. officials, including U.S. Secretary of State Rex Tillerson and former President Bill Clinton, have called for Wa Lone's and Kyaw Soe Oo's release.
Other calls have come from the United Nations, Britain, Sweden and Bangladesh, according to Reuters.
Wa Lone and Kyaw Soe Oo are due to appear in court again next week.
--Euan McKirdy, James Griffiths and Ivana Kottasova contributed to this report.