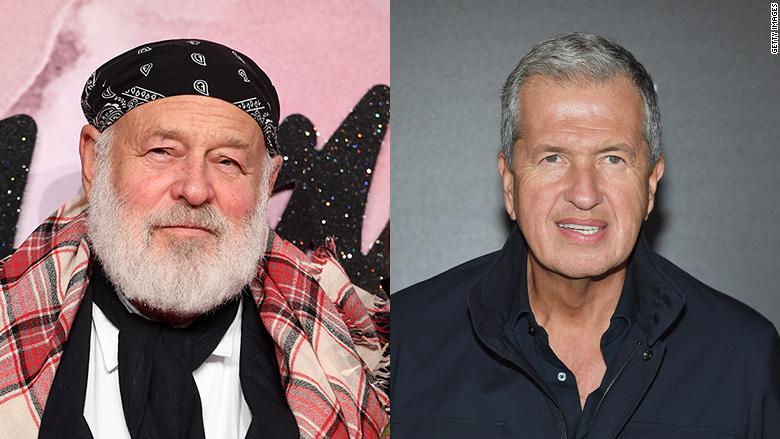 Conde Nast is cutting ties with two famous fashion photographers, Bruce Weber and Mario Testino, after The New York Times published disturbing allegations about both men.
"Male Models Say Mario Testino and Bruce Weber Sexually Exploited Them" read the banner headline in Sunday's Times.
Both men were regulars in the pages of Vogue and other Conde Nast publications. The Times' investigation into alleged sexual misconduct prompted immediate action.
"We are deeply disturbed by these accusations and take this very seriously -- as previously noted in our statement regarding sexual harassment," Conde Nast said in a statement. "In light of these allegations, we will not be commissioning any new work with them for the foreseeable future."
According to the Times, a law firm representing Testino "challenged the characters and credibility of people who complained of harassment."
And Weber, through a lawyer, said, "I'm completely shocked and saddened by the outrageous claims being made against me, which I absolutely deny."
Related: 2017: A year of monumental change in the media
CNN hasn't independently verified the allegations and wasn't immediately able to reach the two photographers for comment on the matter.
The Times article cited 15 current and former male models who worked with Weber and 13 male assistants and models who have worked with Testino.
Weber is alleged to have asked models to take their clothes off and then touched them inappropriately during breathing and "energy" exercises.
"I have used common breathing exercises and professionally photographed thousands of nude models over my career, but never touched anyone inappropriately. Given my life's work, these twisted and untrue allegations are truly disheartening. I've been taking pictures for over 40 years and have the utmost respect for everyone I've ever photographed. I would never, ever, try to hurt anyone or prevent someone from succeeding — it's just not in my character," Weber said in the statement provided to The Times.
Testino is also accused of making sexual advances to male assistants and models that included groping and masturbation.
The law firm representing him, Lavely & Singer, told The Times that it had spoken to several of Testino's former employees who were "shocked by the allegations" and "could not confirm any of the claims."
The people The Times talked to for its article "cannot be considered reliable sources," it said.
Vogue's editor in chief, Anna Wintour, who doubles as Conde's artistic director, acknowledged in a separate letter that both men "are personal friends of mine."
"I believe strongly in the value of remorse and forgiveness," she wrote, "but I take the allegations very seriously, and we at Conde Nast have decided to put our working relationship with both photographers on hold for the foreseeable future."
Other brands followed Conde's lead. One of Testino's longtime clients, Michael Kors, said that "in light of the seriousness of these accusations, we will not be working with Mr. Testino on future advertising campaigns."
A number of fashion industry executives weighed in over the weekend, expressing concern about the allegations and hopes for change.
"The industry needs to take these accounts seriously, and we want to ensure that the fashion industry is one we are all proud to work in, that there is zero tolerance on sexual harassment and that everyone treats those they work with, with respect," the British Fashion Council said in a statement.
Related: Vice Media on harassment: 'We are truly sorry'
Magazine publishers frequently contract with photographers for lavish photo shoots. In the wake of the story about Testino and Weber, there is likely to be newfound scrutiny of the dynamics between photographers, models and modeling agencies.
Conde's initial statement about harassment in the media business was issued last October, in the weeks following the Harvey Weinstein scandal, which led to revelations about other powerful men in multiple industries.
It said it "expects all employees, freelance contributors and others that Conde Nast retains to act appropriately and with the utmost personal and professional respect for each other, when working on behalf of the company and its brands, advertisers and clients."
The company provided The Times with further details about its plans over the weekend, including a new "code of conduct."
Among the changes: The guidelines will prohibit underage models and the presence of alcohol on photo sets.
Wintour described some of the other changes: "Photographers will no longer be permitted to use a Conde Nast set for any work that is not commissioned or approved by the company." And "any shoot involving nudity, sheer clothing, lingerie, swimwear, simulated drug or alcohol use, or sexually suggestive poses must be approved in advance by the subject."