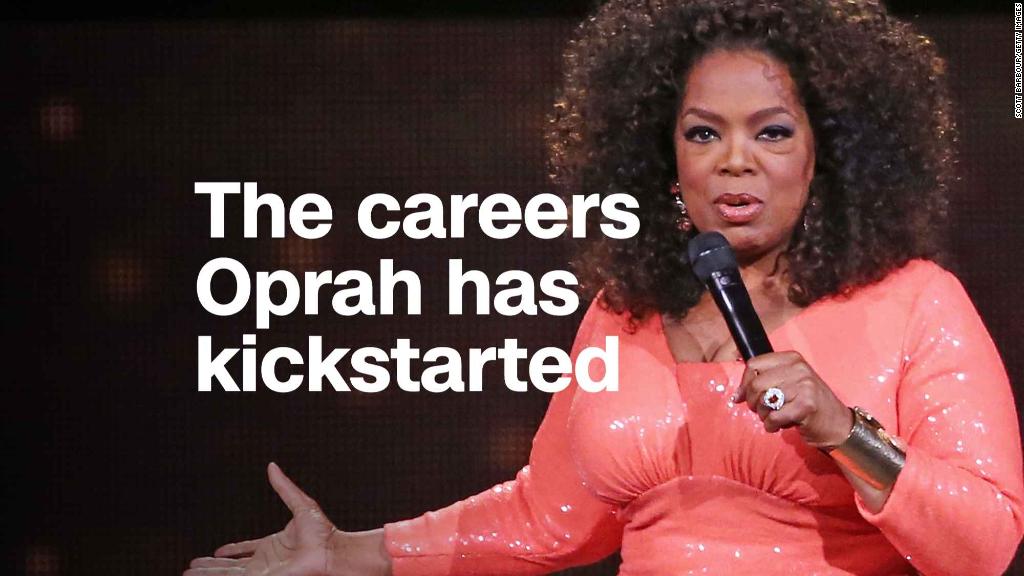 You get a career! You get a career! You get a career!
If you count on Dr. Phil's folksy advice on daytime TV, you can thank Oprah Winfrey. If you bought a Nate Berkus woven area rug for your living room, Oprah probably had something to do with it. If Suze Orman helped you save for vacation, remember Oprah when you arrive.
She's a billionaire, arguably the most famous talk show host in TV history and just maybe a future candidate for president. She's also a kingmaker of modern media.
Everybody gets a career!
Related: How Oprah built Oprah Inc.
"When you get into Oprah's orbit it doesn't affect your career, it defines your career," said Phil McGraw, who started hosting his eponymous talk show hit more than a decade ago.
"I had no desire to be on television before and she made me see the value of it and she made me understand the power of it and without Oprah there would be no 'Dr. Phil.' That's a pretty big impact."
Here's a look at some of the names who have benefited from Winfrey's clout.
Dr. Phil
Years before he launched his self-help show, Phil McGraw met Winfrey when she hired his courtroom consulting firm to help her prepare for a trial. She had been sued by Texas cattle producers for disparaging beef on her show. (The jury sided with Winfrey.)
"The trial for me became a metaphor for what trials are in life," she said on her show in 2003. "Because a trial is, really, your butt is on the line. You're sitting there in a courtroom, physically, with other people trying to tell you that you're not who you say you are."
Winfrey said at the time that she had never seen anyone better than McGraw at "human functioning assessment," and saw an opportunity for him to give his brand of advice to a broader audience.
"He'd never done TV before," she added. "I really discovered him and have created this."
McGraw put it this way to CNNMoney last week:
"Oprah has made a commitment to her guests over the years that anything she found in her life, that she considered to really be of value, whether it was a certain kind of hair dryer or a book or a professional or whatever, she would share with her audience," he said. "I remember when she introduced me, she said: 'I've made that commitment to you and I'm going to do that now.'"
"Dr. Phil" has been on the air since 2002.
Dr. Oz
Dr. Mehmet Oz first appeared on Winfrey's talk show in 2004. Five years later, he launched his own daytime series, "The Dr. Oz Show."
"It started a friendship that culminated in almost 80 or 90 appearances on her show, and subsequently, her being my partner in launching my show," he told MediaBistro in 2015. "It has changed my life."
The surgeon's show about medical issues and health has made him a household name -- as well as a source of controversy. He was grilled in 2014 by U.S. senators about the promotion of weight loss products on his show.
Gayle King
Sometimes it pays to be friends with one of the biggest names in television.
King and Winfrey have known each other for decades. King has cut her own path in journalism, most prominently as a co-host on "CBS This Morning."
But she's also partnered with Winfrey as an editor at O, The Oprah Magazine. And she briefly hosted her own show on the Oprah Winfrey Network, OWN.
Related: Oprah Winfrey is 'very intrigued' by the idea of running, Gayle King says
"I don't think I'm 'not as good as' because I'm her best friend, I never think that," King told an interviewer in 2007. "People say, 'God, it must be so hard ... ' Well, it really ain't. It's afforded me so many opportunities. I've gotten to meet people I never would have met, I've gotten jobs I would never have.
"I say this all the time: I don't look at myself as standing in Oprah's shadow, I see me as standing in her light."
Nate Berkus
The interior designer first appeared on Winfrey's show in 2002. According to Winfrey's website, Berkus appeared on the program more than 50 times.
Since then, he has launched lines of home goods for Target, debuted fabrics at Calico Corners, and even hosted a show for two seasons on OWN.
"You can't be around Oprah and NOT have her influence you, and I don't mean that because she's doling out the free advice," Berkus told Forbes in 2012. "I mean it because she is someone that leads with truth and follows her heart. She's a force."
Suze Orman
Orman is best known for "The Suze Orman Show," which aired on CNBC.
But her reputation as television's no-nonsense financial adviser traces back to "The Oprah Winfrey Show." She first appeared on that program in the late 1990s.
"I've learned from her really how to stand in one's truth," Orman told NPR in 2011. "I can tell you I've learned an encyclopedia version of life from Ms. Winfrey."
Oprah's Book Club
Winfrey's book club started as a segment on her television show, and it continues as a feature on her website.
Her regular picks have a reputation for their hefty influence in the publishing industry. Time magazine in 2008 called the club a "ruthlessly influential marketing vehicle, with the power to fundamentally alter bestseller lists."
The author Chris Bohjalian experienced that firsthand. He was already an established author when Winfrey picked his book "Midwives" for her list in 1998, but the endorsement took his fame to a new level.
"It had already been a bestseller, but it sure as heck had not been a #1 New York Times bestseller," Bohjalian told CNNMoney. "That is due entirely to Oprah Winfrey. It is the greatest professional blessing of my career."
Bohjalian, who will publish his 20th book in March, said people have told him that they discovered his work because of the book club pick.
"I'm going to wager that my career might have been a much longer, slower build," he said. "But I tend to doubt that, overall, the next 15 books would have sold as many copies as they did, had it not been for the success of 'Midwives.'"
Rachael Ray
Ray was already a television personality before she got a boost from Winfrey, having hosted Food Network shows like "30 Minute Meals."
But Winfrey's influence didn't hurt. Ray launched her own daytime talk show, "Rachael Ray," in 2006. Like "Dr. Phil" and "Dr. Oz," it was created by Winfrey's production studio, Harpo.
"If Oprah didn't help us launch a daytime talk show, by having us multiple times on her show, and by supporting us and being our partner for, now, over a dozen years, there would be no Yum-O," Ray told CNNMoney last week, referencing her catchphrase that became the name of her nonprofit focused on educating children and families about nutrition.
"We would never have improved school food, or sent a lot of kids to college, we would never have fed hungry kids," she added. "It simply wouldn't exist."