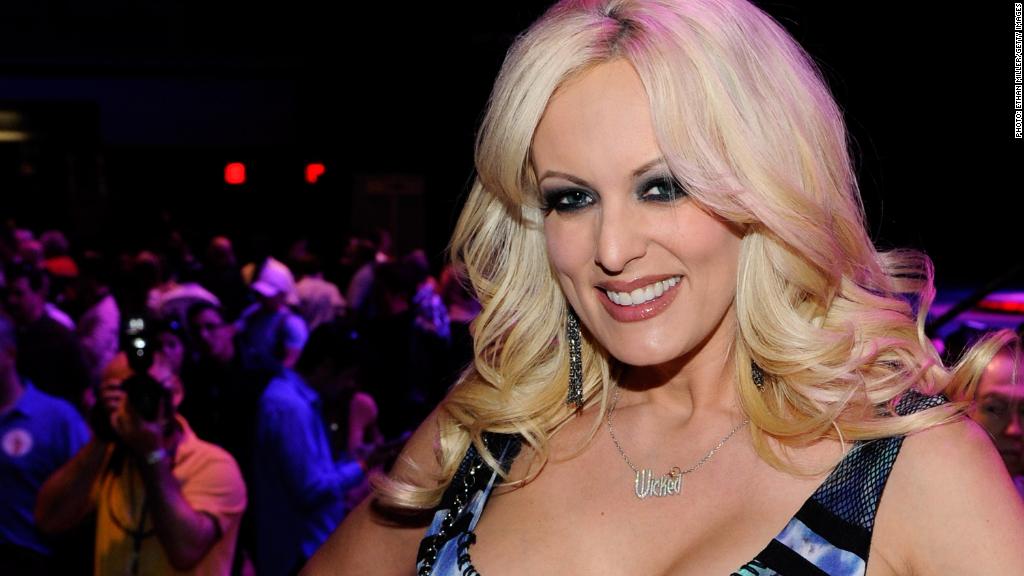 Fox News had a story at the height of the presidential election that detailed an alleged sexual relationship between porn actress Stephanie Clifford -- whose stage name is "Stormy Daniels" -- and Donald Trump, but opted not to publish it, four people familiar with the matter told CNN.
The Wall Street Journal reported on Friday that Trump attorney Michael Cohen had arranged a $130,000 payment to keep Clifford silent about the alleged relationship in October 2016. Cohen, Clifford, and the White House denied the report.
The allegation of a relationship was no secret to Fox News, though.
One of the network's reporters, Diana Falzone, had filed a story in October 2016 about an alleged sexual relationship between Clifford and Trump, people familiar with the matter said.
Falzone had an on-the-record statement from Clifford's manager at the time, Gina Rodriguez, confirming that her client had engaged in a sexual relationship with Trump, three of these people said, and Falzone had even seen emails about a settlement.
But the story never saw the light of the day, to the frustration of Falzone, two of the people said.
"She had the story and Fox killed it," one of the people familiar with the matter told CNN.
Falzone is a reporter for Fox News who frequently covers celebrity news and issues related to sexual harassment. She filed a lawsuit against the network in May 2017 alleging gender discrimination. Fox News has denied her allegations and the case is ongoing.
In a statement, Noah Kotch, who became editor-in-chief and vice president of Fox News digital in 2017, said, "Like many other outlets, we were working to report the story of Stephanie Clifford's account in October 2016 about then-Presidential candidate Donald Trump and a possible payment by Trump lawyer Michael Cohen. In doing our due diligence, we were unable to verify all of the facts and publish a story."
A Fox News spokesperson did not immediately respond to an inquiry about why the outlet did not use any of its previous reporting in its recent stories on the alleged relationship between Clifford and Trump.
Falzone, Clifford, Rodriguez, Cohen and the White House all did not respond to requests for comment. Clifford, however, issued a statement distributed by Cohen last week in which she denied a sexual relationship with Trump.
"My involvement with Donald Trump was limited to a few public appearances and nothing more," she wrote in the statement, dated January 10. "When I met Donald Trump, he was gracious, professional and a complete gentleman to me and EVERYONE in my presence. Rumors that I have received hush money from Donald Trump are completely false. If indeed I did have a relationship with Donald Trump, trust me, you wouldn't be reading about in the news, you would be reading about it in my book. But the fact of the matter is, these stories are not true."
Keith Davidson, an attorney who represents Daniels, told CNN he was unaware his client or Rodriguez had spoken to media outlets about a possible story.
Clifford was in discussions with different news organizations leading up to the 2016 presidential election, however.
ABC's "Good Morning America" was talking with Clifford about a possible interview regarding Trump, two people familiar with the matter told CNN last week.
Additionally, Slate and The Daily Beast have both said they had been in communication with Daniels about a possible story in the weeks leading up to the election.
Jacob Weisberg, editor-in-chief of the Slate Group, wrote in an article published Tuesday that he had communicated with Daniels and had a copy of an unsigned settlement agreement. Daniels, however, ultimately "stopped responding to calls and text messages," he said. Weisberg wrote that he "considered publishing the story without her cooperation," but that he knew it was possible Daniels could "disavow" what she told him and that he "lacked independent corroboration."
The Daily Beast said in an article published Friday that it had been in talks for an interview with Clifford before the election, and that it had three sources talking about the relationship between Clifford and Trump, but that she had backed out of an interview not long before Election Day.
-- CNN's Brian Stelter contributed reporting.