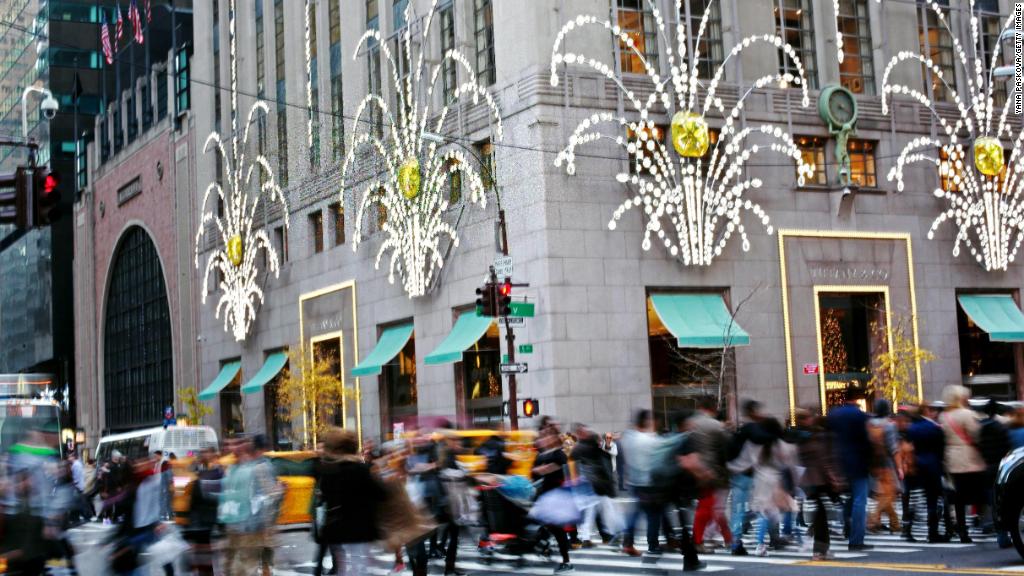 Tiffany had a good Christmas, but it's worried the merriment won't continue into the new year.
The jeweler said sales grew 7% in in the Americas in November and December of last year. Sales at stores open a year rose by 6%.
But Tiffany lowered its expectations for 2018, warning that it anticipates flat or slightly lower profit than last year. While Tiffany expects sales keep growing, it thinks those gains will be offset by more spending in tech and marketing, among other things.
Internationally, total sales grew by 16% in Asia-Pacific and 14% in Europe.
Tiffany's (TIF) stock rose less than 1% Wednesday morning.
"While our major Fashion Jewelry collections continued to perform well, customers were equally excited about our Fine Jewelry, our Watches and our new Home and Accessories collection," said Tiffany CEO Alessandro Bogliolo in a statement.
The company's luxury "high jewelry" line, which includes items that cost between $50,000 and millions of dollars per piece, was also popular during the holidays.
Related: Why Tiffany is selling a $1,000 'tin' can
The new home and accessories line, launched just in time for the holiday season, includes a $1,000 "tin" can, a $9,000 spool of yarn and a $10,000 bird's nest. The collection's high prices sparked a reaction on social media, where one person quipped that the items were "For when you have way, way more dollars than sense."
But the 1,280-item collection also includes items starting as low as $25, and Tiffany hopes that the cheaper prices will help lure Millenials into stores.
"We couldn't be more pleased with it," said Mark Aaron, Tiffany's head of investor relations.
He confirmed that Tiffany sold all of the buzziest items, including the tin can, the yarn and the bird's nest, adding that there was more demand for the more affordable ones.
Related: Tiffany has blue Christmas due to Trump Tower traffic
The 2017 holiday figures were far better than 2016's, when congestion and traffic around Trump Tower kept customers away from the jeweler's 5th Avenue New York City location.
Retailers had a good season overall. Sales were up 5.5% during the November and December holiday shopping season, according to the National Retail Federation -- the biggest year-over-year gain since the economy started climbing out of the depths of the Great Recession in 2010.