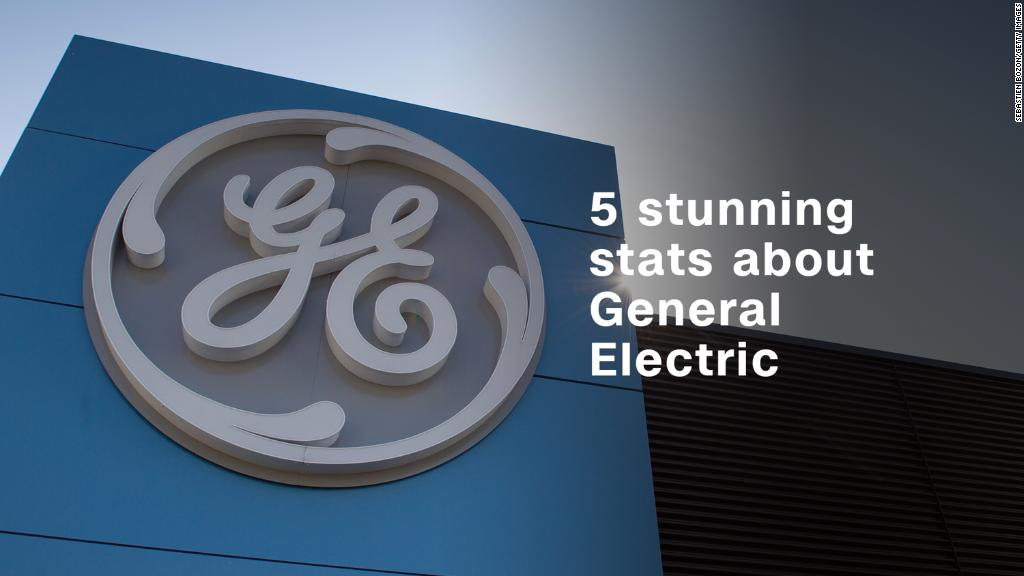 The last time General Electric had a week this terrible, the Dow was below 7,000.
A deepening cash crisis caused GE's (GE) stock to dive 13% this week. GE hasn't suffered a loss like that since the first week of March 2009, during the Great Recession. Just days later, stocks bottomed -- the beginning of an eight-year bull market.
The ferocious selling in GE, once one of America's greatest companies, comes as the rest of the stock market is zooming ahead. The Dow hit 26,000 this week, leaving GE further in the dust.
GE has already slashed its coveted dividend and announced 12,000 job cuts in its beleaguered power division. But Wall Street is clearly still worried about the cash crunch. More bad news came this week when GE took a $6.2 billion hit because of insurance problems in its finance unit.
"Investors are concerned there is rot in this balance sheet that went on for years," said Alicia Levine, head of global investment strategy at BNY Mellon. "It's a black box right now."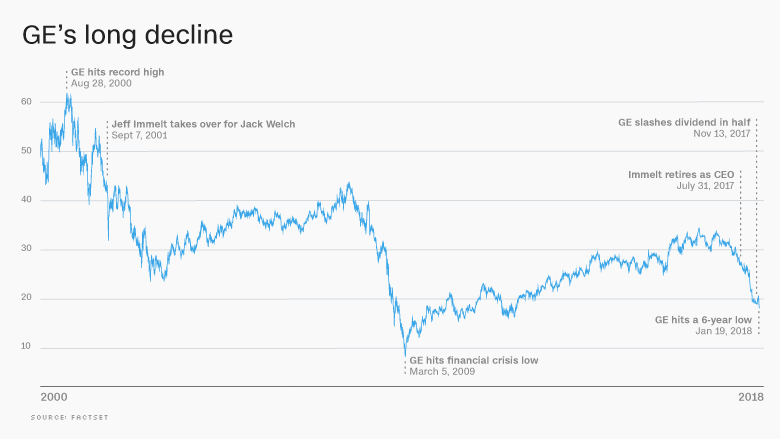 Related: GE's $31 billion pension nightmare
It's telling that GE is suffering its worst week since 2009. Back then, fears about the finance unit, GE Capital, put the entire company at risk.
GE has since sold much of GE Capital, and it has announced plans to get rid of $20 billion in additional assets, including a century-old railroad business and the iconic light bulb division.
GE, which reports earnings on Wednesday, is also mulling a more dramatic breakup of the conglomerate.
Some analysts don't think dismantling GE makes sense, or would even be possible. Among other issues, they point to GE's $31 billion pension shortfall, the largest among S&P 500 companies.
Deutsche Bank analyst John Inch spooked investors on Friday by warning in a report that GE's "cash squeeze" is so serious that the company may need to raise money by issuing more stock.
GE hasn't sold shares to the public since 2008, when Warren Buffett and other shareholders came to the rescue during the financial crisis. GE would surely prefer not to take such a drastic move now because it would dilute the value of the shares people already have.
A GE spokeswoman told CNNMoney that the company has "absolutely no plans" to issue more stock. She noted that GE has already taken steps aimed at shoring up its balance sheet, including the dividend cut and planned asset sales.
A GE share sale would be tough to explain. The company has shelled out billions to buy its own tumbling stock. GE spent about $20 billion on stock buybacks in 2016, purchasing shares at an average of $30, according to Deutsche Bank. GE is trading at barely half that price now.
"It would be a crazy turn of events," Inch told CNNMoney. "To turn around and have to issue stock would be ridiculous. Talk about a mess."