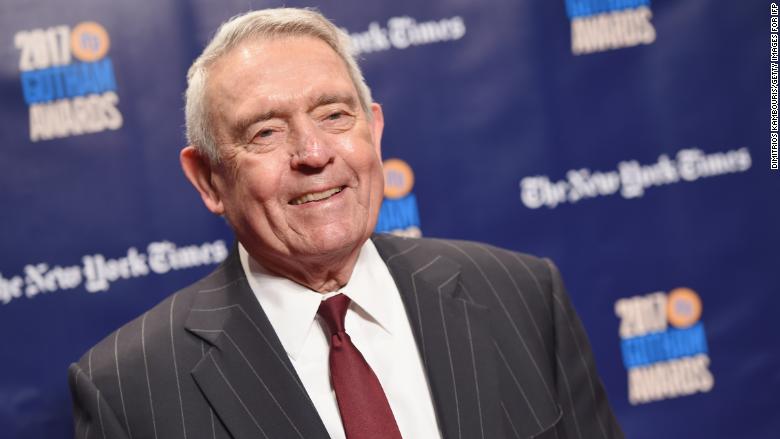 Former "CBS Evening News" anchor Dan Rather wasn't too familiar with The Young Turks Network when he took a meeting with the online progressive news network's founder and chief executive officer, Cenk Uygur.
"I was only vaguely aware, I'm sorry to say," Rather confessed to CNN in a phone interview Sunday.
But, as Rather said, "something clicked" between him and Uygur. So when Uygur offered Rather a show with the network, he "jumped" at the opportunity.
On Monday, Rather will premiere "The News With Dan Rather," a 30-minute show that The Young Turks Network is billing as an "untraditional evening newscast," made available weekly at 5:30 p.m. ET. The program will focus on original reporting, stories that Rather believes are not receiving the amount of attention they deserve, and analysis of the hot topics of the day.
"The format is designed to allow me to focus on substance," Rather said, stressing that his show "will be raw" with "no bells and whistles."
"The set is literally my office," he emphasized.
His jump to the provocative progressive outlet, which distributes its programming on politics and pop culture through digital platforms like Facebook and YouTube, is a bit out of step with the rest of his storied career, Rather acknowledged. For decades, Rather hosted the "CBS Evening News," a newscast filmed in a traditional elaborate studio, produced with the help of a large team, and backed by the finances of a well-established network. And there, Rather aimed to provide viewers the news of the day without bias or favor. Now he's joining an outlet with a clear ideological bent.
"At this age and stage in my life, my attitude is, 'What the hell,'" Rather said. "I am not the smartest guy around and don't know everything, but I have been blessed as a reporter and have seen a few things. And now I have moved to a different place. I want to contribute if I can."
The 86-year-old veteran newsman told CNN that President Trump's attacks on the press and political norms helped motivate him to launch the new show.
"I feel strongly that when you have a president who is continually, relentlessly damning the press, individuals by name, individual institutions and calling the press the enemy of the people -- listen, this has to be resisted," he said.
Rather added, "This is a time when everybody needs to be counted. I don't want to be preachy about it, but we have a real responsibility, those of us in journalism and those of us who have experience in journalism, to do what we can. ... These efforts to convince the public that people in the news are dealing in fake news is quite frankly bullshit."
That said, Uygur told CNN that The Young Turks Network doesn't need Rather to be "progressive on the network."
"We just need people to have an authentic point of view," he said. "And Dan's point of view is not only smart and informed and incredibly experienced, but also authentic."
The addition of Rather's show is the latest in a series of moves that The Young Turks Network has made to expand its programming. Last month, the outlet announced a new show covering progressive politics. The Young Turks Network is also helping to produce a 16-part documentary series focused on environmental issues.
Rather said that by joining the online outlet he hopes to offer millennials who get news "off the computer or their hand gadget," some "context and perspective to the news." He also hopes to reach individuals who chiefly consume the news through right-wing outfits, though he has "no illusions" about how successful he might be.
"If we do this project right, I do think we can have some effect," he said. "I don't kid myself that we are going to have much effect on someone who is a follower of Breitbart or Fox News. But even if we can have a little effect -- I think some of the authenticity can get through to some of these people."