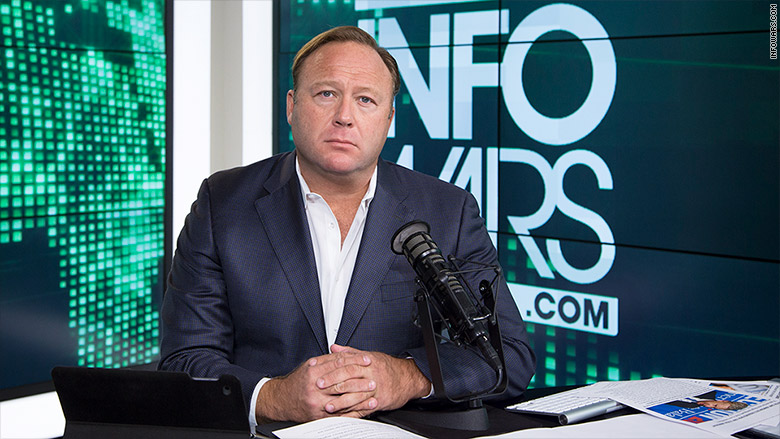 Alex Jones, the far-right conspiracy theorist, is working on a book with New York Times bestselling author Neil Strauss, according to a proposal sent to major publishers that was obtained by CNN.
Jones writes in part of the 27-page proposal for "The Secret History of the Modern World & the War for the Future" that the book is "about the front lines of the war for your mind" and says the chapters will cover "the past, the present, and the future."
The first part of the proposal promises the book's contents "will open your mind in ways you can't expect" and be "a classic that will be based around for generations."
"The chapters here will uncover it all. They will be like the moment you first discovered sex or the Internet or quantum physics," it says. "You will never look at your life or your world the same way again."
Neither Jones nor Strauss responded to a request for comment, but the proposal was sent to publishers by Marc Gerald of United Talent Agency who represents Strauss.
Still, the fact that an agent with United Talent Agency -- which represents some of the biggest stars in the world -- would associate himself with a book by Jones raised eyebrows.
After this story was first published, a representative for United Talent Agency told CNN, "UTA does not represent this book." A person who works at the agency with knowledge of the situation added that Gerald made the initial outreach to publishers without having consulted the appropriate people internally. Through a spokesperson, Gerald declined to comment.
Jones is the founder of InfoWars, a far-right website known for pushing conspiracy theories. While his reputation has been praised by President Trump as "amazing," the radio and television personality is arguably the leading conspiracy theorist in the nation, if not the world.
It's not clear whether any publishers will actually want to acquire the book, two industry insiders told CNN, as any company that would choose to publish the book would likely face an immense backlash because of the number of inflammatory claims and comments Jones has made over the years. Jones has contended that the Sandy Hook massacre was a hoax and said the US government was behind the September 11 terror attacks.
Related: Sandy Hook family members send legal threat to NBC over Alex Jones interview
Strauss is best known as the author of "The Game," a book for which he spent two years embedded within the so-called "pickup artist" community. He has written several other bestselling books and previously wrote for The New York Times as a columnist.
The book proposal submitted to publishers does not shy away from Jones' penchant for peddling conspiracy theories, but embraces it.
"Who doesn't want to read some of the greatest conspiracy theories of all time—and then be shocked by the annotations to find out that...they're all true," the proposal says. "Because there is a conspiracy that, no matter who you are, you have to admit is true. There is a war for your mind. A war to make you docile. A war to make you a sheep. A war to take away your initiative, your freedom, and your control over your own life."
Jones attacks a number of industries in the colorful proposal. He writes that "we are still being colonized, with food and drinks that can kill us faster than ever," says the "entertainment machine" aims to "entertain the masses into complete passivity," and claims that in "their quest for world domination, the elite and technocrats are making the decision that people should be obsolete."
The proposal also aims to convince readers that much of the controversy Jones generates is because he is simply misunderstood because of his "PT Barnum way of slapping a great headline on his stories."
"Here's a simple example. The headline: Aliens are living among us. Sounds preposterous. Sounds wacky. Sounds like something from a supermarket tabloid. But here's the logic: 1. Scientists have cloned sheep. Fact. 2. Scientists have created hybrid human-pigs. Fact. 3. These are not creatures of the natural world. They've been invented by science. They are alien to us. 4. Thus, they are aliens. And aliens are living among us. Are you starting to get it yet?"
Jones concludes the book proposal boasting about the "powerful promotional engine" that can sell the book.
"I plan to launch a massive pre-order campaign through Infowars: both the live show, Youtube, and the website, as well as my other site prisonplanet.tv, which is almost as popular. Promoting the book regularly for a month during my four-hour show, on social media, and in all these outlets would be enough to sell enough copies to make any bestseller list," he writes. "But add to this the sphere of influencers who are part of my team, network, and base: Social-media influencers whose combined following is in the dozens of millions—and who, like me, have extremely high engagement."
Jones adds, "I'm open to as many book signings as you'd like me to do, as well as impactful promotional outlets. The few interviews I have done previously have made headline news. Be it accurate or not, people love writing about me. But most important to me, besides the months of promotion that I'm looking forward to doing, I'm writing this book for the long road. I am putting a lot of work into it, distilling my knowledge, philosophy, and mission, into some 120,000 words. And it's my hope that this book outlasts me."