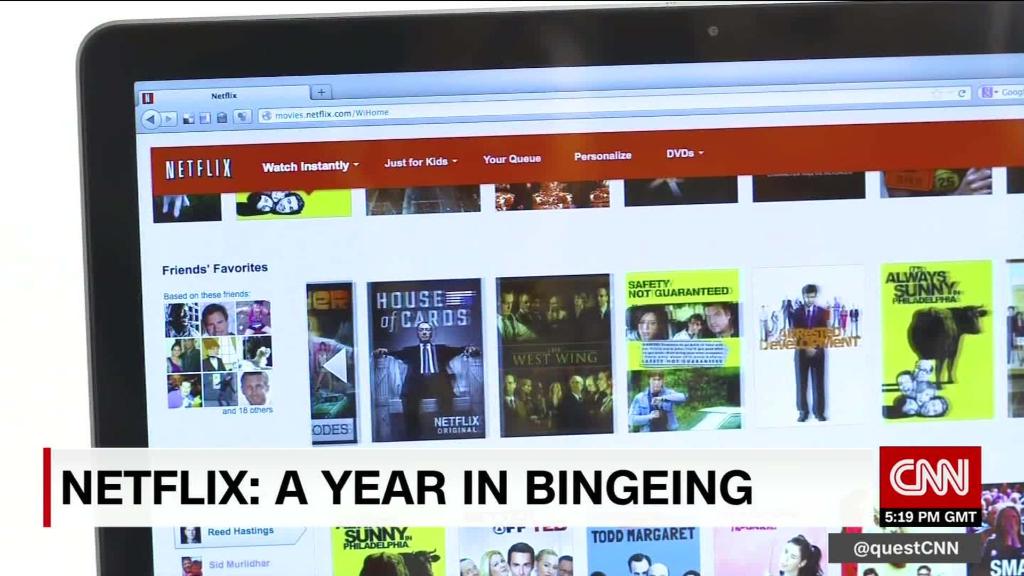 Netflix's recent price hike isn't denting its subscriber numbers.
Netflix (NFLX) said Monday it added more than 8 million net subscribers in the fourth quarter of 2017, marking the strongest quarterly subscription gains in its history.
The company credited the "stronger than expected" gains in new customers in part to its "original content slate." That likely includes "Stranger Things," Netflix's breakout show, which returned for a second season during the quarter.
The vast majority of new subscribers continue to come from overseas, as Netflix has expanded into new international markets. Netflix added 2 million users in the U.S. and 6.36 million users abroad.
The company's stock popped over 8% in after hours trading Monday following the earnings report. If those gains hold, Netflix would open Tuesday at a new all-time high and top a $100 billion market cap for the first time.
Shares of Netflix soared more than 50% in 2017, and have continued to rise in the first weeks of 2018 on optimism about its leading position in the streaming market.
Netflix hiked prices 10% last quarter, bringing the cost of the standard streaming option up to $10.99 per month. On a conference call with analysts Monday, Netflix CEO Reed Hastings said the price increase had "very little effect on signups and growth."
The key to Netflix's continued success is a bet on original content, producing hit shows like "Orange Is The New Black" and "The Crown." The company has said it will spend up to $8 billion on programming this year. Netflix also said Monday it intends to spend $2 billion on marketing.
But there is some cause for concern.
Related: Disney-21st Century Fox and the war with Netflix over streaming
Last month, Disney (DIS) announced a $52 billion deal to buy 21st Century Fox (FOX), which could help power a Disney-branded streaming service to rival Netflix. Disney said in August it would pull content from Netflix.
"The market for entertainment time is vast and can support many successful services," Netflix said in a letter to investors Monday, noting the Disney deal.
Netflix is also grappling with the fallout from a wave of sexual harassment allegations against men in Hollywood.
Netflix said Monday it took an "unexpected" $39 million charge for content that "we've decided not to move forward with," but did not specify which shows or movies were included in that charge.
However, a source close to the company told CNNMoney the charge was entirely from ending "House of Cards" and opting not to proceed with the release of 'Gore.' Both projects starred Kevin Spacey, who has been accused of sexual harassment.
Netflix has also scrapped plans for another Louis C.K. stand up special in the wake of sexual misconduct allegations. And Danny Masterson was written out of "The Ranch" amid rape allegations.
Aziz Ansari, the star of Netflix's "Master of None," has also come under scrutiny recently after an anonymous woman detailed an uncomfortable sexual encounter with the comedian.