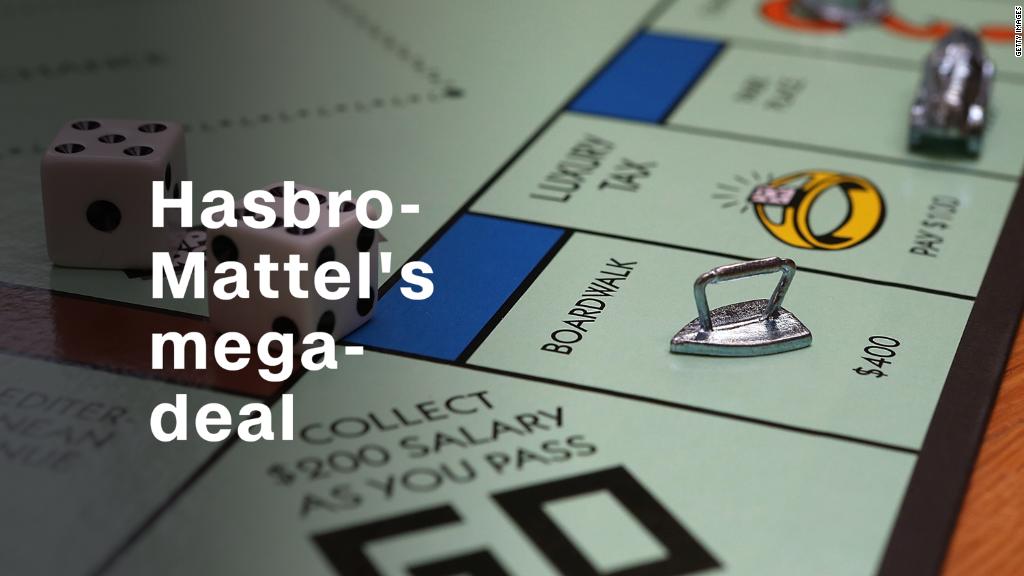 Toys "R" Us announced Wednesday that it would be closing more than 180 stores.
The closures, which start next month and should be complete by April, are part of a bankruptcy plan for the beleaguered retailer. The company is saddled with more than $5 billion in debt.
Is your local Toys "R" Us (or sister store Babies "R" Us) among the stores that will be shuttered?
Below is a list of every store closing a total of 182, sorted by state and city:
Alabama (2)
Tuscaloosa (Toys "R" Us)
Birmingham (Combination store)
Arizona (6)
Yuma (Toys "R" Us)
Paradise Valley (Toys "R" Us)
Scottsdale (Toys "R" Us)
Scottsdale (Babies "R" Us)
Tuscon (Babies "R" Us)
Mesa (Babies "R" Us)
Arkansas (2)
Little Rock (Babies "R" Us)
Fort Smith (Toys "R" Us)
California (27)
Indio (Combination store)
Simi Valley (Babies "R" Us)
Santa Clarita (Babies "R" Us)
Covina (Combination store)
Puenta Hills (Combination store)
Brea (Babies "R" Us)
Westminster (Babies "R" Us)
Torrance (Babies "R" Us)
Riverside (Combination store)
Corona (Combination store)
Mission Bay (Toys "R" Us)
Mira Mesa (Babies "R" Us)
Vista (Babies "R" Us)
Yuba City (Toys "R" Us)
Folsom (Babies "R" Us)
Pinole (Babies "R" Us)
Pittsburgh (Toys "R" Us)
San Rafael (Combination store)
Brentwood (Babies "R" Us)
Fairfield (Babies "R" Us)
Emeryville (Combination store)
San Jose (Combination store)
San Jose (Babies "R" Us)
Fresno (Toys "R" Us)
Union City (Babies "R" Us)
Stockton (Babies "R" Us)
Santa Ana (Toys "R" Us)
Colorado (1)
Aurora (Combination store)
Connecticut (4)
North Haven (Combination store)
Waterbury (Combination store)
Newington (Toys "R" Us)
Manchester (Babies "R" Us)
Florida (12)
Tallahassee(Combination store)
St. Petersburg (Toys "R" Us)
Tampa (Babies "R" Us)
Orange Park (Babies "R" Us)
Altamonte Spring (Babies "R" Us)
Boca Raton (Babies "R" Us)
Port St. Lucie (Babies "R" Us)
Royal Palm Beach (Combination)
Kissimmee (Babies "R" Us)
Kissimmee (Toys "R" Us)
Coral Springs (Combination store)
Miami (Toys "R" Us Express)
Georgia (8)
Alpharetta (Babies "R" Us)
Dunwoody (Babies "R" Us)
Douglasville (Babies "R" Us)
Conyers (Babies "R" Us)
Newnan (Babies "R" Us)
Fayetteville (Combination store)
Albany (Toys "R" Us)
Smyrna (Combination store)
Hawaii (1)
Kahului (Toys "R" Us Express)
Illinois (8)
Highland Park (Toys "R" Us)
Schaumburg (Babies "R" Us)
Vernon Hills (Babies "R" Us)
Matteson (Toys "R" Us)
Bricktown (Babies "R" Us)
Burbank (Babies "R" Us)
Niles (Babies "R" Us)
Naperville (Babies "R" Us)
Indiana (3)
Indianapolis (Babies "R" Us)
Greenwood (Babies "R" Us)
Michigan City (Toys "R" Us Express)
Iowa (2)
Des Moines (Toys "R" Us)
Des Moines (Babies "R" Us)
Kansas (2)
Witchita (Babies "R" Us)
Overland Park (Babies "R" Us)
Kentucky (3)
Simpsonville (Toys "R" Us outlet store)
Lexington (Babies "R" Us)
St. Mathews (Toys "R" Us)
Louisiana (1)
Slidell (Toys "R" Us)
Maine (2)
Portland (Babies "R" Us)
Bangor (Toys "R" Us)
Maryland (1)
Clinton (Toys "R" Us)
Massachusetts (6)
Millbury (Babies "R" Us)
Holyoke (Babies "R" Us)
Bellingham (Toys "R" Us)
Northborough (Combination store)
Dedham (Combination store)
Framingham (Babies "R" Us)
Michigan (6)
Muskegon (Toys "R" Us)
Traverse City (Toys "R" Us)
Lansing (Babies "R" Us)
Grand Rapids (Babies "R" Us)
Ann Arbor (Babies "R" Us)
Ann Arbor (Toys "R" US)
Minnesota (4)
Minnetonka (Combination store)
Blaine (Combination store)
Woodbury (Babies "R" Us)
Richfield (Babies "R" Us)
Mississippi (2)
Meridian (Toys "R" Us)
Pearl (Toys "R" Us outlet store)
Missouri (4)
Cape Girardeau (Toys "R" Us)
Bridgeton (Babies "R" Us)
Chesterfield (Babies "R" Us)
Columbia (Toys "R" Us)
Nebraska (1)
Omaha (Babies "R" Us)
Nevada (2)
Las Vegas (Babies "R" Us)
Spring Valley (Babies "R" Us)
New Hampshire (1)
Nashua (Babies "R" Us)
New Jersey (12)
Wayne (Toys "R" Us)
Paramus (Babies "R" Us)
East Hanover (Babies "R" Us)
Elizabeth (Combination store)
Bridgewater (Babies "R" Us)
Union (Babies "R" Us)
North Brunswick (Babies "R" Us)
Burlington (Toys "R" Us)
Cherry Hill (Babies "R" Us)
Phillipsburg (Combination store)
Mt. Olive (Babies "R" Us)
Eatontown (Toys "R" Us)
New Mexico (1)
Albuquerque (Babies "R" Us)
New York (14)
Middle Village (Combination store)
Westbury (Babies "R" Us)
College Point (Babies "R" Us)
New York City (Babies "R" Us)
Sayville (Babies "R" Us)
Massapequa (Babies "R" Us)
Kingston (Toys "R" Us)
Glens Falls (Toys "R" Us)
Latham (Babies "R" Us)
Greece (Toys "R" Us)
Henrietta (Babies "R" Us)
Amherst (Babies "R" Us)
Commack (Combination store)
Yonkers (Babies "R" Us)
North Carolina (3)
Durham (Babies "R" Us)
Durham (Toys "R" Us)
Asheville (Babies "R" Us)
Ohio (4)
Western Hills (Toys "R" Us)
Dayton (Babies "R" Us)
Mentor (Babies "R" Us)
Dublin(Babies "R" Us)
Oklahoma (2)
Oklahoma City (Toys "R" Us)
Norman (Toys "R" Us)
Pennsylvania (9)
Erie (Babies "R" Us)
Dover (Toys "R" Us)
Horsham (Combination store)
Williamsport (Toys "R" Us)
Exton (Babies "R" Us)
Ross Park Mall (Toys "R" Us)
Washington (Toys "R" Us)
Beaver Valley (Toys "R" Us)
Monroeville (Babies "R" Us)
Puerto Rico (2)
Carolina (Combination store)
Hatillo (Combination store)
Rhode Island (1)
Warwick (Babies "R" Us)
South Carolina (2)
Columbia (Babies "R" Us)
N. Charleston (Babies "R" Us)
South Dakota (1)
Rapid City (Toys "R" Us)
Tennessee (2)
Memphis (Combination store)
Nashville (Babies "R" Us)
Texas (8)
West El Paso (Toys "R" Us)
Katy (Combination store)
Allen (Combination store)
Irving (Combination store)
Lewisville (Babies "R" Us)
Dallas (Combination store)
Hurst (Babies "R" Us)
Hulen (Babies "R" Us)
Robstown (Toys "R" Us Express)

Utah (2)
Ogden (Babies "R" Us)
Midvale (Babies "R" Us)
Virginia (2)
Potomac Mills (Babies "R" Us)
Newport News(Babies "R" Us)
Washington (3)
Silverdale (Toys "R" Us)
Everett (Toys "R" Us)
Spokane (Babies "R" Us)
Wisconsin (2)
Brookfield (Babies "R" Us)
Madison (Babies "R" Us)