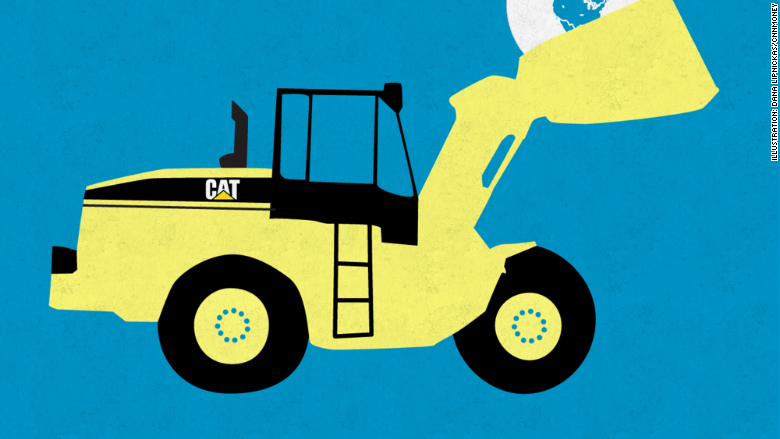 A growing global economy is boosting demand for Caterpillar's heavy-duty equipment.
Caterpillar's sales grew last year for the first time since 2012. A construction slowdown in China and the collapse of oil prices several years ago had weighed on the company.
"After four challenging years, many key markets improved in 2017," CEO Jim Umpleby said in a statement Thursday.
Construction equipment sales in North America grew 46% last quarter thanks to selling and leasing more expensive machinery for home building, infrastructure and oil and gas industries.
Increased building and infrastructure spending in China also helped sales, the company said.
Oil's recent rebound helped Caterpillar's mining and oil and gas businesses. Oil prices have bounced back to $70 a barrel after record-low prices two years ago. Commodity prices and raw materials also have risen.
The company added 3,000 employees to its workforce to meet demand last year. 98,000 people worked for Caterpillar last year.
Overall, sales grew 18% from last year to $45.5 billion. Revenue rose in all three of the company's divisions: construction, mining resources and energy and transportation equipment.
Caterpillar took a $2.4 billion charge last quarter from the new tax law, which included a writedown of deferred tax benefits and a one-time repatration tax on profit stashed overseas.
Next year, however, Caterpillar expects to pay a 24% rate. It paid a tax rate of 28% last quarter. Caterpillar has not said how it plans to spend the savings windfall.
Caterpillar is the world's largest machinery company and is a bellwether of the economy's strength.
Related: Caterpillar to cut more than 10,000 jobs
Caterpillar hinted its construction unit could benefit even more if President Trump and Congress pursue an infrastructure bill. The president pledged a $1 trillion infrastructure bill during the 2016 campaign.
In 2015, Caterpillar slashed 10,000 jobs as growth in China slowed down and commodity prices fell.
The global picture looks much different today. Caterpillar expects its strong close to 2017 to continue this year as economic trends point upward. Its "preparing its factories and suppliers to be ready for continued growth," Caterpillar said.
Caterpillar (CAT) shares fell 2% after initially rising by as much as 4%. Caterpillar boomed 70% last year, making it the second-best performer on the Dow.