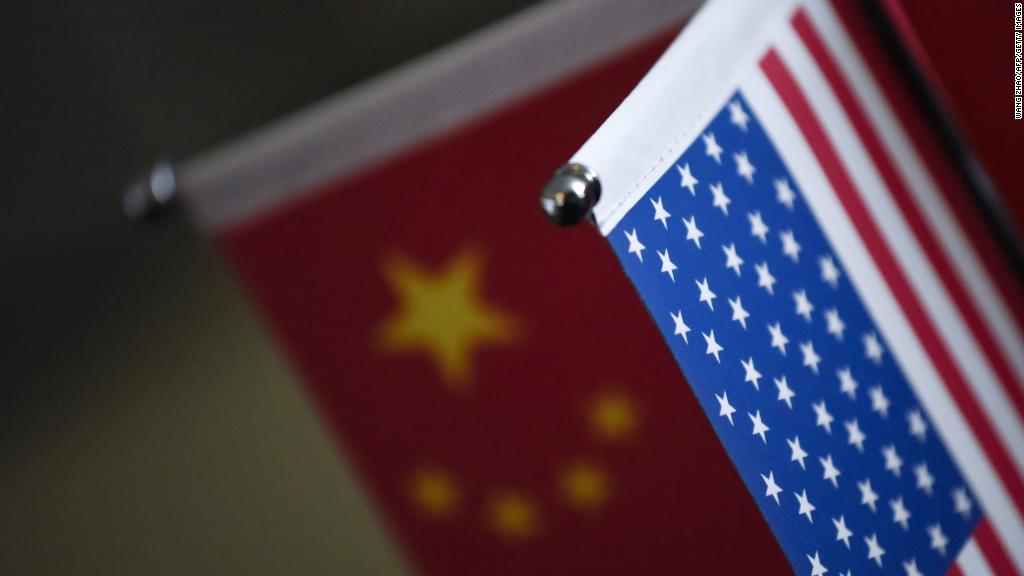 American tech companies that raise money from Chinese investors could soon face tougher scrutiny.
Top Trump administration officials have thrown their support behind a bipartisan bill that would expand the powers of an obscure government panel that has the authority to block foreign deals that present national security concerns.
Officials from the Treasury, Commerce and Defense Departments on Thursday backed legislation that would broaden the purview of the Committee on Foreign Investment in the United States, or CFIUS.
On Wednesday evening, the White House endorsed the legislation, saying it would strengthen national security protections.
"The digital, data-driven economy has created national security vulnerabilities never before seen," Heath Tarbert, assistant secretary of the Treasury for international markets and investment policy, said in prepared testimony to the Senate Banking Committee.
"Today, the acquisition of a Silicon Valley startup may raise just as serious concerns from a national security perspective as the acquisition of a defense or aerospace company," he said.
Related: Big tech tried to boost Washington clout in Trump's first year
The bill was introduced in November by Senators John Cornyn, a Republican from Texas, and Dianne Feinstein, a Democrat from California.
It would have the effect of subjecting Chinese investments to greater scrutiny by the U.S. government. CFIUS includes a number of U.S. agencies, including the Departments of Defense, State, Justice, Treasury and Homeland Security. The Treasury secretary chairs the panel.
Chinese investors have been pouring in more dollars to help finance startups they think may have high growth potential.
From 2010 to 2015, Chinese entities participated in 6% of U.S. venture capital deals, including startups. By 2015, that rate was 16%, according to prepared testimony by Eric D. Chewning, deputy assistant secretary of defense for manufacturing and industrial base policy for the Pentagon.
Related: Chinese company won't take over MoneyGram after failing to get U.S. approval
The Chinese government has also spent billions of dollars to become a world leader in science and technology and has shown increased interest in investing in artificial intelligence, self-driving cars and robotics, he said.
Already, the Trump administration has ratcheted up scrutiny of foreign investment deals.
In September, CFIUS stopped a Chinese-backed investor from buying Lattice Semiconductor, an American conductor company. In July, it halted a deal that would have given a Chinese company a piece of a Los Angeles company that provides in-flight Wi-Fi.
And more recently, in January, CFIUS rejected a deal for Chinese billionaire Jack Ma's Ant Financial Services Group bid to buy MoneyGram, the money-transfering service.
The bipartisan bill could add thousands of companies with foreign ties to the list that CFIUS reviews each year and provide more money to cover the costs of a bigger workload. A similar bill was introduced by Representative Robert Pittenger, a Republican from North Carolina.
The volume of cases under review by CFIUS has increased from less than 100 a year in 2009 to nearly 240 last year. Of those, more than 70% were investigated. That compares with roughly 4% of cases investigated in 2007, according to Tarbert.
Related: Trump and China: 2018 could get nasty
Chewning called the bill a "positive step" in addressing ongoing concerns, including limits on what deals CFIUS is able to review.
Under the current rules, the panel might review a foreign company's purchase of an American business close to a sensitive military base. But it would not review the a foreign company's purchase of real estate in the same place, Tarbert said.
"These gaps can lead to disparate outcomes in transactions presenting identical national security threats," Tarbert said.
And CFIUS only has the power to review certain transactions today. If a deal doesn't give a foreign company controlling interest, it's excluded from review. Certain joint ventures or transfers of technology are also excluded, Chewning said.
Officials were careful to send the message to lawmakers that reforming the process should not signal a shutout of foreign direct investment.
Tarbert also pointed to the strong economic benefits that the United States receives from foreign direct investment -- $7.6 trillion in 2016.