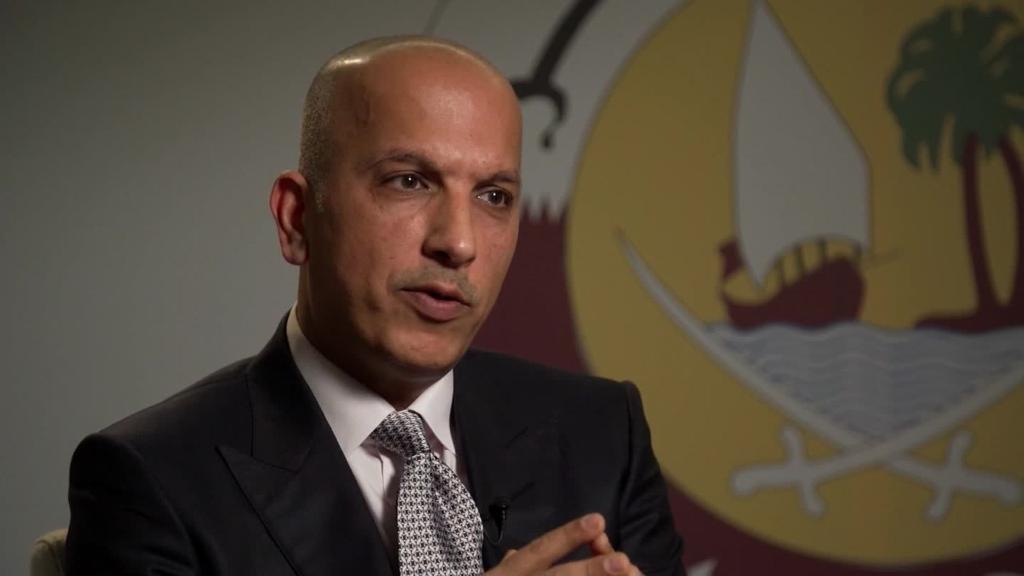 Eight months after its Arab neighbors broke off ties with Qatar, the Gulf state says regional isolation is making it stronger.
The country's finance minister says Qatar's economy is "resilient" and "open for business."
"Lots of people gave us a few weeks to survive this," Ali Shareef Al Emadi told CNNMoney's Emerging Markets Editor, John Defterios. "Despite whatever we had in the eight months, we're still [one of] the fastest growing" economies in the region, he added.
Last June, Saudi Arabia, the United Arab Emirates, Bahrain and Egypt cut all diplomatic and transport links with Qatar. The three gulf states gave Qatari nationals 14 days to leave, and advised their own citizens to leave Qatar.
They accuse Doha of funding terrorism and destabilizing the Middle East, claims Qatar strenuously denies.
The tiny-state had in the past relied heavily on Saudi Arabia and the UAE for much of its imports, including a third of its food supply. It also imported most of its construction materials from the two countries.
Related: Qatar wants monetary compensation for Arab embargo
But it was quick to find alternative suppliers, turning to Iran,Turkey and other countries further afield.
"This blockade and the challenges that happened, probably gives more opportunity to the state of Qatar," Al Emadi told CNNMoney at the World Economic Forum in Davos, Switzerland.
After a country visit in August, the International Monetary Fund said Qatar was "adjusting to the shock" and the banking system "remains sound, with high asset quality and strong capitalization."
The IMF expects the country's economy to grow 3.1% this year, up from 2.5% in 2017.
Looking beyond the Gulf
Prior to the dispute, Qatar had focused on economic integration within the Gulf Cooperation Council [GCC], a six-member trade bloc with a common market and customs union. Now it's diversifying rapidly.
"Today we are really focusing on other countries... We are getting our supply chain from more than 80 countries," Al Emadi said.
Qatar's energy wealth has helped it ride out the economic shock. It's the world's leading exporter of liquified natural gas, accounting for about 30% of global demand. Japan, South Korea and India are among its biggest customers.
Rating agency Moody's has estimated that Qatar burned through more than $38 billion of its reserves in the two months following the embargo to prop up its economy.
Al Emadi disputed the figure and said the banking system is "very healthy."
"If we see a systematic risk, we will definitely step in," he added.
Related: Qatar is backed by a massive global war chest
Qatar is also home to a leading global airline, Qatar Airways. The carrier was initially hit hard by the dispute, with 18 destinations suddenly out of bounds. It was forced to cancel about 50 flights a day.
But Al Emadi said the airline is bouncing back.
"We've opened 10 routes last year, we are going to do another 10 to 15 in 2018. This blockade won't stop us from actually growing," he said.
World Cup preparations on track
The enforced isolation had raised questions about Qatar's ability to host the FIFA World Cup in 2022. But preparations were well underway before the embargo started, Al Emadi said. Qatar is still awarding about $9 billion in new contracts for the big soccer event.
"2018 is going to be very important to deliver on a lot of these projects. We expect by the end of this year, most of the major infrastructure will be completed," the finance minister added.
Still, Qatar's dispute with its neighbors doesn't seem likely to end anytime soon.
Just this month, the UAE said Qatari fighter jets intercepted two commercial aircraft bound for Bahrain. It followed a claim by Qatar accusing UAE military jets of breaching its airspace. Both countries denied the allegations.
"We expect sometimes political disputes one way or another. The challenge of this is the social fabric of the GCC. The people, the families, the kids, families were torn apart," Al Emadi said.