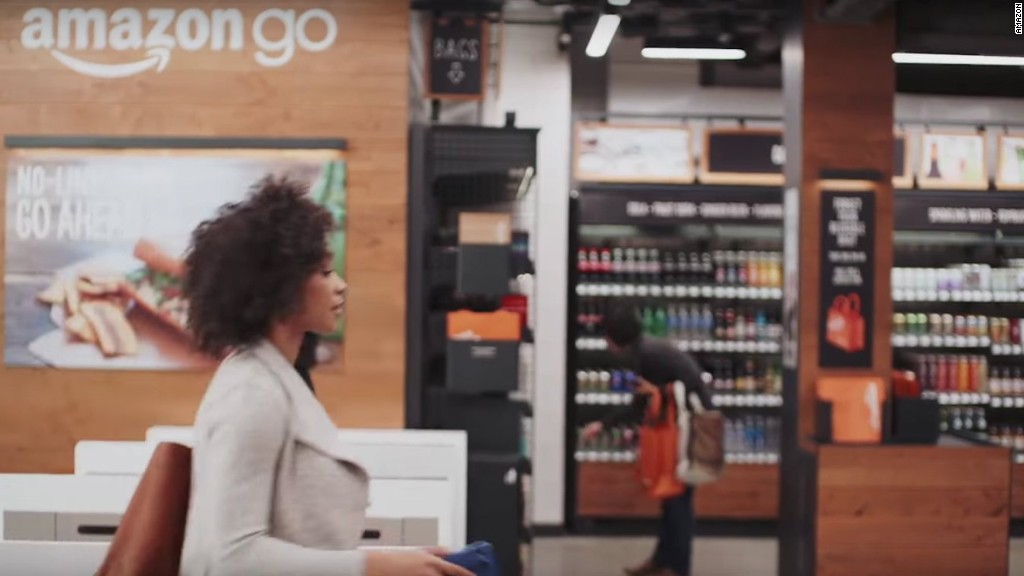 1. Tech superstars: Four of the tech world's brightest stars are poised to lavish Wall Street this week with blockbuster profits.
The reaction to the quarterly financials from Apple, Amazon (AMZN), Alphabet and Facebook could tip the scales in the ongoing race to become America's first $1 trillion company.
Apple (AAPL), currently sporting a market valuation of $870 billion, is expected to reveal a stunning $19.6 billion quarterly profit when it reports results on Thursday. Shares in Apple, already the world's largest company, have surged 40% over the past year.
Wall Street is hoping CEO Tim Cook drops more hints about how exactly Apple will spend the mountain of foreign profits it plans to return to America because of the new tax law. Apple recently pledged to invest $30 billion in U.S. facilities and create 20,000 jobs. But analysts anticipate a sizable chunk of the overseas cash will be used to reward shareholders with massive share buybacks and a fatter dividend.
Amazon hasn't slowed down in 2018. After climbing 56% last year, Amazon's shares have already ripped nearly 20% higher this year. The spike has made Amazon founder Jeff Bezos the richest person in history.
Wall Street analysts are practically falling over themselves to predict more glory for Amazon, which hits the earnings stage on Thursday as well.
Daniel Ives, head of technology research at GBH Insights, gushed in a recent report that Amazon has "eye-popping" momentum heading into 2018 thanks to its "iron grip" on e-commerce.
Morgan Stanley raved about Amazon's booming advertising business in a report on Friday, saying its bull case on Amazon is now "in play." If that happens, the company's stock, now at about $1,400 a share, could eventually go to $2,100. That target would lift Amazon's market value above $1 trillion, compared with $673 billion today.
Related: This is the calmest stock market rally in history
Google owner Alphabet (GOOGL) is much closer to $1 trillion than Amazon. Shares of Alphabet, the king of the online ad world, have soared 12% this year, lifting its market value to $818 billion.
Facebook's (FB) earnings call on Thursday could be a bit more sober than its tech darling peers. The social networking behemoth has come under fire over Russian propaganda, fake news and social media addiction. Mark Zuckerberg and his lieutenants will need to calm investor angst about Facebook's ability to navigate this suddenly treacherous landscape.
Don't forget about Microsoft (MSFT) and its surging cloud business. The Seattle company is already sporting a market value of three-quarters of a trillion dollars.
2. The State of the Union: President Trump will speak to the nation during his State of the Union Address on Tuesday.
Trump has plenty of reasons to boast about the economy. The United States added 2 million jobs in 2017, and GDP grew by 2.3% -- below Trump's 3% target, but well above the 1.5% growth in 2016. The stock market has broken record after record. And some companies have cheered the tax overhaul by announcing investments and giving bonuses and raises to employees.
Trump may also reiterate his tough stance on trade: NAFTA talks continue without much progress, and the White House decided to add tariffs on foreign washing machines and solar panels.
Investors will be listening for an outline of the president's infrastructure plan.
Related: U.S. economy picked up in 2017, but growth slowed at year's end
3. Yellen's goodbye: On Tuesday and Wednesday, Janet Yellen will oversee her last Federal Open Market Committee meeting as Fed chair. She'll relinquish her post to Jerome Powell on February 3.
Next week will be Yellen's last at the Fed. She's had an impressive run. Yellen rose through the ranks of the central bank, starting as a Fed governor in the 1990s. In 2014, she became the first woman to lead the Fed.
She's leaving the central bank in good shape, and Powell is poised to continue her plan of slowly lifting interest rates. Three hikes are likely to come this year, but don't expect one next week.
Related: Jerome Powell confirmed as next Federal Reserve chair
4. Jobs and consumer confidence: January's jobs numbers are coming on Friday. In December, the economy added 148,000 jobs -- the 87th straight month of gains. Plus, unemployment was at its lowest level in 17 years, and Americans aren't worried about losing their jobs. That could help explain why consumer confidence has been so high.
We'll see on Tuesday whether the trend continues when the Conference Board reveals its latest confidence index.
January's auto sales, which are set to be released on Thursday, will give investors another look at the strength of an important business sector.
Related: U.S. consumer confidence remains near 17-year high
5. Earnings, earnings, earnings: It's another star-studded week for earnings. Lockheed Martin (LMT) plans to release on Monday, followed by Harley-Davidson (HOG), McDonald's (MCD), Aetna (AET) and Electronic Arts (EA) on Tuesday. On deck for Wednesday are Anthem (ANTX), AT&T (T), Microsoft, eBay (EBAY), PayPal (PYPL), Mondelez (MDLZ) and Facebook. Plus, Alphabet, Apple, Time Warner (TWX), Hershey (HSY), UPS (UPS), MasterCard (MA), Ralph Lauren (RL), Visa (V) and Mattel (MAT) are coming on Thursday.
The toymaker is one to keep an eye on: Rumors of a merger with Hasbro (HAS) sent its stock soaring this week.
Related: Hasbro-Mattel merger rumor just won't die
6. Coming this week:
Monday -- Lockheed Martin earnings
Tuesday -- State of the Union; Harlye-Davidson, McDonald's, Aetna and Electronic Arts earnings
Wednesday -- Anthem, AT&T, Microsoft, eBay, PayPal, Mondelez and Facebook earnings
Thursday -- Apple, Time Warner, Hershey, UPS, MasterCard, Ralph Lauren, Visa, Mattel, DowDuPont (DWDP) and ConocoPhillips (COP)earnings
Friday -- U.S. jobs report