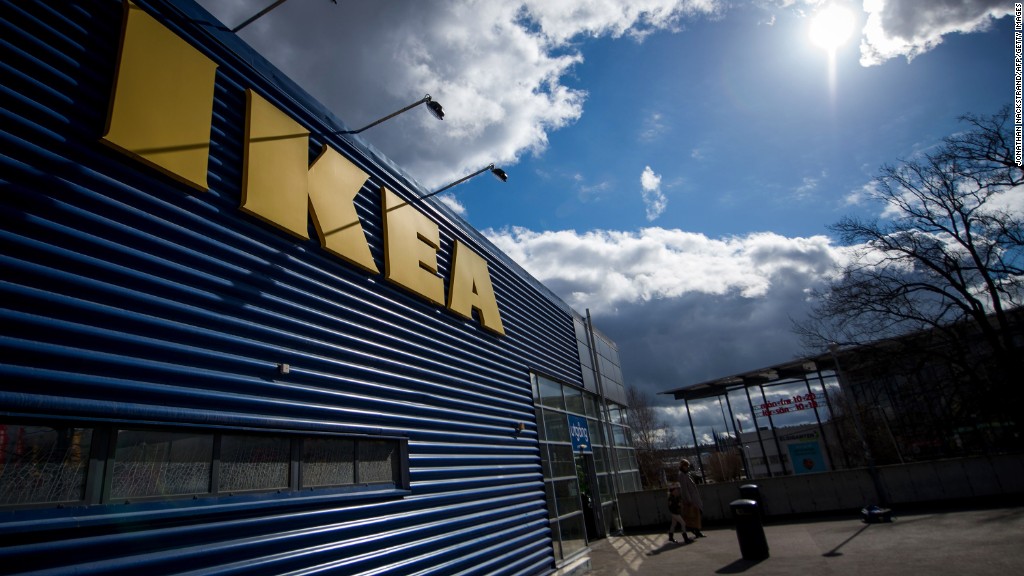 The man who built the world's biggest furniture retailer has died.
Ingvar Kamprad, founder of Ikea, passed away at his home in Sweden at the age of 91, the company said Sunday on its official Instagram account.
Born in 1926 in Småland, southern Sweden, Kamprad founded Ikea as a 17-year old in 1943.
Over the decades that followed he grew the company into a global brand with 355 stores in 29 countries, selling ready-to-assemble furniture, kitchen appliances and home accessories, as well as millions of Swedish meatballs.
"He will be immensely missed and warmly remembered by his family and Ikea employees around the world," the company said in the statement.
Kamprad was one of the richest people in the world. He was ranked No. 8 on the Bloomberg Billionaires Index, which estimated his worth at $58.7 billion.
Apart from financial success -- Ikea had global revenue of 36.3 billion euros ($45 billion) in 2017 -- the company Kamprad led until 1986 regularly featured in lists of best employers for offering appealing perks and attractive working conditions.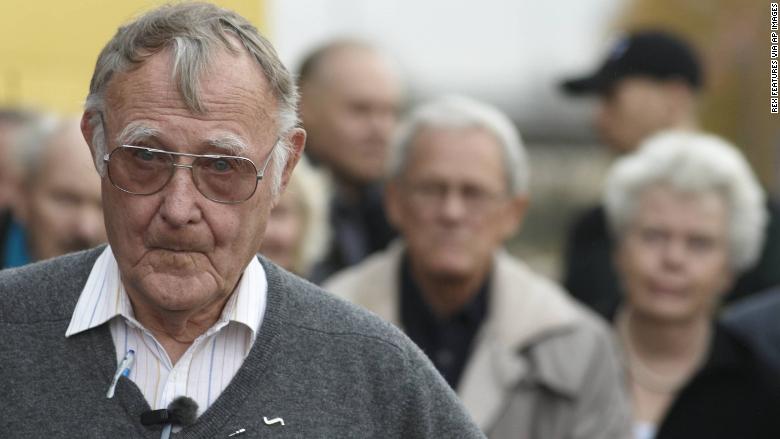 Ikea is now owned by the Dutch Stichting Ingka Foundation, created by Kamprad, but he remained a senior adviser to the group's supervisory board until his death.
Related: Startup helps Ikea save 350,000 meals from the trash can
His love of retail was apparent from an early age. According to Ikea, Kamprad began selling matches to neighbors at the age of five, then used his bicycle to venture further afield in the search for new customers. He went on to sell flower seeds, greeting cards, Christmas tree decorations, and later pencils and ballpoint pens.
But there was also a darker side to his early career. Kamprad flirted with fascism in his youth and attended meetings of a Nazi group led by Swedish right-wing activist Per Engdahl in the years immediately after World War II.
He apologized in 1994 in a letter to Ikea employees worldwide, reportedly saying he "bitterly" regretted attending a couple of meetings led by Engdahl because he "admired and shared" his anti-Communist stance.
The company has had its share of controversies more recently, apologizing in 2012 for using forced labor in east Germany in the 1980s.
Late last year, the European Commission launched an investigation into Ikea's tax dealings in the Netherlands.
Related: Smaller stores and virtual reality: Is this the future of Ikea?
The regulator said that Dutch tax rulings in 2006 and 2011 appear to have reduced Ikea's tax payments in the country. It will now look into whether the decisions gave Ikea an unfair advantage over competitors.
Ikea, which operates multiple companies across the Netherlands, Luxembourg and Liechtenstein, may have shifted profits between the countries in order to reduce its tax obligations, the commission said.
Ikea said at the time that it complies with all tax rules, and would cooperate with regulators.
A report published in 2016 by a group of EU parliamentarians accused Ikea of using legal loopholes to dodge an estimated 1 billion euros in tax payments between 2009 and 2014.
-- Duarte Mendonca and Jim Stenman contributed to this article.