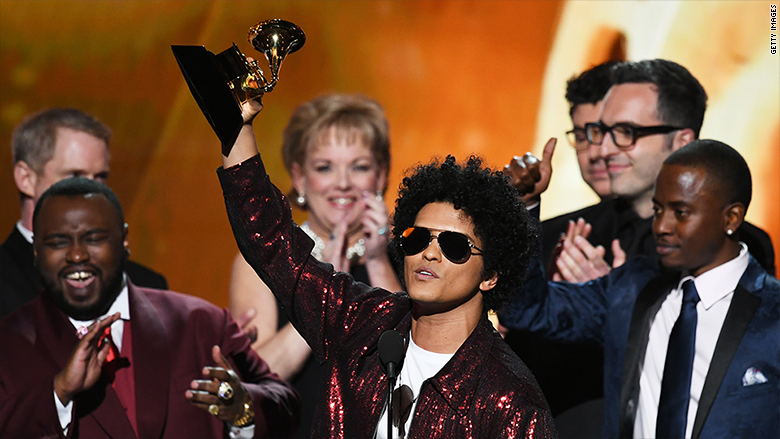 Music's biggest night had a significantly smaller audience on Sunday night.
CBS' telecast of the 60th Annual Grammy Awards brought in 19.8 million viewers, according to the network, which released the numbers on Monday. That's down roughly 24% from last year's show, which aired in February and brought in 26.1 million viewers. The last time the Grammys audience fell below 20 million viewers was in 2009, when the show attracted 19 million viewers.
The news was worse when it comes to 18 to 49-year-olds, the demographic most coveted by advertisers. Sunday's show brought in a 5.9 rating in the demo, which was not only down from last year's 7.8 rating but ranks as an all-time low for the show.
The Grammys audience is still one of the largest on television, the telecast ranked as the most watched prime time entertainment program on any network since the Oscars last year, according to CBS.
The night had its fair share of surprises and big performances from Kesha, Kendrick Lamar and Bruno Mars, who took home Album of the Year for "24K Magic."
One of the night's biggest surprises had nothing to do with music. Former presidential candidate Hillary Clinton made an unadvertised cameo in a sketch where she read excerpts of Michael Wolff's book about President Trump's first months in the White House, "Fire and Fury."
Nikki Haley, U.S. Ambassador to the United Nations, tweeted on Sunday night her displeasure with the skit.
"I have always loved the Grammys but to have artists read the Fire and Fury book killed it," she tweeted. "Don't ruin great music with trash. Some of us love music without the politics thrown in it."
CBS dominated the combined broadcast competition in viewers on Sunday night by +134%.