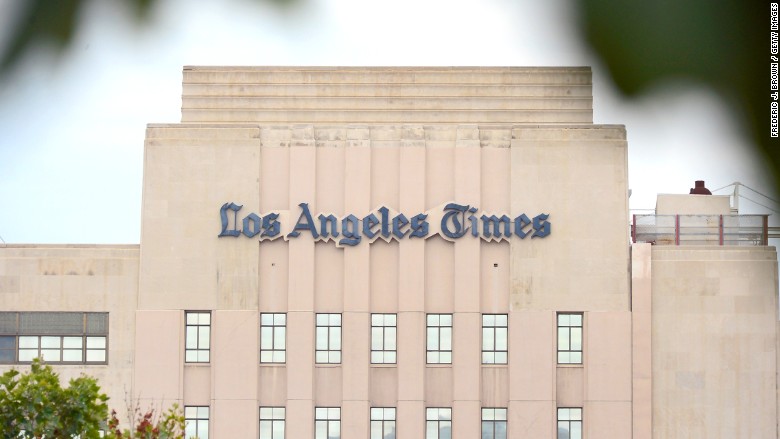 The revolving door keeps spinning at the Los Angeles Times, where staffers learned Sunday that their "new" editor is now the old editor.
Lewis D'Vorkin is out at as the paper's editor in chief, a mere four months after he was hired for the job. He will be replaced by Jim Kirk, who joined the Times' parent company, Tronc, in August and had served as interim executive editor at the paper from August until November.
The latest shake-up created a game of musical chairs for Tronc's network of newspapers. Only 11 days ago, Kirk was appointed interim editor-in-chief at the New York Daily News. Now he heads to the other side of the country to replace D'Vorkin at the Times.
On Monday afternoon, Tronc announced that Kirk will be replaced at the Daily News by Jim Rich, who has previously served as both editor in chief and executive editor at the tabloid.
A Tronc spokesperson confirmed the shake-up.
It's the latest round of tumult for the Times newsroom, where tension with ownership has spilled over into public view in recent weeks. Earlier this month, Times publisher Ross Levinsohn was placed on leave following a report by NPR on "questionable behavior" in his past.
Another damning report came Friday, when HuffPost published a lengthy investigation indicating that Tronc is building a non-union network within the Times' newsroom.
Amid all those tough headlines, Times newsroom employees voted overwhelmingly to form a union earlier this month, an effort that was opposed by D'Vorkin, Kirk and other executives at Tronc.
The union's organizing committee has demanded that Levinsohn "resign or be fired immediately"; more than 180 newsroom staffers signed a letter to Tronc's board calling for the same.
Following the HuffPost story, the committee called for "transparency" from Tronc executives.
But in the wake of the latest development, Times staffers have apparently remained in the dark. Staff members said they were not notified that D'Vorkin had been replaced by Kirk until it was reported by the New York Times on Sunday night.
By Monday afternoon on the East Coast, after Tronc had publicly announced the changes at both the Times and the Daily News, Times staff members said they still hadn't been emailed an internal announcement.
Still, the Times union struck a magnanimous note on Sunday, congratulating Kirk in a statement.
One reporter and a member of the organizing committee said that, aside from opposing the union, Kirk was viewed more positively by staff than D'Vorkin.
But the reporter said that Kirk may only be a "band-aid" to the problem, and that the change "basically answers zero questions about our problems with Tronc's management."
"At minimum, it prevents a riot," the reporter said. "But it's no guarantee that anything is fixed."
Another reporter who was also a member of the organizing committee echoed that sentiment, saying that removing D'Vorkin from the newsroom amounted to a "tenuous victory."
That reporter said Kirk, who was previously publisher and editor of the Chicago Sun-Times, seems to "care about news and journalism."
D'Vorkin, by contrast, came to the Times from Forbes, where he oversaw the financial news organization's unpaid contributor network. Times staffers feared that he wanted to institute a similar model in their newsroom.
D'Vorkin, who will now shift to a position with Tronc, was the subject of a number of critical stories in his short stint leading the Times. Shortly before the union vote, NPR published recordings in which D'Vorkin could be heard harshly criticizing an unknown staffer who had leaked audio of a previous meeting to the New York Times. That person was "unethical" and "morally bankrupt," D'Vorkin said in the meeting.
Last week, the Columbia Journalism Review published a story on D'Vorkin titled, "LA Journalism's 'Prince of Darkness'" that detailed what it said was his contentious relationship with staff.
The same day, D'Vorkin apparently suspended Times business editor Kimi Yoshino without providing a reason.
Yoshino's colleagues in the business section sent a letter to D'Vorkin pledging their "unwavering support" to her.
D'Vorkin did not respond to a request for comment. He joined the Times in the fall, replacing Davan Maharaj, who was dismissed as Times publisher and editor in chief in August.