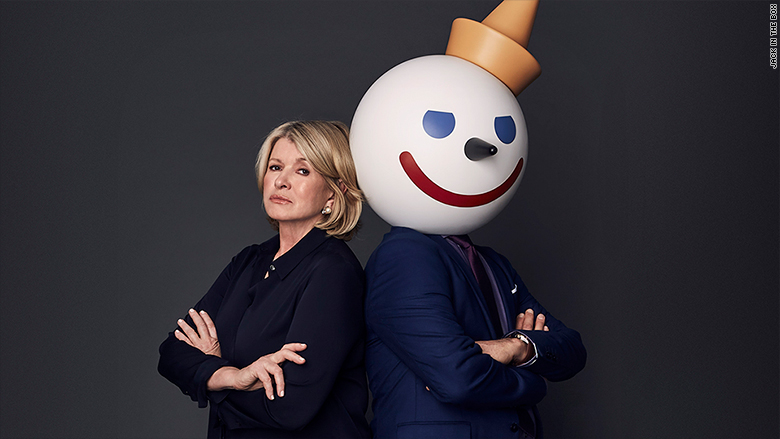 Fast food is anathema to Martha Stewart, the queen of home cooking, and this Super Bowl is pitting her against Jack in the Box.
Stewart is locking horns with Jack Box, the fast food chain's spherical-headed mascot, in an upcoming Super Bowl ad.
The dispute centers over Stewart's "beautiful Banh Mi-inspired fried chicken sandwich," which she unveils at the start of the commercial.
"You'd never find this at a fast food restaurant," she says, adding her signature line: "It's a good thing."
Jack Box finds that claim offensive. He barges into her well-appointed kitchen, says that his company makes a similar sandwich "and I'll put it up against yours any day."
Related: Super Bowl Bud ad highlights water donations to disaster zones
"Want to go to war with me, Jack?" she replies, and takes off her earrings in preparation for a scrap. It goes downhill from there.
Jack in the Box (JACK)has made much of this made-for-TV feud on social media. At the end of the spot, Jack Box mentions the hashtag #JackvsMartha.
The restaurant also created a text message back-and-forth between Box and Stewart, which sets up the story.
"The day I'd try your fast food sandwich is the day that my famous chocolate soufflé deflates when removed from the oven," Stewart texts the mascot. "To confirm, that means never."
The one-minute version of the ad now on YouTube is the same one that will air during the Super Bowl, according to Jack in the Box.
That kind of air time comes at a hefty cost. NBC is reportedly charging more than $5 million this year for 30-second spots during the game.
This is also the third consecutive Super Bowl commercial for Jack in the Box. The company's 2016 spot starred Box as George Washington.
The big football game between the New England Patriots and the Philadelphia Eagles takes place Sunday.