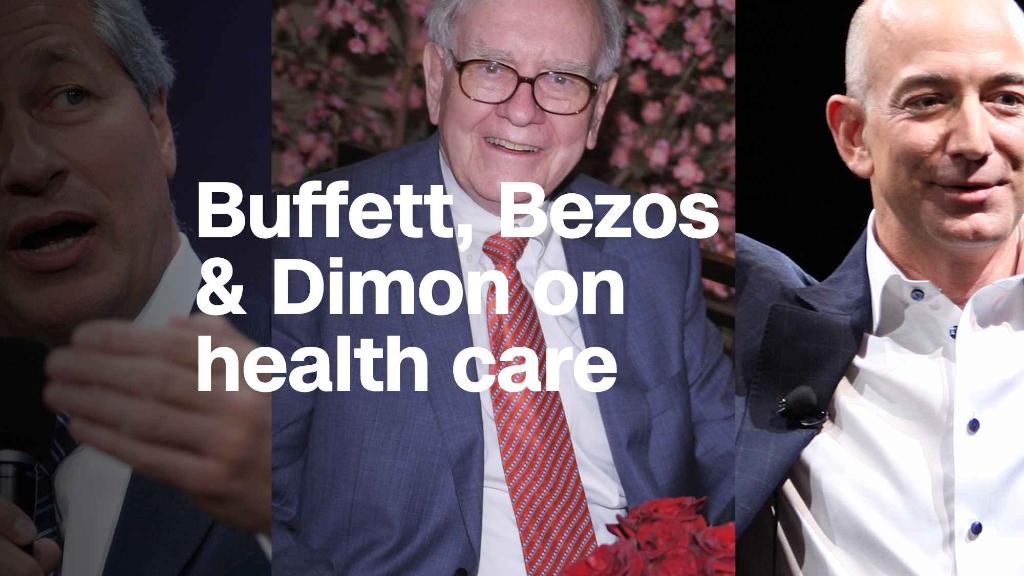 Controlling the growth of health care spending without compromising care has been the holy grail for years.
So news that business leaders Jeff Bezos, Warren Buffett and Jamie Dimon want to create a company to provide hundreds of thousands of employees with better quality health care at a lower cost -- without regard to profit incentives -- is intriguing.
Health care spending accounts for an ever-larger share of the economy. It's a growing expense for businesses and individuals. And at the federal level, it's a driver of U.S. debt.
"The ballooning costs of health care act as a hungry tapeworm on the American economy," Buffett said. "We share the belief that putting our collective resources behind the country's best talent can, in time, check the rise in health costs while concurrently enhancing patient satisfaction and outcomes."
Related: Jeff Bezos, Warren Buffett and Jamie Dimon want to fix health care
National health spending -- which includes spending by federal and state governments, the private sector and individuals -- has risen from just 5% as a share of the economy in 1960 to 17.9% in 2016, according to the most recent data from the Centers for Medicare and Medicaid Services. It's projected to rise to 19.9% by 2025.
How much money does that really represent? Trillions. Health care spending rose 4.3% to $3.3 trillion in 2016, or $10,348 per person. CMS estimates spending will grow 5.4% in 2017 due primarily to faster growth in Medicare and private health insurance spending. It projects 5.9% growth for 2018 and 2019 fueled largely by Medicare and Medicaid.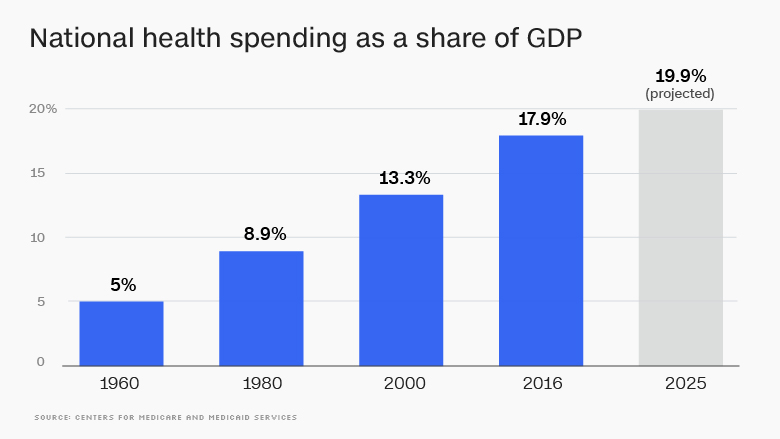 Private-sector employers paid nearly $665 billion in 2016 in health-related costs, up 5% from the prior year, according to CMS data.
The lion's share of that ($504 billion) went to subsidize employees' health insurance premiums.
Related: 8 ways Trump hurt Obamacare in his first year
Americans are paying more
The average premium has risen 19% over the past five years, to $7,000 for single coverage in 2017, and to nearly $19,000 for family coverage, according to the Kaiser Family Foundation.
Employers pay about three quarters of their workers' premiums, according to the Society for Human Resource Management.
Despite that large subsidy from their companies, individual workers' health costs have gone up as well.
In addition to premium increases, their out-of-pocket costs, which include what they shell out for deductibles, co-pays and co-insurance, have risen too. Between 2005 and 2015 average out-of-pocket costs grew 66%, or more than twice the growth rate in wages during that period, according to Kaiser.
And they are projected to continue growing faster than the economy in the years ahead -- along with other health care costs.
- CNNMoney's Chris Isidore contributed to this story.