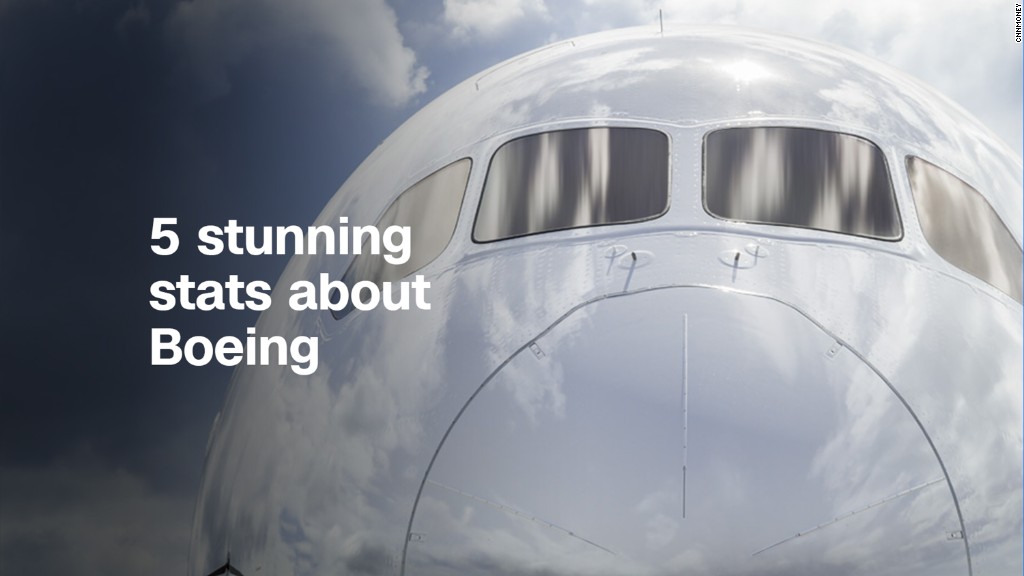 Boeing is looking at another record year of deliveries -- if suppliers can keep up.
The plane maker expects to deliver between 810 and 815 commercial airplanes in 2018. That means it will have to complete one roughly every 11 hours.
The world's airlines have an insatiable appetite for new airplanes thanks to the global economic expansion. Boeing's rival, Airbus (EADSF), plans around 800 deliveries this year, as well.
Boeing (BA) shares shot up more than 5% in mid-day trading. The forecast comes as part of its full year results for 2017. The aerospace giant reported a record 763 deliveries in 2017, topping its previous record from 2015 by one airplane.
The company said its full year earnings rose to $8.2 billion last year, up 67% compared to 2016. The company generated a record operating cash flow of $13.3 billion -- a closely watched measure by investors -- and spent $9.2 billion buying back 46.1 million shares of its stock.
The aerospace giant's shares have soared over the past year, more than doubling as it contributes heavily to increases in the Dow Jones Industrial Average.
Boeing delivered more jetliners than ever in 2017
Most of Boeing's deliveries in 2018 will be for smaller jets.
This year is expected to bring another increase in production of Boeing's single-aisle 737 airliner. By year's end, they'll be rolling off the assembly line at a pace of 52 every single month, five more than in 2017. The company also opens its new plant in China later this year, designed to install cabins for Chinese airlines which make up around a third of all 737 deliveries today.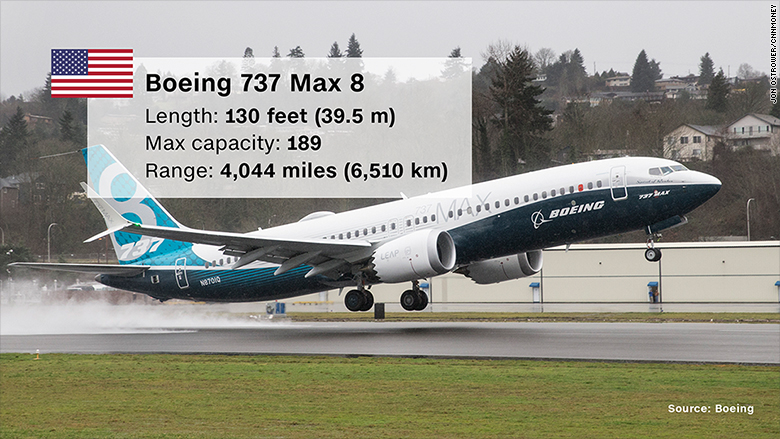 Trump-China trade war: Who has the most to lose?
While the ambitions at both Boeing and Airbus are sky high, the plane makers need their biggest suppliers to keep pace with the record demand. Both CFM International and Pratt & Whitney have struggled to deliver new jet engines on time to both manufacturers. Executives at CFM, a joint venture between General Electric and France's Safran, said last week that they are four to five weeks behind on shipments.
CFM plans to make as many as 1,200 of its new jet engines to plane makers this year, most for Boeing and Airbus. That's nearly two and a half times what it delivered in 2017. CFM supplies the engines for every Boeing 737.
Future goals
Separately, Boeing's chief executive Dennis Muilenburg said Wednesday during the company's earnings call that its discussions with Brazilian plane maker Embraer (ERJ) around a potential merger continued to be productive, but that significant hurdles to a deal remained.
"We know that the government of Brazil has raised some concerns or issues that we fully respect and we're working through the details of potential options going forward and doing that in a diligent way," said Muilenburg. "I'm hopeful we can bring that deal to conclusion, but more work to go on that front."
Additionally, Muilenburg reiterated the company position that it was disappointed in a ruling last week by the International Trade Commission in its dispute with Canada's Bombardier.
Muilenburg stopped short of saying if the company would appeal the decision. The ITC is expected to make its final ruling in February, when it releases a detailed explanation of its unanimous decision that determined that Boeing was not harmed by Canadian government funds provided to Bombardier or the company's 2016 deal for up to 125 C Series jets for Delta.
That explanation and Boeing's review "will allow us to make a decision on the path forward," he said. Muilenburg said Boeing's current course would continue "regardless of the outcome of these trade matters and the potential deal with Embraer."
Embraer is Bombardier (BDRAF)'s main rival in the market for smaller jetliners.