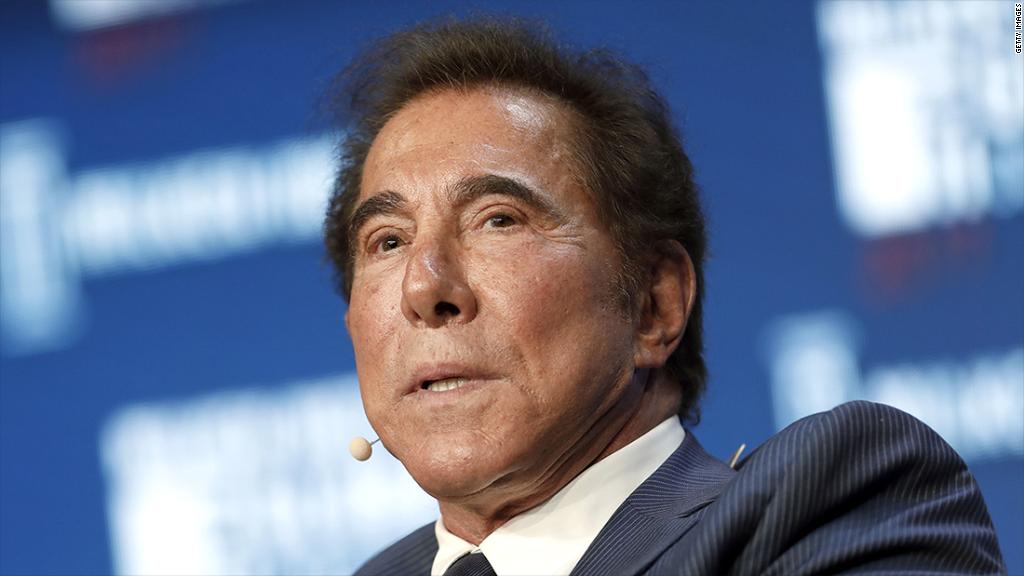 Massachusetts gambling regulators want to know why Steve Wynn and Wynn Resorts failed to disclose a $7.5 million settlement when they were applying for a state license in 2013.
The settlement will be a primary part of the investigation as it moves forward, investigators said at a meeting Wednesday.
The Massachusetts Gaming Commission announced Sunday that it's reviewing the license it issued for Wynn Boston Harbor, a $2.1 billion casino and hotel project set to open in 2019. The commission could ultimately decide to alter, suspend or revoke the license as a result.
The probe follows a Wall Street Journal investigation published last week that detailed decades of sexual misconduct allegations against Wynn, the 76-year-old founder and CEO of Wynn Resorts (WYNN).
Wynn has denied all the charges against him, calling them "preposterous."
Karen Wells, director of the commission's investigations team, said Wednesday that during the state's "suitability" review of both Wynn and Wynn Resorts, no one disclosed a $7.5 million settlement that had been paid to a manicurist over sexual misconduct claims she made in 2005.
The Massachusetts Gaming Commission wasn't told about the payout until it was reported by the Wall Street Journal, she said.
Wells said she confirmed the existence of a settlement with a lawyer for Wynn Resorts, who told her it had not been disclosed to investigators "upon advice of counsel."
Related: Steve Wynn has already lost hundreds of millions of dollars
The Wynn Resorts attorney also told Wells that the settlement had been resolved outside of court, so there were no court documents that could have been provided.
Wells said the commission intends to investigate the matter further.
"The circumstances around this $7.5 million settlement and the decision not to disclose it to investigators during the suitability investigation remain a critical element of this review," Wells said.
The Massachusetts Gaming Commission explained Wednesday that it intends to look not just at Wynn's suitability, but also at the suitability of the board, as well as the company's ongoing financial stability.
"[We will look into] any corporate action or lack thereof contemporaneous with the alleged misconduct," Wells said. "The question is: Who knew what when, and what did he or she do about it?"
In a statement, Wynn Resorts said it plans to cooperate.
"We respect the process outlined by the Massachusetts Gaming Commission and will cooperate fully with the investigation. Our construction is on schedule for a 2019 opening and continues to create more than 4,000 local union trade jobs," a Wynn Resorts spokesperson said.
Shares of Wynn Resorts fell after the meeting. They ended the day down nearly 3.4%.
Wynn faces a number of investigations into his conduct.
The board of directors of Wynn Resorts has formed a special committee to look into the allegations. The Nevada Gaming Control Board is conducting its own review, and officials in Macau -- where Wynn's business makes most of its money -- have also expressed concern.