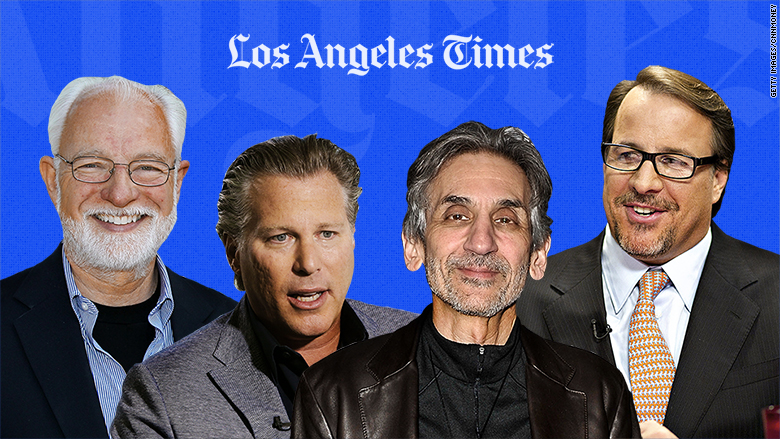 After years of painful, protracted decline, the Los Angeles Times has recently descended into chaos: There have been three editors-in-chief in less than six months; the publisher has been put on leave for prior sexual harassment allegations; and the newly unionized staff already fears that the owner is trying to bust up their union. Mistrust is high, morale low. The ultimate fate of the paper is an open question in the newsroom.
The turmoil has left staffers and Angelenos asking: How did the L.A. Times get here? How did the largest metro newspaper in the nation and winner of 44 Pulitzers become, as a number of sources close to the paper independently describe it today, "a hot mess"?
The list of the accused is long: Lewis D'Vorkin, who was ousted as editor-in-chief this week as the staff was in open revolt against his leadership. (He will become chief content officer at Tronc, the Times' parent company). Ross Levinsohn, the publisher and CEO, who was put on unpaid leave earlier this month amid revelations about a history of bad behavior (Levinsohn reportedly called the allegations against him "lies"; the company is investigating the claims). Above all: Michael Ferro, the chairman of Tronc, the Times' parent company, under whose leadership Levinsohn and D'Vorkin were appointed to those positions and who convinced Tronc to pay another of his companies $15 million in consulting fees after laying off hundreds of employees across various papers last year.
Ferro, an investor from Chicago who boasts patents in everything from research software to medical imaging technology, doesn't command much respect among the L.A. Times staff, much less among the Los Angeles establishment, sources at and close to the paper told CNN. He is said to think of himself as a wealthy benefactor along the lines of Jeff Bezos (owner of the Washington Post) or John Henry (owner of the Boston Globe), but unlike both those men he has acquired a reputation as someone more interested in squeezing revenue from his papers than in improving their editorial quality, the sources said.
Those in the pro-Ferro camp counter that he has drastically increased Tronc's value, and therefore the value of the L.A. Times. When Ferro bought a $44.4 million stake in the paper's parent company in 2016, the share price was around $8. Today, it is over $20.
"The shareholders who bought or held their stock have done well," Dennis Culloton, a spokesperson for Ferro, told CNNMoney. "If L.A. Times staff are upset, that's their right... but Mr. Ferro is spending a tremendous amount of time to generate revenue to support the great work that's being done in our newsrooms."
While stock may be high, views of Ferro's leadership have been mixed from the beginning, sources at and close to the paper said.
Related: L.A. Times turmoil: Staffers declare "tenuous victory" after new editor steps in
Ferro and his team turned parent company Tribune Publishing into a media world laughingstock when they rebranded it as Tronc, in 2016, and released a self-serious video about how artificial intelligence would revolutionize the paper's journalism. Plans for the Times under Ferro have been notable for how improbable they are -- or were, because some never came to fruition, such as an "international entertainment strategy" that would've seen the Times investing in coverage of the film industry in Lagos, Nigeria. When the Times was searching for a new editor last fall, Ferro spoke of pursuing costly marquee names like Anna Wintour or Andrew Ross Sorkin, sources with knowledge of the matter told CNNMoney. He ended up with D'Vorkin, who has since been replaced by Chicago Sun-Times veteran Jim Kirk.
Understanding how the Times got to its current nadir therefore requires understanding how Michael Ferro took control of it. The answer, sources close to the paper told CNN, is the actions of what was once the Tribune Publishing Board and its chairman, the former DirecTV chief Eddy Hartenstein.
Hartenstein was brought to the Times as publisher in 2008 by Sam Zell, the billionaire who infamously drove the Tribune Company into the largest bankruptcy in media industry history. In 2011, Hartenstein was promoted to president and CEO of Tribune. Three years later, after Tribune emerged from bankruptcy and spun its newspaper holdings into Tribune Publishing, Hartenstein became non-executive chairman of that company's board.
The job of the board was to represent the shareholders. But some current and former shareholders say that Hartenstein and the board facilitated Ferro's takeover of the company without consulting them. (Culloton said Hartenstein was unavailable for comment).
In June 2016, Oaktree Tribune, the company's third largest shareholder, submitted an SEC filing alleging that Hartenstein and the board had allowed Ferro and his associates to take control of the company without warning, diluting Oaktree's economic interest and depriving it of the opportunity to liquidate its interests in a sale to Gannett, which had offered to buy the company at a 99% premium on the share price.
Ferro was named non-executive chairman in February 2016, and Hartenstein became corporate director. At the time, Oaktree says, there was no disclosure of plans to change control of the board. Yet three weeks later, Ferro's friend Justin Dearborn was named CEO and given a seat on the board. Less than two months after that, the board revealed that it had added three more director positions filled by what Oaktree described as Ferro allies, thus giving majority control of the 8-person board to Ferro's crew.
From 2016 through 2017, Tronc also paid $4.6 million for Ferro's travel on a private jet subleased from his company Merrick Ventures, according to a statement last year by the L.A. Times Guild, the union now representing newsroom employees. The guild called it an "act of plundering."
In his effort to stave off a sale to Gannett, Ferro and the board had approved the sale of a 13% stake in the company to Patrick Soon-Shiong, a local biotech billionaire, and given him a seat on the board. But within a matter of months, Ferro and Soon-Shiong had become locked in a bitter race to buy up shares and assume control of the paper.
In March 2017, Tronc bought back Oaktree's shares. Until that point, both Ferro and Soon-Shiong had been limited to roughly 25% ownership stakes. But Soon-Shiong claims that when Tronc bought Oaktree, the board raised Ferro's ceiling to 30% without telling him. This made Ferro the company's largest shareholder. Blindsided, Soon-Shiong accused the company of giving Ferro preferential treatment and asked to be allowed to increase his ownership stake as well, but was denied.
Since then, the Times has been in Ferro's control. The Times newsroom, meanwhile, has become mired in fear and uncertainty. On January 4, Times employees voted overwhelmingly to form a union -- the first in the paper's 136-year history. Within days, reports emerged that Tronc was building a separate entity called the Los Angeles Times Network in what the guild feared was an attempt to bust up the union. Tronc has yet to address the matter, either internally or in the press.
D'Vorkin's ouster as editor-in-chief and Levinsohn's leave of absence are celebrated only as minor victories, sources at the paper said. Few employees are naive enough to believe that the Times' problems have been solved.
Meanwhile, Ferro is using his control of the company to turn a personal profit. In December, the board approved an agreement to have Tronc pay Ferro's Merrick Ventures a consulting fee of $5 million a year for three years. In essence, Ferro is paying himself $15 million to be a consultant for his own company. The agreement stated that the money was for Merrick's "management expertise and technical services."
Amid all the turmoil at the Times, some staffers question whether the so-called "expertise" is worth $15 million.
The ultimate blame for the Ferro crisis, as one source close to the paper described it, is "dereliction of duty by the board."
"There is no Michael Ferro, absent Eddy Hartenstein," the source said.
What happens next is anyone's guess.
Culloton says that the Times has been going through a "trial and error period," but that it has "installed a very respected editor" in Kirk who will get the paper back on track.
Some sources expect that the Times will continue to implode, allowing a white knight -- names like David Geffen and Eli Broad come up in the fantasies of the L.A. establishment -- to come in and buy the paper for next to nothing.
But other sources close to the paper say those saviors don't exist. Ferro does not appear to be interested in selling, they say, and they fear that if he ever decides he is, there will no longer be much worth buying.
"The financial damage of Ferro's decisions won't catch up to the Times for a few years," one source close to the paper said. "But by that point, I'm not sure what's left."