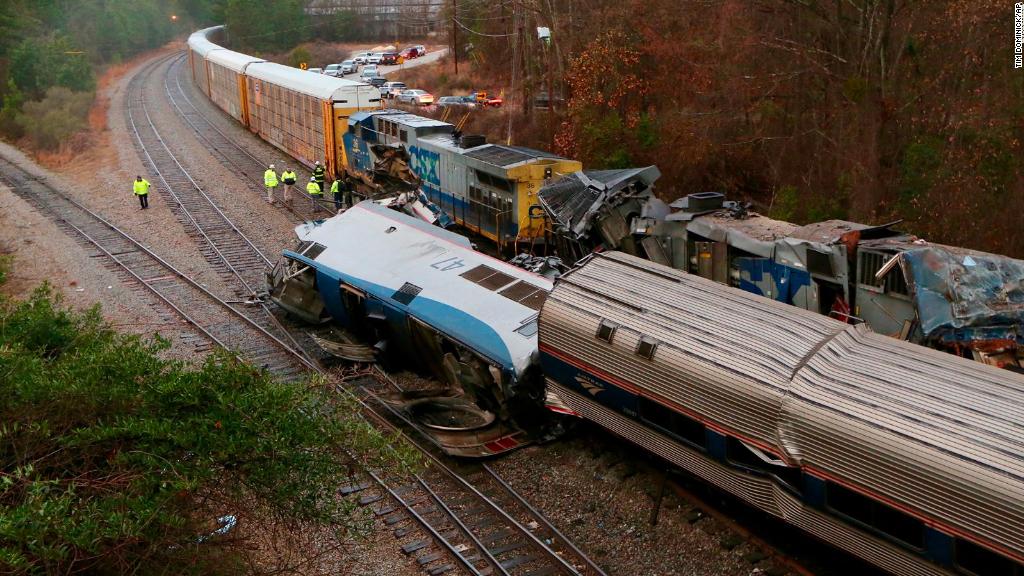 Sunday's fatal crash shows the risks when freight and passenger trains share the same tracks.
In fact, most of the passenger trains in the United States operate on tracks shared with freight lines. And rail lines are for the most part privately owned by the freight railroads.
Sunday's crash happened when an Amtrak train operating on CSX tracks in South Carolina was misdirected into a stopped freight train, killing the Amtrak engineer and conductor and injuring more than 100 passengers.
The signal system along the section of track where the crash occurred wasn't working at the time, so the tracks were being manually controlled by CSX, Amtrak CEO and president Richard Anderson told CNN on Sunday. According to Anderson, CSX has complete control of the tracks, signals and switches in the area where the crash happened.
CSX has not denied responsibility for the crash, which is under investigation by federal safety regulators. The freight railroad, which operates 21,000 miles of track east of the Mississippi, says it hosts more passenger rail traffic than any other major railroad.
Related: 2 killed, 116 hurt when Amtrak train crashes into freight train
There are five major U.S.-based freight railroads -- CSX, Norfolk Southern (NSC), Union Pacific (UNP), Kansas City Southern (KSU) and BNSF, which is owned by Warren Buffett's Berkshire Hathaway (BRKA). In addition, Canadian National (CNI) and Canadian Pacific (CP) operate partly in the United States. While Amtrak has some of its own tracks, such as in the Northeast Corridor, about 70% of the miles traveled by Amtrak trains are on tracks owned by freight railroads
CSX's history dates back nearly 200 years to 1827, when the Baltimore & Ohio Railroad was founded. B&O was America's first railroad company and a predecessor to CSX that carried both passengers and freight. But the growth of air travel in the 20th century meant railroads moved away from passenger trains, leaving that service in the hands of government entities such as Amtrak and commuter rail lines.
Related: This is the fourth fatal crash involving an Amtrak train in two months
The crash is just the latest event in an tumultuous year for CSX.
The railroad essentially faced a hostile takeover a year ago, when an investor put a new CEO in control of the company and put new members on its board of directors. The new CEO, Hunter Harrison, was well-known and respected within the industry. Harrison died in December, just two days after taking a medical leave from the top job. James Foote then became the railroad's third CEO in less than a year.
While Harrison was there he shook up management, and a number of senior executives left the company. He also implemented a new operating and scheduling system designed to make the railroad more efficient. But following the changes, CSX experienced an increase in service problems and customers complaints. That prompted federal railroad regulators to question the railroad's performance and hold hearings on the customer complaints.
Shares of CSX (CSX) were down slightly in trading Monday on a day when U.S. markets were down sharply. Its shares have generally trailed other rail stocks since last July, when its service problems started getting attention.