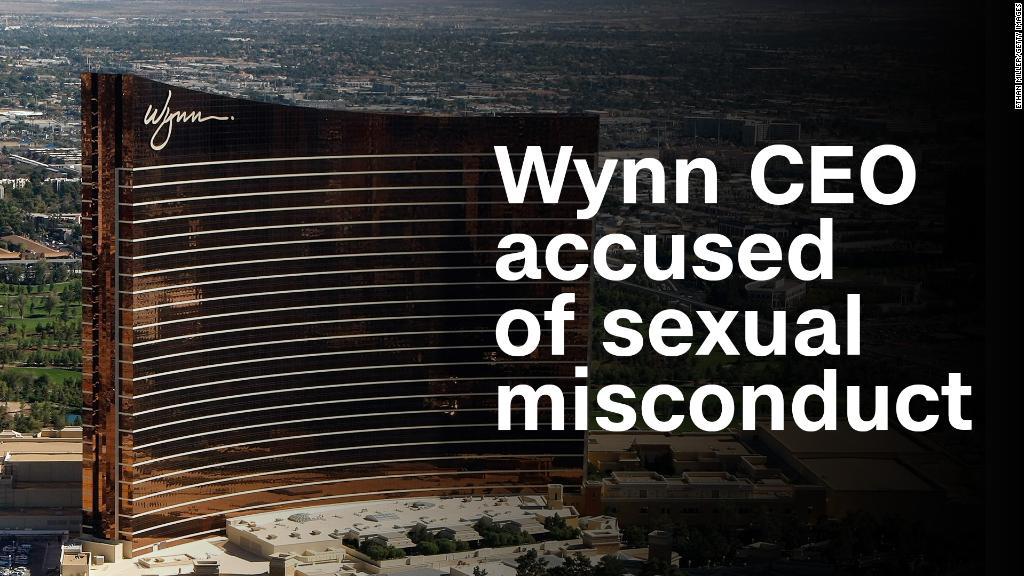 Steve Wynn has stepped down as the CEO of Wynn Resorts after allegations of sexual misconduct piled pressure on the billionaire casino mogul and sent the company's stock tumbling.
"It is with a collective heavy heart, that the board of directors of Wynn Resorts today accepted the resignation of our founder, CEO and friend Steve Wynn," one of the directors, Boone Wayson, said in a company statement late Tuesday.
Wynn, 76, has denied the accusations of misconduct, which gained widespread attention in late January after an investigative report by The Wall Street Journal detailed numerous allegations against him, citing dozens of sources.
"In the last couple of weeks, I have found myself the focus of an avalanche of negative publicity," Wynn said in a statement. "As I have reflected upon the environment this has created — one in which a rush to judgment takes precedence over everything else, including the facts — I have reached the conclusion I cannot continue to be effective in my current roles."
Related: Steve Wynn allegations punish his company's stock
Wynn Resorts (WYNN) said it has appointed Matt Maddox, who currently serves as the company's president, as its new CEO effective immediately. Wayson will take over as chairman.
Losing Wynn is a heavy blow for the global gambling empire he built and that bears his name.
He said he was stepping down from "a company I founded and that I love."
Analysts have expressed concern about how Wynn's businesses in Las Vegas and the Chinese territory of Macau would operate without him at the helm.
"Mr. Wynn is the Wynn," analysts at investment firm Bernstein wrote in a note to clients last week. "Without him, the Wynn Resorts ... is a different operation."
Related: Nevada gaming board is investigating Steve Wynn allegations
But the allegations against him made his position increasingly untenable.
He already resigned as finance chairman for the Republican National Committee shortly after the Journal story came out. And the Wynn Resorts board formed a special committee to investigate the allegations.
The accusations against him have also drawn scrutiny from gambling regulators in Nevada, Massachusetts and Macau.
The Chinese territory is particularly significant for Wynn Resorts, accounting for the large majority of its revenue and profits.
Investors have become increasingly concerned about the situation, driving down the company's stock. Wynn Resorts shares have plunged more than 18% since news of the allegations broke.
The stock was down about 1.5% in pre-market trading early Wednesday, according to data from FactSet.
Related: Steve Wynn remade Vegas, but China is where he makes the real money
The company said details of Wynn's "separation agreement" would be announced once it has been finalized.
The casino business has already made him an incredibly rich man. Forbes puts his current net worth at $3.3 billion.
His wealth includes an 11.8% stake in Wynn Resorts, making him its biggest single shareholder. That means that even after his departure, he could carry a lot of influence at the company.
The tycoon is also handsomely paid for his work as CEO. His total compensation for 2016 came to $28.2 million. And over the past five years of reported income, his total compensation came to $111.6 million.
Related: Steve Wynn allegations: Here's his response
Wynn has been a major figure in the gambling world for decades.
The mogul is credited with being the person who transformed Las Vegas casinos from gambling dens into entertainment hubs where guests could watch spectacular shows and eat in high-end restaurants.
Wynn first entered the world of gambling when he took over his father's bingo parlors in Maryland. He moved to Las Vegas in 1967 with a stake in the Frontier Hotel, followed by a short stint as the owner of a wine and liquor distributor, Wynn said in a 2014 interview with the Hoover Institution's Peter Robinson.
Things picked up when Wynn scored a lucrative land deal via business mogul Howard Hughes. He parlayed that money into an investment in the Golden Nugget Casino.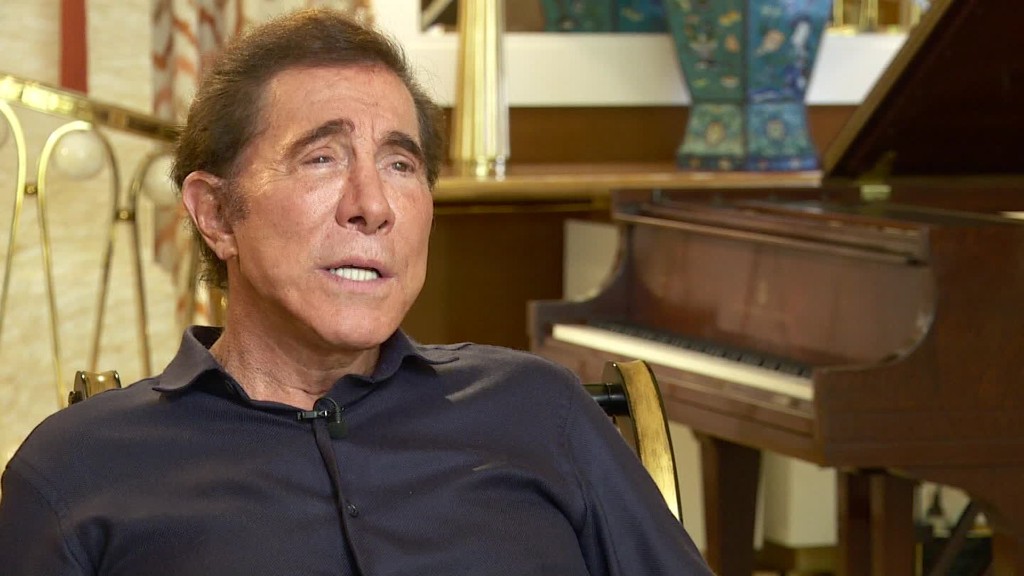 Wynn's success in transforming the Golden Nugget into an elegant destination led to a string of new projects, each one increasingly opulent.
The Mirage, Wynn's first major casino on the Vegas Strip, opened in 1989. He then opened Treasure Island in 1993, and the Bellagio in 1998.
In 2006, he opened his first casino in Macau, where gambling revenues now dwarf those of Las Vegas. An even bigger one, Wynn Palace, followed 10 years later.
-- Julia Horowitz contributed to this report.