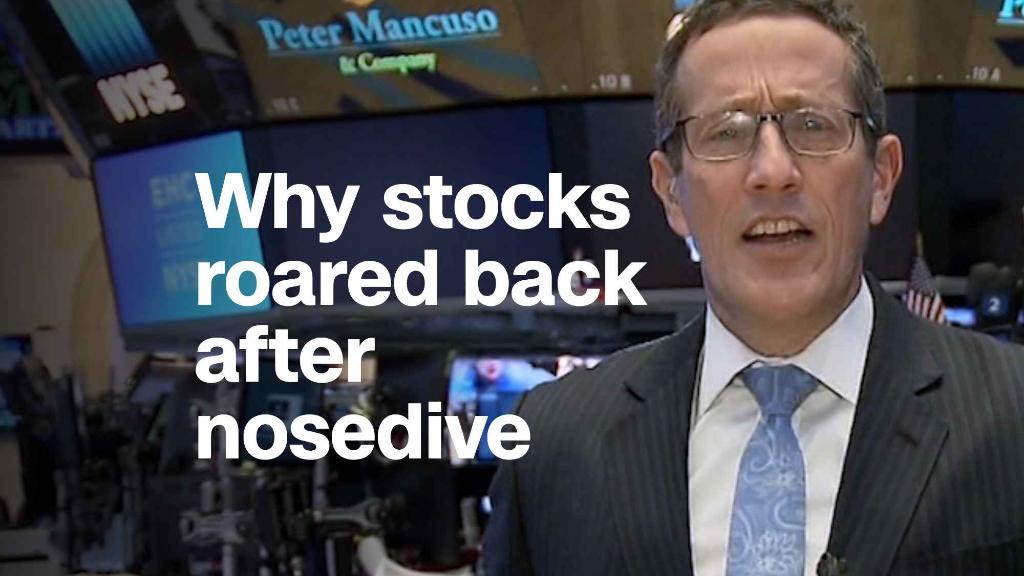 A rally in global stock markets lost some of its steam on Wednesday.
European markets posted modest gains in early trading, with benchmark indexes in London, Paris and Frankfurt rising by around 0.5%.
Japan's Nikkei added just 0.2%, while Hong Kong's Hang Seng slipped into the red, losing 0.9%.
Both indexes had started the day strongly. The Nikkei at one point surged as much as 3.4%, while the Hang Seng posted gains as high as 2.9%.
The Asian markets had initially taken their cues from Wall Street. After two sessions of heavy declines, the Dow shook off a bad start to close up 2.3% on Tuesday.
But Wednesday could be another volatile day in the U.S. Dow futures were down more than 220 points, or 0.9% around 3:45 a.m. ET.
Related: Dow roars back for 567-point gain after scary start
Some market watchers have voiced optimism that the heavy losses at the start of this week were just a blip in a bull run for stocks that's set to continue. But others are cautioning against trying to "buy the dip" for the time being.
"We would resist the temptation of catching a rebound," said Hao Hong, head of research at Chinese stock broker BOCOM International.
He added that a combination of high valuations in stock markets and rising interest rates around the world was the "worst recipe."
"The market may have (already) seen its high for the first half of 2018," Hong said.
Losses this week have taken the shine off of a recent rally in Asian stock markets. The Hang Seng hit an all-time record in January, while the Nikkei has recently flirted with levels not seen since the early 1990s.
Tokyo stocks plunged more than 7% over the course of Monday and Tuesday, erasing all of their gains for the year so far.
The punishing rout has also pushed key indexes in Germany, Spain and Sweden into correction territory, meaning they have dropped 10% or more from recent highs.
Related: Here's what the Dow drop means for you
The mass selling this week was ignited by stronger-than-expected growth in wages in the U.S. That prompted fears that the Federal Reserve may have to raise interest rates quicker than initially thought to stave off inflation. That in turn pushed bond yields higher, draining money out of global stocks.
Some analysts suggest that despite this week's misery, 2018 could still be a good year for Asian stocks -- regardless of what happens in the U.S. market.
Shares in the region are still significantly cheaper than their counterparts in the U.S., according to Kim Iskyan, an analyst at research firm Stansberry Churchouse. He cited a key valuation metric used by investors to compare companies' stock prices with their expected earnings.
"Asia is a much better place to be than the U.S. market right now," Iskyan said.
-- Charles Riley contributed to this report.